Archived Outdoors
Above it all: Fryingpan hike offers vast views, diverse plant life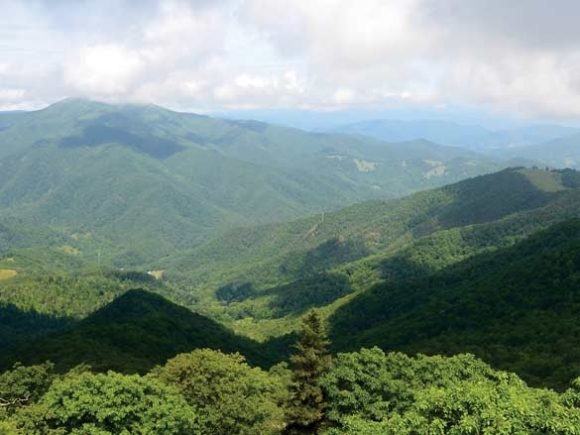 It's just a short walk from the Blue Ridge Parkway to Fryingpan Tower — 1.5 miles roundtrip — but in a season when wildflowers abound and the ecological intricacies of mountain life are on full display, a curious person could spend hours exploring.
Especially when accompanied by someone who's full of the knowledge and stories to explain it all. Someone like a Blue Ridge Parkway ranger, two of whom were out last week to lead a group of 25 locals and tourists on a summertime ramble.
Bushes of blooming mountain laurel, pinxter azalea and flame azalea bordered the entrance, the Parkway's signature welcome committee. Further in, purple spiderwort sprayed the trailside, along with blackberries, black-eyed Susans and an ever-expanding list of wildflowers.
Halfway up, ranger C.M. Garrison paused by an azalea bush that looked like it was having a harder season than its cousin down near the trailhead. It was covered with galls, bulging growths caused by a fungus.
The galls don't harm the plant too much, Garrison explained. And in fact, some local lore holds that the things are edible, loaded with water and therefore great survival foods. However, others point out that they feed on azaleas, which are known to be poisonous, so eating the galls wouldn't be safe.
Garrison recently got curious enough, however, to give it a try.
While no ill effects ensued, Garrison said, "It didn't taste good. I'll say that I'd have to be mighty desperate to have one of those again."
Moving on, the trail stretched under trees housing birds and — possibly — the adorable but elusive Carolina northern flying squirrel before climbing uphill toward the hike's end, a meadowed summit marked with various communications towers and, most notably, the 70-foot Fryingpan Mountain Lookout Tower. Built in 1941, it's the tallest U.S. Forest Service lookout tower in Western North Carolina, a steel structure sitting atop 5,340-foot Fryingpan Mountain. Though it's now unmanned, the enclosed room at the top was once home to a solitary soul tasked with keeping watch over the broad mountain views and reporting any wildfires in the making.
"I like how the shadows play on the land," said David Dick, who joined the hike while on vacation from his home in Cleveland, Ohio. "The overcast is as beautiful as the sunshine. I notice different patches of land and wonder what went on there, and you kind of wonder what it was like to be an observer at a fire tower, what that job would entail."
Fox got a little taste of that life in the 1990s, when she worked as a summer seasonal ranger on a fire tower out west.
"Wouldn't you know, some clouds start rolling in and a storm starts to form, and it starts to get really dark and it starts downpour raining," Fox recounted for the group. "And then the lightning came. I was on the top of a mountain in the top of a fire tower in the most intense lightning storm I think I've ever been in."
It was terrifying, but the storm passed quickly, and soon she was back to work — scanning the horizon for any sign of smoke.
Climbing the steps of Fryingpan on a sunny day, it's hard to imagine the wind and lightning and rain of a powerful mountain storm, or the solitude of life at the top before the Blue Ridge Parkway offered such easy access. But seeing the view and appreciating the beauty of the vast landscape — that part is pretty easy.
Explore the Parkway
Ranger-led programs are starting up for 2017, offering plenty of opportunity to get to know the North Carolina portion of the Blue Ridge Parkway — and the plants and animals that live there.
Ranger-guided hikes are offered at 10 a.m. each Friday at various locations along the Parkway.
An evening campfire featuring a ranger-led informational program will blaze at 7:30 p.m. Saturdays at Mount Pisgah Campground.
Rangers will hang out at various Parkway overlooks from 10 a.m. to 2 p.m. Saturdays, beginning June 24, to talk to visitors about animals' and plants adaptations, offering activities for all ages.
Programs will continue through the end of September, with times and availability changing in October.
Confirm program locations and start times at www.nps.gov/blri or 828.298.5330, ext. 304.