Archived Mountain Voices
Perhaps 'possums are figuring it out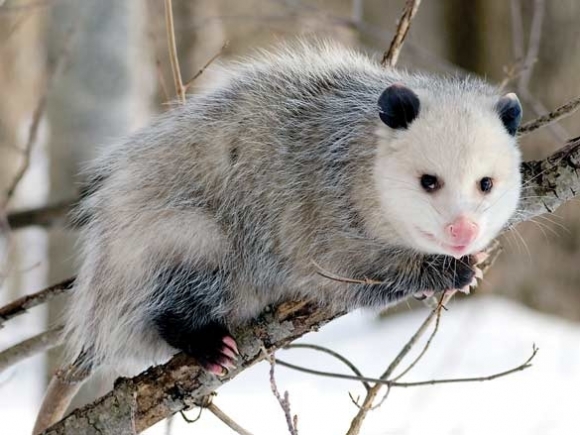 I bless my lucky stars that I'm a columnist assigned the pleasant task of writing about this region's natural and human history. At a time when the constitutional underpinnings of this nation are eroding at an alarming rate due to the irrational and possibly treasonous shenanigans of a political nimcapoop, I get to consider the burning question: "Are 'possums finally catching on?"
I just don't see many of them dead in the highways and byways anymore. In days gone by there were times after a long moonlit summer night when they would seemingly be littered with the critters.
I've always liked 'possums. My interest dates to when I was a boy running a trap line that consisted of wooden box traps and a couple of jump traps. Even though they weren't my prime target, it was a 'possum that I wound up trapping about 90 percent of the time. I learned to show respect for their sharp teeth by getting them out of the box traps the right way: turn the trap up on its closed end; shake it; reach your arm through the open door; grab he or she by the long bare tail; extract he or she with care; and hold it at arm's length until you decide what to do with it now that you've got it.
An article appeared in a Smithsonian magazine in the 1970s titled "A Few Miles of Land Arose From the Sea — and the World Changed" by John F. Ross that I read with interest because it explained how the 'possum got to North America in the first place. Ross' primary interest was establishing the significance of the appearance of a land bridge (the Panamanian isthmus) between North and South America approximately three million years ago. Of the numerous critters that trekked northward over the isthmus, the lowly 'possum has been the most successful because it became the most adaptable.
They may have small brains and can be a touch dim-witted, but 'possums can find food. And they can remember exactly where they found it in the first place, which — to my way of thinking —are sure signs of intelligence.
One researcher tested various animals for ability to remember which of four runways was connected to a food box. The 'possum scored better on average than cats, chickens, dogs, goats, pigs, rabbits, rats, goldfish, and turtles, although somewhat less than the average crow. Being outsmarted by a crow is to be expected."
Here are the closing sentences of a 'possum column I wrote awhile back: "The only menace 'possums — the ultimate survivalists — have been unable to adapt to is the automobile. Caught in the headlights' glare they freeze and are thereby doomed.
But this time around, let's look on the bright side. Maybe their decline as roadway fodder indicates they're starting to figure out what the lights indicate.
George Ellison is a naturalist and writer. He can be reached at This email address is being protected from spambots. You need JavaScript enabled to view it..