Archived News
Maggie Valley adopts tight budget with small tax increase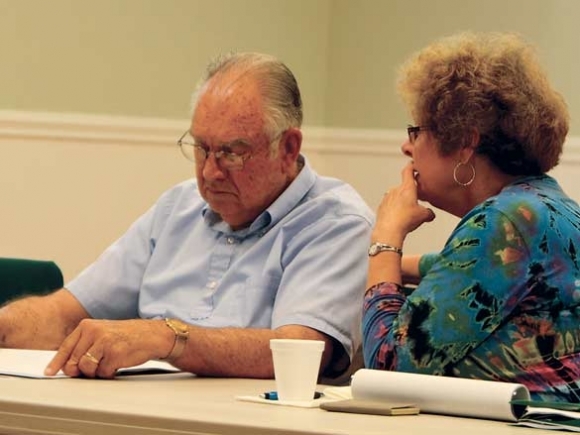 Haywood County's 2017 property revaluation was like a bucket of cold water in the face of every local government official in the county, but nowhere more so than Maggie Valley.
The town's taxable value fell 9 percent from $400 million to $365 million, the lowest value since 2007's $328 million; to collect the same $2.7 million for the fiscal year 2017-18 budget as the 2016-17 budget, the town would have to raise tax rates from a countywide-low of 39 cents per $100 assessed value to 51 cents.
Maggie Valley Aldermen didn't go that far, instead evaluating needs and wants and coming up with a modest 4-cent increase to 43 cents.
"I think it's a very fair budget," said Maggie Alderman Dr. Janet Banks, "We worked very hard in looking at the essential services that we have to provide for the town. Nobody wants to raise taxes, but we're trying to find about what we can do working within that."
Banks said that the board looked at the possibility of keeping the tax rate at 39 cents and making massive cuts in spending, as well as raising taxes to 51 cents to maintain existing spending.
"Four years ago, we dropped the tax rate from 42 cents to 39 cents because we decided that we could do some budget savings," Banks said. "Now, the economy has caught up with us."
The budget as adopted by the board June 12 will appropriate some $380,000 in general fund balance to pay down debts, thus relieving the town of the monthly or yearly payments associated with the debt, saving money on interest and preventing the gutting of municipal services.
"Citizens will notice no difference in the levels of service," said Maggie Valley Town Manager Nathan Clark. "If anything, they'll notice an increase."
Maggie Valley's fund balance — a robust 107 percent of its annual budget — will dip to about 93 percent.
But because property values generally went down, most residents won't actually pay more — or much more — in taxes.
"My husband and I, on our property, we're going to be paying $42 more a year," Banks said. "To me that's eminently reasonable — to make sure that my trash is collected once a week, and I can flush my toilets, I can take a shower, I have police protection and fire protection."