Archived News
Mom delivers baby on way to hospital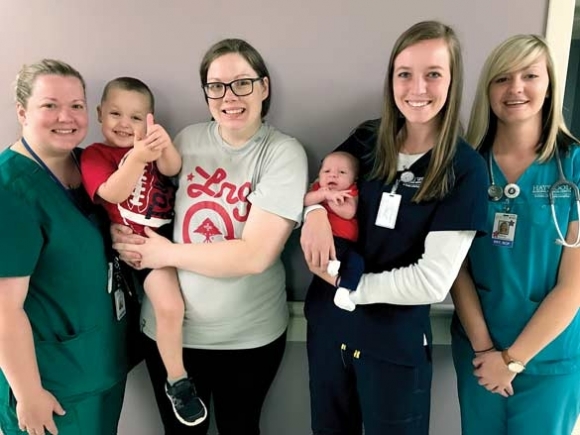 Expectant mother Caitlin Austin of Balsam never imagined giving birth to her second child in a car.
Austin began having active labor contractions at around 11 a.m. on Tuesday March 30. She called her sister immediately to take her to the hospital as she knew the baby was coming quickly.
Ashby, sister of Austin, works as an Emergency Department nurse at Haywood Regional and called ahead let the hospital know to expect them at the ER. Big brother Carson, 3, was riding in the back seat of the car during the excitement.
"About halfway there, while traveling on the highway, I could feel him start to come out," said Austin.
A team of women's care nurses, CNAs, doctors and extra personnel greeted Austin at the doors upon their arrival. Katie Hargrove, nurse on the Women's Care Unit, was working at the time.
"When we pulled up, Katie immediately checked me in the car and urged me to not push and to breathe, but then I had another contraction and he was coming out," said Austin.
Hargrove and Austin said after Katie determined the baby's birth was about to happen, she leaned the passenger seat back toward big brother Carson.
"When all this was going on, we were just thinking about 'this baby is coming' and making sure we tended immediately to he and mom, so I leaned the seat back and he was right behind it."
Carson said, "'Owwwww', you're squishing me mommy.'"
Dawson Louis was born at 11:45 a.m. weighing 7 pounds, 2 ounces. He came out crying and perfectly healthy. The family was then transported up to the Women's Care Unit where Jody Schmit, Certified Nurse Midwife of Haywood Women's Medical Center, tended to their care for the remainder of their stay.
Austin credits the entire team at Haywood Regional and especially nurse Katie Hargrove on the exceptional care and experience. She said that the collaboration between the units was amazing.
"Everyone was on the ball with everything." She said that when the baby came out, staff also tended to Carson to make certain he was occupied and calm. "I can't complain about anything. It really says a lot how Haywood Regional works as an entity," she said.
"I can just say that everybody was always fully involved. They were always helpful, always patient, and just awesome. Katie was amazing every step of the way. We enjoyed our gourmet post-delivery meal at the hospital the next day. My fiancé loves steak and I don't cook that at home," she said. "Give that to him here! They make you feel special after you have a baby, and recognize you."
The family enjoyed their first meal as a family of four and then were discharged home with their healthy newborn.