Archived News
Public not invited to meeting with Mission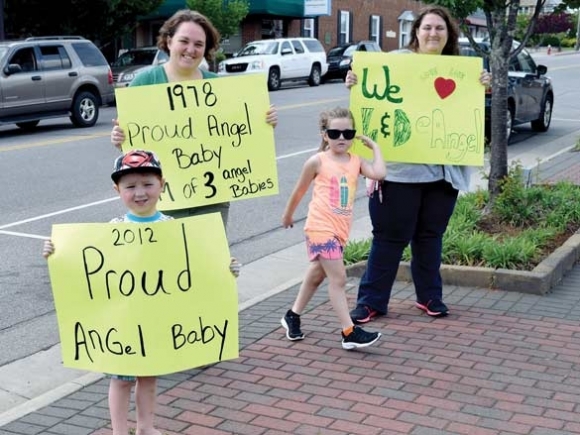 Mission Health leaders finally agreed to hold a meeting in Franklin to discuss their controversial decision to close the labor and delivery unit at Angel Medical Center, but the public and the media were not allowed to attend.
Only a dozen people were allowed in the meeting held Monday in Franklin, a stipulation that Mission CEO Ron Paulus made even though hundreds of concerned community members and local governmental leaders have been requesting a sit down with him for over a month.
Franklin Mayor Bob Scott said he was torn on whether to participate in the meeting since the community and media couldn't be there to ask questions, but on the other hand he thought the opportunity presented was better than nothing at all.
"They (Mission) set the ground rules — not us," he said. "They set the rules and we had to give them a list of who was attending and no media could be there, but we were very careful not to violate open meeting laws — no majority of any board was present and we made no decisions."
Mission made the labor and delivery closure announcement on April 27 via press release. Mission Health CEO Dr. Ron Paulus held a press conference about it at 8 a.m. on a Friday in Asheville, making it difficult for Macon County leaders to attend. While several news outlets did attend the press conference, they did not have the same opportunity when Paulus came to Franklin.
Members of the concerned citizens group formed to keep the labor and delivery unit open — Operation Heartbeat Two — told Mission they only wanted to ask questions to better understand the reasoning for the closure. While they promised no protesting or angry attendees, that wasn't enough to get the meeting they wanted.
Instead, only a few Operation Heartbeat Two leaders, including Dan Kowal, were allowed to attend the meeting held at 2 pm. Monday. Also in attendance were Scott, Franklin Town Manager Summer Woodard, Macon County Commission Chairman Jim Tate, Commissioner Ronnie Beale, Macon Economic Development Director Tommy Jenkins, County Manager Derek Roland and several practicing and retired physicians. On the Mission side, Paulus, AMC President Karen Gorby and AMC Board of Directors Chair Jane Kimsey attended the meeting.
The goal of the meeting was to find some kind of compromise to keep the service available locally, but Scott said he did not walk away hopeful after the hour-long meeting.
"I was glad Dr. Paulus came over here, but it was very disappointing. I saw nothing come out of this meeting that would give us hope right now," Scott said. "My gut feeling is it was all about profit and loss — pure and simple. Where we can go from here I don't know. My feeling is we no longer have a community hospital — we have a corporate hospital."
Kowal said attendees asked Mission to keep a bare-bones staff in labor and delivery and keep it open for an additional three months while a better plan is proposed, but he said it was clear after the meeting that Paulus wasn't going to budge on the decision to stop delivering babies at AMC on July 14.
"He talked a lot in circles," Kowal said. "He had all sorts of numbers except the ones we asked for."
Kowal said Paulus reiterated the same reasoning for the closure he gave at the press conference in Asheville. It comes down to the fact that labor and delivery at AMC loses $1 million or more a year and with health care policies in flux right now in Washington, D.C., Mission needs to continue to tighten its belt. With Macon's high rate of Medicaid patients, Paulus has said reimbursements don't keep up with the cost of providing the service.
"Basically he kind of passed the buck, saying it's a problem in Raleigh and D.C. that needs to be taken care of," Kowal said. "He said we should be putting our energy in D.C. and Raleigh, and we are as much as we can."
Kowal brought up the fact that Mission Health — a large nonprofit health care system — makes a $63 million profit a year.
"It's a matter of priority — the life of babies and mothers versus saving a few hundred thousand dollars," he said. "Why can't $1.2 million of that come to Franklin? But he didn't accept that premise. He has his own narrative."
Paulus maintains Mission's surplus has to be used to reinvest in health care, which is what he has promised to do by constructing a new $45 million hospital in Franklin within the next few years — even though it will be smaller and without a labor and delivery unit. Paulus claimed the cost of a new hospital would be an additional $7 million if it included a new labor and delivery unit and another $2.3 million to staff it.
"He kept saying we should be appreciative they're looking to spend $45 million on a new mini hospital," Kowal said. "Even though we have a county commissioner and construction builder that says it's unlikely to be done in that short of time."
Without delivery at AMC, the closest option for women will be 25 minutes away over Cowee Mountain at Harris Regional Hospital in Sylva. Paulus also thinks more women will choose to travel an hour and a half to Mission Hospital in Asheville since 25 percent of expecting mothers in Macon already deliver there.
Whether they go to Sylva or Asheville, Macon County is likely to see a significant increase to its ambulance transporting costs when the unit at AMC closes. Right now, Macon's ambulances average seven trips a day to Mission in Asheville and that money comes right out of the county's — and taxpayers' — coffers.
The community is concerned about the dangers in pregnant women having to travel far distances to deliver. In emergency situations, physicians staffed at the ER at AMC could deliver a baby, but they aren't properly trained to deliver by caesarian.
Paulus has also said the demographics in Macon County show the birth rate isn't growing and the population continues to be a majority 55 and older, which means labor and delivery is not in high demand. However, births at AMC have been growing steadily for the last four years with nearly 400 babies being born there in 2016.
Despite all the reasons given, Kowal still feels like there's something Mission isn't telling the community because of the way the announcement was made and Mission's actions since the decision made. About a year ago, Mission announced it would be investing $4.3 million to renovate and expand labor and delivery at AMC to meet the current and future demand. When asked what had changed since that announcement, Paulus said a closer examination of the AMC facility by architects revealed more structural problems than originally anticipated. He said renovating and repairing the problems in the building would have cost more than $50 million — $5 million more than it would cost to build a brand new hospital in Franklin.
Mission will also be closing down its children's and women's practices in Sylva soon to consolidate them in Franklin, but still has not sent out a press release regarding that decision.
After the meeting Monday, Kowal said there are also questions of whether Mission owns the property where AMC is now located. Mission and AMC formalized a partnership in 2013 when the small rural hospital signed a management agreement with Mission to bring more financial stability and better access to resources.
However, Kowal said Paulus insisted on Monday that Mission outright owns AMC and the property it's located upon.
"I asked point-blank about what Mission has to provide under its management agreement with Angel and he said Mission owns it outright," Kowal said.
Left with few options at the end of the discussions, Kowal said local officials will likely looking for a way to challenge the closing by examining property deed documents and whether Mission has a management agreement with AMC or owns the hospital outright.