Archived News
Franklin wants to address noise complaints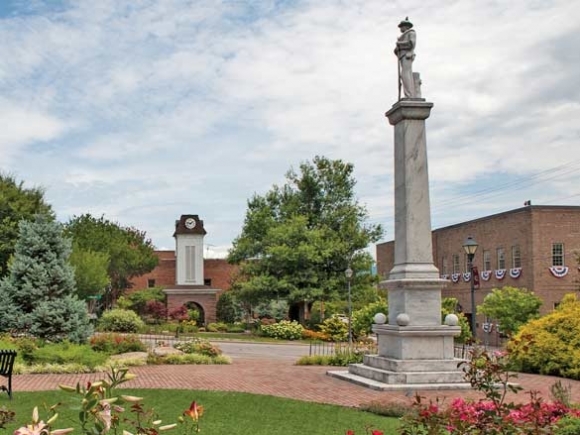 Franklin Mayor Bob Scott was recently awoken at midnight on a Friday by a phone call from Franklin resident Janet Watson.
Watson — who lives on Cook Street — was at the end of her rope after dealing with loud music and partying coming from a nearby commercial business on Depot Street for several days. On the Saturday just before Easter, Watson said the loud music and partying began at 9 p.m. and continued until 4 or 5 a.m. Sunday morning. She said the partying resumed the following Friday at 10 a.m. and went on all day long.
"At 9 p.m. I called dispatch. I wanted to talk to Chief Adams but I was unable to talk to him so I asked if I could speak to Bob Scott but they said he was unavailable," Watson recounted for the town council in early May. "So I picked just picked up the phonebook to see if I could find his number and I called him."
Scott and Chief Adams went out to check out the situation, which Watson said got resolved by 2:30 a.m.
Watson had called the police department many times but had been told there was nothing they could do because the neighbors weren't breaking any laws. While police can ask people to tone down the noise, they don't have any legal recourse to make them because the town doesn't have an ordinance regulating nuisance or loud noise complaints.
"Something's gonna have to be done. I have health problems and can't take this stress," Watson told the town board.
After getting multiple complaints over the last couple of months, the town hopes to remedy the problem by looking at ordinance options. Town Attorney John Henning Jr. presented the board with a draft ordinance at its regular meeting June 5.
Scott wanted the board to approve the ordinance that same night to give police officers a tool to deal with these ongoing issues.
"I want to see the board adopt this tonight — I don't want to subject our police department to another month of this stuff going on," he said.
Police Chief David Adams said he looked over the ordinance language and thought it was sufficient.
"It reads well — I think it will work," he said.
Other councilmembers wanted more time to look at the ordinance language and figure out the best way to define nuisance noise.
"We don't need a knee-jerk response," said Councilmember Joe Collins.
"I don't consider this a knee-jerk reaction at all — it's been brought up time after time," Scott said, adding that he didn't want the town to be accused of being negligent if the situation escalates and something bad happens. "We've batted this thing around for a while but at some point you have to bite the bullet."
Henning said there were a couple of different ways to address the problem — either through a police power ordinance or a broader land-use regulation to prohibit certain uses on commercial properties since that is what is occurring on Depot Street.
The proposed police power ordinance would allow the town to prohibit actions that could be considered detrimental to the health, safety or welfare of residents — and late night partying disrupting neighbors would fit into that category. Henning said the advantage of going this direction would be that the town board wouldn't be required the town to hold a public hearing before adopting it, which means police would immediately be able to enforce the new law. The disadvantage, he said, is that the ordinance would have to be applied uniformly throughout the town limits and not just certain parts of town.
If the town goes for a land use regulation instead, the town could prohibit certain actions from certain areas of town during specific hours — like 7 a.m. to midnight.
"The town's Unified Development Ordinance is already equipped to deal with land uses and ensuring that compatible uses are located away from incompatible ones," Henning said. "We could add this sort of use to the definition of 'private club,' which would then subject it to special requirements, such as a prohibition on locating closer than 500 feet from similar use or within 250 feet of a residential use."
Nuisance or noise ordinances are still tough to define. How do you define noise? At what decimal does noise become a nuisance to others? How many people are needed to define a party?
The board discussed that 10 might be a good number to define a party, but Councilmember Barbara McRae said four people could still make a lot of noise.
On the other hand, Councilmember Brandon McMahan said his family's home on Christmas could then be considered a nuisance party.
"So if there are nine people really partying hard, we won't be able to do anything about it?" he asked.
Collins said he was against passing an ordinance that night and thought it would be best to add something to the Land Development Code.
Councilmember Patti Abel also said she would like more time to consider the ordinance since there were still a number of unanswered questions.
Despite Scott's push to pass the ordinance, the board decided to table the issue for another month.
Franklin isn't the first local government to be presented with this issue. At the direction of county commissioners, Macon County's planning board went through a yearlong process in 2014 and finally passed a nuisance ordinance in April 2015 to address residential noise complaints.
The county now defines nuisance noise as loud, unnecessary and disturbing noise that is intentionally created to disturb someone's peace. So "intentionally" is the key word. Franklin may not be able to show that these parties on Depot Street are purposefully trying to disturb others.
The Franklin board could look toward Sylva's noise ordinance, which allows the town to regulate loud noises, whether it be a noisy animal, vehicle, amplified music and even service stations during certain hours.