Archived Arts & Entertainment
Cataloochee Ranch welcomes Chatham County Line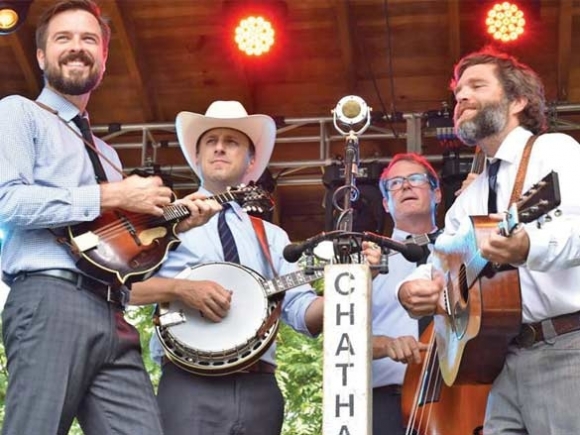 If you want to understand the history of bluegrass music, you need to look at its entire spectrum — of sound, of intent — as one large tree. With the deep, sturdy roots that are Bill Monroe, Jimmy Martin, Dr. Ralph Stanley, and so on, the trunk is the culmination of those roots, with each growing branch another avenue of creative possibility and sonic exploration.
Formed in Raleigh in 1999, Chatham County Line has emerged as one of those unique branches of tone and approach in bluegrass. Whereas other popular groups may focus on lightning-fast finger pickin' or a thunderous foot-stomp, Chatham County Line adheres more to the songwriting, ballad roots of the genre.
Their songs find solidarity with the ancient traditions of the British Isles, with, perhaps, even a pinch of the melodic styles echoing from north of the border in Canada. When you listen to Chatham County Line, you're hearing the hardships, heartache and headstrong attitudes of those who came before us, those with us now, and those to appear in the future — it's as evocative and captivating as it gets in the world of bluegrass.
Smoky Mountain News: What was the original idea behind the group? And how has that idea and intent grown and evolved in the years since?
Dave Wilson (lead singer/guitar): The band was born out of very informal jam sessions held at a historic Raleigh rental house. I had bought a book of "150 Bluegrass Songs" and we would flip through the pages and try and play all the songs we could, occasionally playing a song I had written. During this time, I had the pleasure of seeing the Del McCoury Band at the Carolina Theatre in Durham. Their approach to stage performance with the single mic and everyone wearing suits completely blew my mind. When Chatham County Line rose up out of the ashes of those informal jams, I decided that the McCoury style of performing would be how we would do it. Through the years, our mission has always been to pay tribute to the sounds that built bluegrass, but to stay true to ourselves and the songs we write. None of us were born in a vacuum, so all that exposure to modern sounds has continually and perpetually informed our music and the way we write and approach the songs we write.
SMN: 2017 marks the 18th anniversary of Chatham County Line. What does that number 18 mean to you, personally and professionally?
DW: It's a very interesting thing being in a band with the same guys for that long. We've experienced so many great moments, both professionally and personally, and they've all kept us strong and working together. Through our work ethic and the catalog of songs we have created, we feel like we've built a house out of brick that can stand the test of time, no matter how hard the wind blows.
SMN: What sets bluegrass apart from other genres?
DW: I used to feel that a good portion of bluegrass fans felt like they had ownership of the genre and anything that went against it, or sounded too modern, was "not bluegrass." At this point in the evolution of music, all of this "ownership" is a lost ideal. Music is a beautiful, heartwarming, joyful and embracing thing that no single word can hold within definition. All genres are busted, and at some point someone will create a new terminology to address this. I never thought we sounded like "bluegrass," I always thought we sounded like Chatham County Line.
SMN: With bluegrass, some might say there are two camps: neo-traditional and progressive. What do you see currently going on in the genre?
DW: I feel like the genre is experiencing what it always should have, and that is unfettered growth. A horse only becomes tame when we build a fence around it.
SMN: And what is the importance of bluegrass and string music, in sound and tradition, as we push further into a modern world of technology and distraction?
DW: Folk music was always a well to tell a story and an excuse to spend time together making music and singing. All those ages ago before the 78 rpm, the music they made was the music a family had to dance to on a Saturday night. I feel there will always be a part of the population that experiences music through creation rather than Memorex so as long as they continue to make strings this will continue.
Want to go?
Acclaimed bluegrass act Chatham County Line will perform on Sunday, June 18, at the Cataloochee Guest Ranch in Maggie Valley.
Cocktail hour will be at 5:30 p.m. Dinner will be served thereafter, with the show beginning at 8 p.m. The dinner will be a gourmet cookout.
Tickets for the show are $35, with separate tickets for the gourmet mountain dinner also available for purchase. For reservations, which are required, call the ranch at 828.926.1401.