Archived Outdoors
Life on the road: Asheville couple trades stability for life of mobile adventure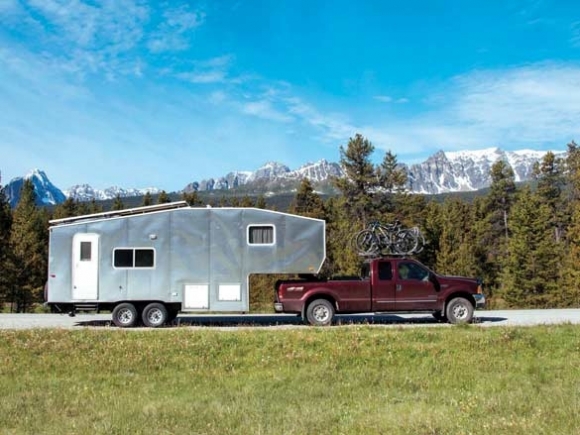 Ching Fu and Jerud Crandall had professional careers and a comfortable home when they left it all behind in 2015, trading their stable lives in Asheville to roam the continent in an RV. Now they've been on the road for more than two years, adventuring through Canada, Oregon, Utah and everywhere in between.
"Our priorities were being outdoors and doing the outdoor activities we wanted to do and exploring outdoors, and it was a much lower priority for us to have a nice house and a nice car and eat at fancy restaurants and be physically luxurious/comfortable," Crandall explained. "But the way we were living (in Asheville) we were physically very comfortable, and we carved out time to do the outdoor activities."
They wanted to reverse that equation.
In Asheville, Fu, 34, did communications for REI and Crandall, 37, was an engineer. They still traveled more than the average person, stringing together holidays and vacation days to make their adventures last as long as possible. But it wasn't enough. To really experience a place, to really know it, you have to go beyond the mandatory tourist stops, Crandall said. You have to see it when it's rainy and cold and stormy as well as when it's sunny and perfect and beautiful. It has to be more than just a vacation.
The couple began to consider a lifestyle change. What if they — and their two dogs — left their stationary lives behind and went mobile? They started researching RVs but couldn't get past the vehicles' large carbon footprint, or the way that you pretty much have to be plugged into the grid to use the amenities.
"We couldn't see ourselves making some kind of lifestyle change without making some kind of improvement in our carbon footprint," Crandall said. "It had to be a step forward as far as how we enjoyed life and a step forward as far as how we felt like we were being responsible environmentally."
So, the RV got a makeover. The two spent more than a year rebuilding the rig, converting the original propane system to run entirely on solar and installing a composting toilet. The endeavor involved 2,801 hours of labor, 86 trips to Lowe's and $31,100 of materials. Initially, the truck pulling the RV even ran on waste veggie oil rather than diesel, but after 18 months on the road they had to give that up due to increased difficulty in finding veggie oil sources. Instead, they committed to drive as little as possible, parking to camp and then frequently using bikes to travel from the home base.
The result was an eco-friendly, 218-square-foot home with a super-low operational cost, affectionately dubbed "The Toaster" due to its square, silver and shiny appearance. With no rent, mortgage or electricity bills to pay, Fu and Crandall saw their freedom to roam balloon.
"I actually feel really comfortable in our space," said Crandall.
As expected, it's been hard at times. Sharing such small living quarters with another person and two dogs can be stressful. Arguments happen. But overall, he said, it's gone well. Perhaps the best part is waking up every day in the middle of nowhere, surrounded by trees and mountains.
"I was expecting that the novelty of that would fade after six months or so, but it hasn't for me," Crandall said. "It's really nice to wake up and look outside and realize that you just woke up in a pretty remote location all by yourself."
His favorite adventure thus far has been the trip to Banff National Park in Alberta, Canada. They'd actually been there before, and he was expecting that the second time back might be something of a letdown. It wasn't.
"It was pretty breathtaking," he said, all "picture-book Rocky Mountains with snow and emerald and jade lakes."
They adventured through Utah, hitting up the St. George Area Mountain Biking Trails, and the Hurricane and Gooseberry Area Mountain Biking Trails. They explored the Grand Staircase-Escalante National Monument and checked out the state's limitless Bureau of Land Management areas.
The Pacific Coast was also a destination, with the first year's route including a drive down the coast past picturesque beaches and rock pillars, burning sunsets and dramatic mist. The two got a surprise one day when they chatted with some folks during a lunchtime stop at a rest area and learned that a whale had beached nearby. They decided to check it out.
It was a juvenile blue whale, enormous and dead. Responders on the scene wore full-body Tyvek suits, cutting up the carcass with chainsaws to prevent carnivores from swarming the public beach.
"It's not something you would add to your list if you were planning a vacation, but it's something you remember a lot, and I'm glad we did it," Crandall said.
Though their Instagram accounts might indicate otherwise, the venture hasn't been all play. While it's been harder than expected to find work on the road, they've been doing so as much as possible, with Fu writing freelance and Crandall doing 3D CAD work. Both of them spent the winter working at a ski resort. And they've had their share of mundane tasks to attend to in between adventures.
"I don't think we expected how stressful it can be and how much of a challenge it can be to deal with everything while you don't have a home base," Crandall said. "Not being tied to a central physical location makes everything a research project."
When the toilet breaks or the groceries run out and you're camped on some remote piece of BLM land, fixing the problem can be difficult and time-consuming.
"If the toilet doesn't work, it's not like you can use the other toilet for a week until you get the toilet fixed," Crandall said. "You have to fix it. It's your only toilet. That's a huge liability of the lifestyle versus something that's got a lot more redundancy built in."
Still, it's not a lifestyle they intend to abandon anytime soon. They're back in Asheville for a month or so, but only to take care of a handful of issues that are just easier to deal with in person. Then they'll be back on the road.
"It's not a trip. It's our lives," Crandall said. "This is an intentional lifestyle change, and we want this to be how we live for the foreseeable future."
Check out the Toaster
Ching Fu, Jerud Crandall and their RV — dubbed "The Toaster" — will roll into the Highland Brewing Company in Asheville for an open house 3-7:30 p.m. Saturday, June 17.
The solar-powered Toaster, complete with recent upgrades, will be open for touring with Fu and Crandall on hand to answer any and all questions.
Photos, blog posts and more about Fu and Crandall's new lifestyle are online at www.livesmallridefree.com.