Archived News
Public hearing slated for Publix site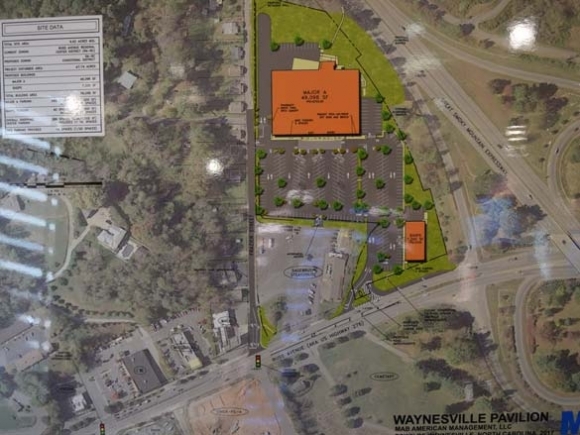 A 56,000-square-foot, $20 million retail project that will bring a long-awaited Publix grocery store to Waynesville was unanimously approved by the town planning board May 15, but still has one more hurdle to face.
"We've been interacting with [Waynesville] planning staff for the better part of a year, so they have a pretty comprehensive understanding of the project itself, which is why things have gone so smoothly," said John Argo, the principal developer for Charlotte-based MAB American Management.
On May 23, Waynesville aldermen called for a public hearing June 13 to consider the planning board's recommendation and MAB American's request for a conditional district map and text amendment to 909 Russ Avenue, and 88 Frazier Street and 186 Frazier Street.
If successful the amendment would change the irregularly-shaped, oddly-sloped 6.3-acre parcel from Russ Avenue Regional Center Commercial District (RA-RC) zoning to Russ Avenue Regional Center Commercial District Conditional District (RA-RC-CD).
Many existing structures like The Big Red Barn, The Lodge Motel and some warehouses and homes that line Frazier Street will be razed to make way for the retail development.
The reason for the request is to allow MAB American to deviate from existing landscaping and parking regulations. Its plan does, however, integrate well with the proposed Russ Avenue improvement plan that is still in the works but scheduled for completion by 2022.
Argo thinks the benefits to the area will be substantial.
"It's a redevelopment of an important gateway into the town that will help Waynesville put its best foot forward," he said. "In addition to the construction jobs created, it will also employ a number of people."
A representative from Columbia Engineering said that the development would involve up to $20 million in investments that would bring about 200 permanent jobs.
Still up in the air is a request from planning staff for the developers to coordinate with N.C. Department of Transportation in exploring the possibility of creating a left-turn lane onto Frazier Street, but Argo doesn't anticipate any problems.
"We're investing in the future of Waynesville," he said.
Speak Out
A public hearing to consider the conditional zoning request of MAB American has been called by the Town of Waynesville.
• Time: 6:30 p.m.
• Date: Tuesday, June 13
• Location: Waynesville Town Hall, 9 South Main Street