Archived Outdoors
Sleuthing for salamanders: New DNA technique boosts salamander science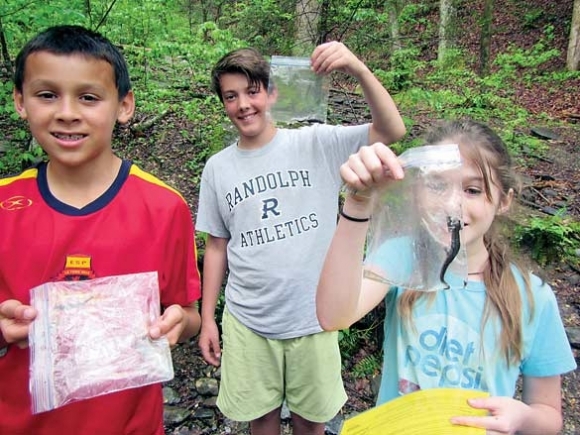 A new scientific tool developed at the Great Smoky Mountains Institute at Tremont will allow salamander-studying scientists to trace the amphibians' whereabouts without ever laying eyes on one of the slimy creatures.
"It's kind of like a crime scene investigation thing," said Gar Secrist, the teacher/naturalist at Tremont who led the research. "You're looking for evidence of the salamanders that were there without ever seeing the salamanders."
As salamanders move through the water, they leave parts of themselves behind — skin cells that slough off and remain in the environment. The DNA technique Secrist has been working on analyzes samples of stream water to determine which species of salamander the skin cells contained in the sample belong to.
Secrist just completed a yearlong pilot study of the technique, done in collaboration with Todd Pierson and Benjamin Fitzpatrick of the University of Tennessee. The goal was to see if observations obtained through the DNA analysis matched those gained through traditional salamander monitoring — that is, through actually capturing the creatures in the field. This effort enlisted help from the army of children, teenagers and adults who participate in Tremont's citizen science programs.
"Part of our mission here is connecting people and nature, so one way we do that is with our citizen science program," Secrist explained. "We're basically involving people who aren't professional scientists in collecting data for field science projects."
When it comes to salamanders, Tremont has been running such programs for more than 15 years. Student groups and adult volunteers alike come through to help take the data, contributing to a record that shows how populations in the Smokies' streams are changing over time.
This time around, volunteers took water samples of each of the streams where they captured salamanders, allowing scientists to compare the two results. As it turned out, the five salamander species captured in the field were the same five species that the DNA method identified.
That result is encouraging, Secrist said, as the new method has many exciting potential applications.
For one thing, it could allow scientists to learn more about the populations in a larger volume of streams, as volunteers who perhaps aren't able to launch a full-scale salamander capture study could instead send in water samples from any given stream for analysis.
"One of the big reasons we started our salamander project over 15 years ago is because we study salamanders as an indicator of how healthy the streams are," Secrist said. "Even though we're in a national park, there are still a lot of threats to these stream environments."
With their porous skin, salamanders are more sensitive to these threats than many other types of creatures, so monitoring their populations can indicate environmental issues before those issues become very advanced. And the park does face an array of known environmental issues, including acid rain and the loss of hemlock trees to the hemlock wooly adelgid. It's possible that the death of hemlock trees could adversely affect stream environments, as the disappearance of the shade those trees provide results in more sunlight on the water, in turn raising the stream's temperature.
"We don't know what kind of impacts those could have, so we use the salamander as an indicator of how healthy the stream is in response to some of these threats," Secrist explained.
If, through salamander DNA sampling, scientists could get a genetic baseline on these streams before changes occur, they would be better equipped to understand how normal or abnormal later observations are.
In addition, the method could help scientists better understand the abundance of salamander species not commonly caught in stream sampling. The Great Smoky Mountains claim the title of Salamander Capital of the World, with more species living there than at any other one place on the globe. But it's possible that some salamanders' habits could make them less susceptible to capture than other species.
"This is another way of looking so we might be able to show a species is there without having to see it with our own eyes," said Secrist.
That said, the new technique does have its limits. For instance, though it seems to reliably show which species inhabit a stream, it doesn't show how many of those species exist. With a traditional capture study, however, it's much easier to estimate the size of the general population based on the frequency with which a particular species is captured. For that reason, the DNA method couldn't be considered a replacement for more traditional surveying methods — rather, Secrist said, it's a "complementary" technique.
"The genetic method isn't going to replace everything we do," he said.
However, it's possible that the method could provide some indication of a species' relative abundance, even if it's not capable of rendering a count as to how many individual salamanders have passed through an area. Secrist calls this figure "relative abundance."
"We did notice some fluctuation in the genetic signatures of the salamander that seemed to correspond with the abundance caught," said Secrist.
However, there's more research to be done before scientists can draw any conclusions from those types of observations. In the meantime, Secrist is looking forward to getting Tremont's force of citizen scientists started on using the DNA techniques that have been created thus far.
"We're really excited that this is a new tool among scientists," he said, "and we're really excited to involve the public."
Get involved
The Great Smoky Mountains Institute at Tremont relies on a force of citizen scientists to monitor everything from seasonal changes to salamander populations.
Located in the Great Smoky Mountains National Park near Townsend, Tennessee, Tremont welcomes new volunteers to take data at sites throughout the park, with many other tasks in demand as well. Volunteer applications are online at www.gsmit.org/volunteer.