Archived Arts & Entertainment
Light on my feet, ready to fly: Doyle Lawson & Quicksilver roll into Cherokee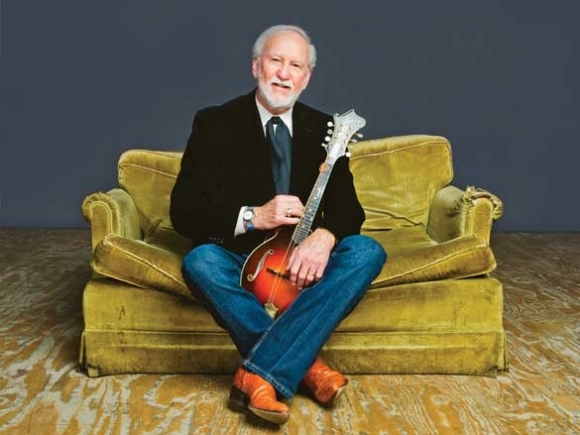 To say Doyle Lawson has had a full career would be an understatement.
Nowadays, Lawson is regarded as a pillar of the bluegrass world. But, at 73, he still feels as if he's just getting started, where a never-ending reservoir of creativity and enthusiasm spills out onto the stage each night.
Raised in Sneedville, Tennessee, Lawson learned how to play music first-hand from bluegrass legend Jimmy Martin, whose brother-in-law was Lawson's next-door neighbor. The friendship that emerged with Martin eventually led to Lawson being asked to join his Sunny Mountain Boys in 1963. A few years later, Lawson joined banjo icon J.D. Crowe and formed the Kentucky Mountain Boys (later renamed New South), only to parlay that into several years playing with The Country Gentlemen.
But, by the late 1970s, Lawson wanted his own thing, which became Doyle Lawson & Quicksilver. And in the decades since, the band has become a mainstay and solid foundation of tradition and progression that all bluegrass acts who have come thereafter have looked to for guidance and inspiration in their own endeavors.
Alongside his numerous International Bluegrass Music Association (IBMA) awards, Lawson was also inducted into the Bluegrass Hall of Fame in 2012, an honor well-deserved for one of the marquee names of the genre — past and present.
Smoky Mountain News: I was watching the "State of Music" interview you did with David Holt recently. You talked a lot about not restricting the creative process of an artist. I agree with what you had said, but it seems like an interesting statement when applied to bluegrass, which can be very defined in its lines…
Doyle Lawson: Well, I really don't think that it is defined to its lines. I think that there are some people that have maybe a preconceived notion of what it should be. But, if you go back and think about from the very get-go [in 1946]. When Bill Monroe was a star on the Grand Ole Opry, and when he assembled the first authentic bluegrass band (Bill Monroe, Earl Scruggs, Lester Flatt, Chubby Wise and Cedric Rainwater) as we know it today, that was the nucleus, that was the core, right there. But, here's the deal — they were innovative.
SMN: Well, Bill was a rebel…
DL: Of course. You talk about defining lines, [Bill] didn't define lines. [They] did big band and jazz tunes.
SMN: I was curious about you, about when people can be purist about the whole thing…
DL: I agree that there's an integrity and a tradition in our music. I think it's vitality important that we hold on to those values, but that's not to say that you can't explore and you can't be innovative. I've never done anything in my music that my peers didn't do before I came along. With what I do, I step out wide of the mark, so to speak, with other types of songs, just like they did. There's a big difference between 1946 and 2017. There's a difference in the peoples' outlook on the music. They don't relate to that life in those days. So, you have to bring the music along. My only hope, and I've always said it, is that we not lose the integrity, the boundaries and traditions that were always there. But, they were innovative, Bill [and the band] were burning everybody up — they did it their way.
SMN: Do you grow more from your limitations, or do you draw your own lines?
DL: I try to have an awareness of how far I want to go with it. I don't know if I've ever drawn a line, but I try to be mindful of the integrity and core of the music. If you take any kind of music you play, and you take it so far away you can't recognize what you call it, [you can lose it]. We have bluegrass because there's a sound that defines that.
SMN: When I talk to people that are purists about [bluegrass], I say I think Bill [Monroe] would be proud of how far it's grown.
DL: I knew Mr. Bill, I knew him pretty good. And Bill wasn't as nearly closed-minded as people thought he was. He wasn't. He approved of a lot of stuff that people might have thought he didn't. Everybody used to say, "Oh, he hated the dobro." I never once heard Bill tell me he didn't like a dobro. Back in the day, when they called them "hippies," these "longhairs" or whatever, he delighted in the fact that they loved his music. He thought that was great — he did. He certainly had the utmost respect for Sam Bush and New Grass Revival. He didn't play that kind of music, but he respected Sam's talent and ability.
SMN: A lot of people went through the "hub" of Jimmy Martin and created careers for themselves, and similarly there are people going through the "hub" of Doyle Lawson as you've gotten older. What are some of the things you learned from Jimmy that you've applied to what you've been doing?
DL: Well, the first thing I learned, and it wasn't hard to adapt to it, was discipline. He was a very disciplined person back in the early [1960s] when his career was going full bore. He knew exactly what he wanted in a banjo player or a fiddle player or whoever we had in the band. He had a great ear for lyrics and songs, for phrasing and song delivery.
Want to go?
The Cherokee Bluegrass Festival will be held June 8-10 at the Happy Holiday RV Village & Campground at 1553 Wolfetown Road in Cherokee.
The lineup includes Dailey & Vincent, Doyle Lawson & Quicksiler, Rhonda Vincent & The Rage, Gene Watson, The Crowe Brothers, and many more. Tickets are $40 per day in advance, $45 per day at the gate. The three-day advance ticket is $90, with the three-day at the gate ticket $95.
For more information on the daily lineup or to purchase tickets, visit www.adamsbluegrass.com (click on "Festivals" tab).