Archived News
B-Day Victory! Community celebrates WWII veteran's birthday, service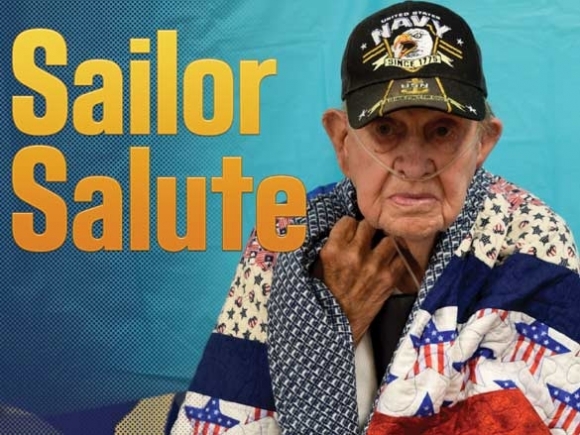 They say "Ask and thou shalt receive," but Nancy Bolding of Otto probably received way more than she bargained for when she reached out for help to plan her husband's 94th birthday party.
Nancy, 71, made a call to Macon County News reporter Brittney Burns on Tuesday, May 23, wanting to have something special done for her husband Garland Bolding's birthday on Wednesday, May 24 — which happened to be just five days before Memorial Day. As one of the few remaining World War II veterans in Macon County, Nancy just thought maybe the newspaper would want to take his picture and publish it. However, Burns had more in mind when she found out the Boldings didn't have any special plans to celebrate.
Without much hesitation, Burns took on the challenge of giving Bolding the birthday party he deserved with less than 24 hours to pull it off.
"People call the newspaper for so many things that aren't always headlines. We are a resource. I am happy to know that more than just a weekly newspaper covering county meetings and public events, people turn to us when they need the blanks filled in," Burns said. "Anytime I can help someone else, regardless of what it is, I want to take that opportunity to do so. My dad always told me that it doesn't matter how bad your day is or how little you have, there is someone who is having a harder day and is doing it with a little less. So if I am ever able to help someone, I want to do that."
Burns posted a call to action on Facebook through her personal account and the newspaper's account and it wasn't long before the community answered the call. The senior center offered free space for the party, restaurants donated food, teachers had their students make birthday cards and businesses donated gifts.
The Huddle House — Garland's favorite restaurant — gladly donated chicken fingers for the party and also provided the Boldings with two free meals a month for a year.
Since Garland mentioned he had lost a pocketknife he had for 30 years, Ace Hardware in Franklin donated a brand new one with a ship etched on it especially for the Navy veteran.
Community leaders, firefighters, law enforcement officers, county officials and students filled up the senior center room for a chance to wish Garland a happy birthday and thank him for his service to the country.
Nancy was overwhelmed by everyone's generosity and willingness to make it a special day for Garland.
"This is the biggest birthday he's ever had and I want to thank you all," she said as she fought back tears.
The acts of kindness from strangers didn't go unnoticed or unappreciated. While interviewing Garland, he kept saying how thankful he was for everyone who came to celebrate his birthday with him. He enjoyed a piece of his favorite cake — pineapple upside down cake — and was happy to strike up a conversation with everyone who shook his hand. He and younger generations of veterans who served in Vietnam, Korea, Afghanistan and Iraq exchanged war stories with pride as Memorial Day was just around the corner.
Burns said she wasn't surprised with how quickly Macon County residents and businesses were able to mobilize to make the day special for the WWII vet because she's seen the community come together many times to help others in need.
"I had no doubt that our community would want to help, and of course they did. I was flooded with dozens of messages from people wanting to make finger foods, bring decorations, even bake the cake," she said. "In reality, I did very little. All I did was get the ball rolling. Everything was able to happen in less than 24 hours because the people of Macon County love their neighbors and would do just about anything to help, even if its someone they have never met."
Another emotional moment came when Carlie Nichols from the Smoky Mountain Quilters Guild presented Garland with a quilt from the Quilts of Valor Foundation for his service in the U.S. Navy during WWII from 1941 to 1947. The grassroots effort to provide veterans with quilts when they return home started when one mother needed something to keep her distracted when her son was deployed and has now spread nationwide. Since forming in 2003, Nichols said 160,000 quilts have been made and given to veterans — Garland makes 160,001.
"Our mission is to cover all service members touched by war with comforting healing quilts — we're not about politics, we're about people. And if you've never heard it before, welcome home," she said before ceremonially wrapping Garland up in his Quilt of Valor.
Garland, originally from Pickens, South Carolina, enlisted in the U.S. Navy in 1941, not long after his 18th birthday. He was aboard four ships during his six years of service in the Atlantic, including USS Tuscarora, a fleet tugboat. He also was aboard the USS ATR-4, which was assigned first to the Europe-Africa-Middle East Theater and later to the Asiatic-Pacific Theater and participated in the Invasion of Normandy.
"That was also a rescue tugboat — we made the invasion with it in Europe," Garland recalled. "We went in with the armada — about 4,000 ships."
He was discharged from the Navy as a Chief Boatswain.
"Someone earlier asked me if I liked being in the Navy — I said I liked it good enough to give them six years but not enough to make a career out of it," Garland said.
Garland said he didn't really have a plan when he left the military, but he knew he couldn't stay in South Carolina much longer.
"You couldn't find a job there in those days — I even considered re-enlisting," he said.
But with his experience working on ships and with the construction battalion in the Navy, Garland ended up in Charleston working on a ship traveling back and forth from New York City. He then got into construction with a company out of Greeneville, South Carolina, and got to travel around the U.S.
Garland found his way to Franklin in 1979 when he came with his construction business to build a facility for CNR Industries. As luck would have it, a hard freeze hit when he arrived and the project wasn't able to start for another two months. It was during that time he met Nancy. The two married in 1980 and have been living in Otto ever since.
"Franklin's been good to me — I love it here," he said.
Franklin's kindness didn't stop once the birthday party was over. People kept reaching out to Burns to see if there was something they could do whether it be sending a belated birthday card or making some kind of donation.
"At the party Garland mentioned his back hurting because of his mattress. He never asked for a new bed, he never asked for anything, but I had had people who weren't able to attend the party ask if there was any other way to help the couple, so the mattress came to mind," Burns said.
So with a good deal from Big Lots in Franklin and help from the community, Burns said $600 was raised to purchase a new mattress set for them. It was delivered over the weekend. She said the son of another WWII veteran dropped by the Macon County News office and left a donation and several others donated as well. Bonnie and David Pickartz not only donated money for the mattress, but they also helped Burns deliver it.
"And while I was there setting up their new bed, the couple was asking for contact information for the Quilts of Valor so they could make a donation," she said. "That's one thing I learned during this process — that Garland Bolding isn't just a WWII veteran that we threw a party for because of his service to our country — he and his wife Nancy are active members of the community that do everything they are willing and able to for others."
The Boldings grow vegetables to donate to those in need, they collect jackets in the winter for veterans and the homeless, Nancy makes silk flower wreaths for people and Garland used to volunteer on construction projects at Newman Chapel.
"When they heard about a young mother who found out she was pregnant well into the pregnancy, Nancy collected all the baby girl things she could for that family," Burns said. "They do so much for others, it was only fitting to do something for them."
The Boldings extended an invitation to people in the community to write them letters or come visit with them anytime. They can be reached at 828.524.6039 and their address is 10602 Georgia Road, Otto, N.C., 28763.