Impeachment in Cherokee
Cherokee chief removed from office: Lambert's impeachment causes anger as primary election draws near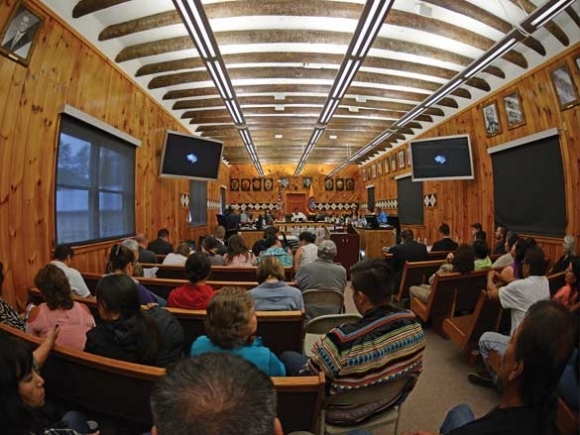 After three full days of testimony and four hours of waiting for a verdict, silence reigned at the Cherokee council house May 25 as Tribal Council convened to deliver its final decision on whether to remove Principal Chief Patrick Lambert from office.
Nobody spoke as Chairman Bill Taylor explained how the voting would be conducted, or as councilmembers rose, one by one, to announce their decision of guilty or not guilty on the first article of impeachment, or the second, and so on through the 12 articles. The room was quiet as Taylor explained that being found guilty on even one count would have been enough to remove Lambert from office — Tribal Council had voted him guilty on eight of the 12 charges.
SEE ALSO:
• Lambert defends against impeachment charges
• How they voted
• A timeline of impeachment week
Calls for a special election
The resolution to remove Lambert was read into the record, along with a provision to immediately swear in Vice Chief Richie Sneed as principal chief. As had been the case throughout the impeachment issue, nine of the 12 councilmembers voted to pass the resolution, with Councilmembers Teresa McCoy, Richard French and Tommye Saunooke opposing. Taylor announced a 10-minute break before Sneed's swearing-in, and things stayed quiet in the council chambers as the audience waited for the meeting to resume.
But when council reconvened and Sneed prepared to take the oath of office, emotions that had been buried beneath that silent exterior burst to the surface. Lambert supporters began to stand, asking Sneed for the chance to speak before he took his oath. Such a reaction had been strictly forbidden, with Taylor making it clear throughout the impeachment proceedings that any disruptive audience members would be removed.
"They said no outbursts," said Taylor, banging his gavel. "No. No. Take us off the air, please."
At that point, the tribe's video recording of the meeting ceased — though The Smoky Mountain News took its own video, which is posted at www.facebook.com/smnews — as tribal members continued to call for a special election to fill Lambert's seat instead of passing that seat on to Sneed.
Council directed the police officers who had been present throughout the proceedings to throw out the tribal members disrupting the swearing-in, but the officers soon abandoned the effort. The handful of officers were faced with a whole room of angry people, not just one or two unruly individuals.
"Listen up!" yelled Taylor, to no avail. Tribal members began chanting, "Special election! Special election! Special election!"
Eventually, it was the councilmembers who wound up leaving, taking a police escort to the EBCI Justice Center to conduct the swearing-in in a quieter locale. Several councilmembers did remain in the room, however, including Adam Wachacha, Bo Crowe and French. Saunooke and McCoy, who along with French had been consistently anti-impeachment, left out the front door, not joining the majority at the Justice Center. Members of the crowd continued to plead with those who stayed, reiterating their requests for a special election.
Reactions to removal
Finally, the room emptied and tribal members left to gather in groups outside the council house — most of them Lambert supporters, and most of them hanging around for more than an hour before leaving the property.
"All this was, was a retaliation because he called the feds in for them stealing like they have," said Heather Singletary, 41, of Birdtown, referencing the forensic audit Lambert ordered early in his term, resulting in what is still an active FBI investigation. "And he did what he promised he was going to do, and every one of them have their hand in the cookie jar and he put a stop to it. And this is retaliation to it. He's the most honest man I know."
Richard "Twidge" Welch, a former councilmember, also saw the impeachment as a set-up to retaliate for Lambert's efforts to root out corruption, and he worried about the wider repercussions of the decision to remove Lambert.
"The office of the chief should be held in a little more reverence," Welch said. "It should be upheld, kept on a strong foundation rather than wishy-washy. Outside this tribe, who would want to do business with a government as wishy-washy as this one? It reflects badly on the whole community out here."
Some Lambert supporters, meanwhile, believe that this situation will ultimately work out for good.
"What we're going through right now is birthing pains," said Amy Walker. "This is right before the new baby is born, and this new baby that's going to be born out of this labor has already got a name — and it's called the Eastern Band of Cherokee Constitution."
However, the crowd included some Lambert opponents as well, a group gathered in the parking lot away from where the pro-Lambert folks had congregated.
"I think it's a great day that he's gone, because I used to work for him for six years," said Katina Ledford, 44, of Birdtown. "He was corrupt then and he's still corrupt. He was doing the exact same things, and he's just a little bit better than most to cover stuff up. But it caught up with him."
Within minutes of the decision to remove Lambert, his access to tribal information systems was cut off. The photo of Lambert that had anchored the tribe's webpage was swiftly removed, and Sneed was listed as the tribe's principal chief. But if the reaction when Lambert came outside to address his supporters was any indication, their regard for him isn't shifting along with his change in title.
"I still think he's the keeper of the stars," said Barbara Waldroup, 60, of Birdtown, as Lambert spoke. "We're his stars. He's been a good chief, an excellent chief, and he's still our keeper."
Lambert said he wasn't angry about the impeachment, but that he was angry that Sneed had chosen to leave for the courthouse rather than hearing out the tribal members in attendance before taking his oath. He also took issue with Sneed's automatic swearing-in, pointing out that the Charter and Governing Document says the vice chief can assume the principal chief's title in the case of "death, disability or resignation" — impeachment is not mentioned.
Sneed has not yet replied to a request for comment concerning these criticisms.
"I think I'm standing here in full capacity," Lambert said. "Unless we're all in heaven I'm not dead … They impeach me saying I violated some sections of the code. But what they are going to do in their very first act is violate the charter."
Lambert pointed back to the FBI investigation as the root of the impeachment effort.
"That's what y'all elected me for is to clean up the corruption and mess in this tribe," he said. "What does it boil down to? Corruption, greed and money. That's it."
Lambert promised to remain active in tribal politics, even if not holding office. All 12 Tribal Council seats are up for election this year, with primary elections June 1 and the general election Sept. 7. Lambert said he intends to champion candidates who will help create a better government in Cherokee.
"What we're going to do is we're going to get together and we're going to organize. We're going to beat them this fall at the polls," Lambert said.
He reiterated the promise in a May 27 post to his public Facebook page.
"I'm going to use every ounce of my education, experience and heart for Indian people to ensure we have a Tribal Council and a Tribal Government that works for you," Lambert wrote. "I want you to join me in making this place more open, transparent and free of corruption. I may not be sitting in the office right now, but I will be working hard every day for justice for our Cherokee Families and our elders just like I did when I was sitting in the office!"
Promises from the Sneed administration
Before the impeachment verdict was delivered, Lambert had declared administrative leave for Friday, May 26, meaning that with the Memorial Day weekend Tuesday, May 30, was the first day of work under the Sneed administration. May 30 also happened to be the day of Tribal Council's monthly budget session, and Sneed took a few minutes to address the recent events as the meeting kicked off. He said that the tribe has heard enough "legal speak and posturing over the last 18 months" and that "it's time to get back to the business of this tribe, and that cannot mean business as usual."
"My commitment to you is deliberate and it is direct," Sneed said. "The right way, right now. The promise to do the right thing cannot be simply empty campaign rhetoric. It must be the guiding principle that we uphold and model as leaders, as parents, as neighbors and as friends."
While a list of interview questions sent to Sneed had not been answered as of The Smoky Mountain News' press time, the Facebook page for Councilmember Travis Smith, of Birdtown, displayed the text of a letter Sneed had written to tribal employees.
"I recognize that you, our tribal employees, have been under a tremendous level of stress over the course of the last 20 months, and the last three in particular," the post reads. "With that in mind, I wanted to quell any rumors that there will be employees who are losing their jobs. There will be NO Tribal Employees dismissed, terminated or otherwise removed from their respective employment as a result of the change of administration at the Executive level, period."
Lambert's political appointees will not necessarily keep their jobs, the post continues, as those jobs are understood to last only as long as the administration that hired them. However, the post says, many political appointees will get to keep their jobs under the Sneed administration.
"Those appointees not asked to remain on staff will be offered employment elsewhere within the tribe," the post reads. "Their employment ended through no fault of their own and we will make every effort to accommodate them, for they are our family members, neighbors and friends and they will be treated with dignity and respect."
With the impeachment over, many things are still up in the air. As of press time, no vice chief had been selected, and if that person comes from the ranks of Tribal Council a new vacancy will be created on that body. And with all 12 Tribal Council seats up for election this year, there's potential for October to bring a substantial shakeup around the horseshoe.
Then there's Lambert's path forward. Before the impeachment hearing, he was the plaintiff in a lawsuit awaiting hearing in Tribal Court, contesting the legality of the impeachment process. He has not yet decided if he will proceed with that lawsuit, file a new complaint to reflect recent events, or abandon the legal process altogether.
In addition, the much-talked-about FBI investigation is ongoing, but it's unknown when or if indictments will be filed — or who those indictments will name. Lambert had announced the FBI's potential involvement in April 2016, when in a Budget Council meeting he summarized preliminary results of the audit he'd conducted, telling Tribal Council he'd sent that information on to the FBI. In October, the U.S. Department of Justice notified the Qualla Housing Authority that it was under investigation for misuse of the $3.2 million in annual federal grants it handles. Six members of Qualla Housing's seven-member board also sit on Tribal Council, the same body that presided over the impeachment hearing.