Impeachment in Cherokee
Lambert defends against impeachment charges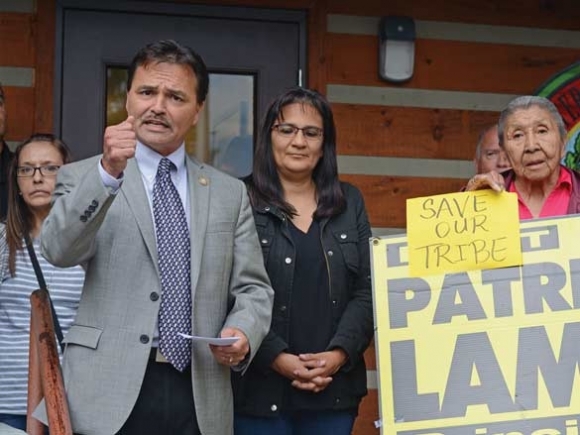 In the three days of testimony that comprised Principal Chief Patrick Lambert's impeachment hearing, Lambert himself was by far the most prominent witness, spending a total of seven hours on the stand spread over two days.
"This whole proceeding is about you," said defense attorney Scott Jones once Lambert had been sworn in. "And what I want this to be this afternoon primarily is a chance for you to go through and address each of these articles."
Throughout the months of Tribal Council meetings leading up to the impeachment, Lambert had repeatedly stated that councilmembers had never given him an opportunity to publicly explain any apparent wrongdoing or answer questions about his conduct while in office. Upon taking the stand, he went through the 12 articles of impeachment one by one, making his case that he had not committed any offense worthy of impeachment.
According to the tribe's Charter and Governing Document, there are two types of offenses that can be considered impeachable, Lambert testified. One would be committing a crime that would make someone ineligible to run for office — committing a felony or defrauding the tribe. The second would be violating the oath of office, in which elected officials swear to uphold tribal laws to the best of their ability.
"I've done that to the best of my ability. I take advice, I work hard every day, and I've done everything within my power to uphold the laws of this tribe," Lambert said.
Lambert faced 12 different impeachment charges, some comprised of multiple parts. He spent three hours on the stand May 23 discussing each one in detail.
Regarding the first article of impeachment, which alleges that he illegally entered his hotel into a $5.6 million contract with the casino following his September 2015 election, Lambert said that he'd been negotiating the deal since January 2015, when the bid packets were released. He and his wife Cyndi had bought the hotel out of foreclosure in 2012, and by 2015 the hotel had been renovated, debts had been paid off and the business had begun to turn the corner.
"We offered the best price that we could (for the room contract), and I think it was the best price the casino's ever seen," Lambert testified.
He further testified that the final contract came to him in August 2015, before the election, but that he didn't find time to sign until mid-September, after the election.
During her testimony earlier that morning, Harrah's Cherokee Regional Vice President for Finance Adele Madden had said that neither Lambert nor his wife attempted to threaten or intimidate anyone to grant the contract.
"You just testified that Mr. and Mrs. Lambert at no time came before the TCGE (Tribal Casino Gaming Enterprise) Board pushing for a contract with Harrah's? And at no time after Mr. Lambert was chief did he come back before the board and request that that contract continue?" Councilmember Teresa McCoy had asked during Madden's testimony.
"Correct," Madden replied.
Another much-discussed article of impeachment, the one alleging that Lambert had intentionally restricted the Office of Internal Audit's access to tribal records, Lambert presented as a misunderstanding stemming from his efforts to protect private information.
What happened, he said, is that his administration learned that there were 167 people with global access to the tribe's financial records system — a much larger number than necessary — and some of them were former, not current, employees. He directed Secretary of Finance Erik Sneed to take care of the problem, and Sneed decided to deal with the issue by cutting off global access for everyone and have those who needed it reapply for the access. According to Lambert, any access that OIA had requested was granted, though OIA Director Sharon Blankenship had testified May 22 that the office is still without full access.
"I think in the process of better protection of tribal records perhaps their access was restricted the same as everyone else, but every request that's been made they've been given the access as needed," Lambert said. "So the short answer is no, there has been no access denied them."
He went through the remaining charges in much the same way. The pre-inauguration legal bills were for help drafting six pieces of legislation that Tribal Council — the same body seated now — passed unanimously on Lambert's first day in office. The changes to the organizational chart were approved by Tribal Council, just not before they were enacted. According to Lambert, that had been the process under the former administration and in absence of a law stipulating otherwise, he had followed suit. He contended that he had followed human resources policies and contracting procedures, giving detailed accounts of each of the instances in which the articles of impeachment alleged he had not.
"If this body wants to vote me out this evening or tomorrow or the next day, that's within their power to do, and I will accept this," Lambert said as he wrapped up his answers to Jones' questions. "However, is that fair, is that due process, is that the right thing to do whenever I give you full answers to everything I've been accused of and it's the God's honest truth? Is that the right thing to do? I think not."
Furthermore, Lambert testified, nothing he's done has been intended to enrich his personal wealth.
"The only thing I've gained other than a lot of love and respect from my people in this tribe and having gained some more lifelong friendships that I believe will be there many more days is only what is in that budget book for my compensation," Lambert said. "That's all. I've never been to a concert since I've been chief. I've never played a round of golf. I've never taken a personal vacation on the tribal credit cards."
Lambert's testimony resumed the next morning, May 24, under cross-examination from prosecuting attorney Rob Saunooke. Exchanges between Lambert and Saunooke were often contentious, with Saunooke contending that Lambert had been in the habit of "picking and choosing" which laws he should follow in order to favor himself and his friends.
Saunooke pointed out that the $628,000 contract to renovate tribal executive offices went to a company owned by Erik Sneed, who later became Lambert's secretary of finance, and contended that Lambert had enforced a double standard by refusing to release payments for Tribal Council's special impeachment prosecutor while continuing to pay Jones' law firm. Lambert, meanwhile, pointed out that Jones was his regular executive counsel just like attorney Carolyn West is Tribal Council's regular counsel, and therefore using Jones didn't require the act of Tribal Council that Lambert was waiting on to release funds for the special prosecutor.
"This is an educated man who has plenty of time, experience, knowledge in gaming and business," Saunooke told Tribal Council during his closing arguments. "He knew exactly what he was doing. He just didn't think he would get caught, and he did."
"There's no question that conflicts of interest arose with Patrick and his actions," Saunooke continued. "No question. There should be no debate about that."
In Jones' closing arguments, however, he contended that Lambert hadn't committed any impeachable offenses and argued that impeachment should not be "a game of gotcha."
"When you treat the person who holds the most powerful elected office in the tribe the way you treated this chief — without fairness — the average tribal member cannot and will not expect fairness from tribal government," Jones said. "This process is wrong. Removing the chief is wrong. I just ask that each of you before you vote honestly search your conscience before you do this to your tribe."
Dig deeper
Video of the entire impeachment hearing is available online at www.livestream.com/accounts/10717024/ events/6836196. To read more about the individual charges and Lambert's responses to them, visit www.smokymountainnews.com/news/item/19987-the-charges.