Archived News
David Joy helps Central Haywood students find their voice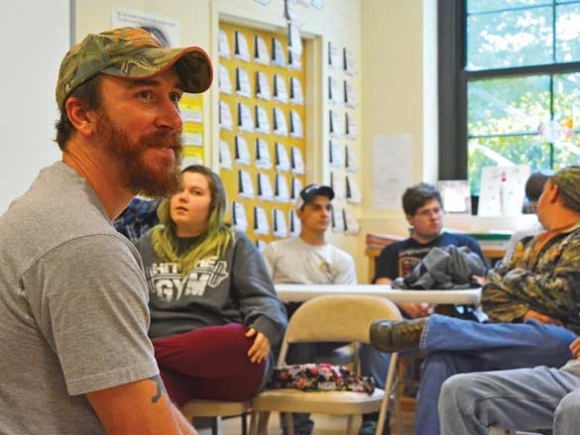 As a writer, it's easy to feel that one's ability is never quite good enough; as a writer in the American South — long a befuddled region characterized by ugly stereotypes highlighting ignorance and violence — even more so.
But, as a class full of Central Haywood High School students heard recently, finding one's voice isn't necessarily something that comes from without, but rather from within.
Charlotte native David Joy has been all the rage among novelists of late, earning acclaim for the gritty, realistic characters and the hardscrabble settings he's created in The Weight of This World (Putnam & Sons, 2017) and Where All Light Tends to Go (Putnam & Sons, 2015), which the New York Times book review said contained "bone-cutting insights" into the characters and "the region that bred them."
Joy earned his Bachelor of Arts degree at Western Carolina University, lives in Webster, and looks as though he'd rather be fishing and drinking beer than writing.
His success, however, is inspiring to those who, like his characters, have rural roots and real problems.
"Until they actually see that he's a real person and is willing to come in here and spend time with them, it's hard for them to imagine that the celebrated up-and-coming author is willing to spend time talking to them about their thoughts," said Helen Pollifrone, an English teacher of 32 years who's been at Central Haywood for four.
"My main thing as an English teacher is that I want my students to be able to find their voice — not just their oral voice but their written voice, because so many of them have stories," she said. "I'd like them to be able to find a way to put those stories down on paper so other people can hear them and read them."
That's a hard thing to do, she admits — which is where the self-doubt creeps in.
"It's an emotional thing to do, but it takes skill and it takes craft, to be able to do that" she said.
Few do that better right now than Joy, who shared with the rapt class stories about growing up surrounded by addiction and violence.
"They can connect with a lot of things that David has seen in his life," she said. "A lot of my students, not all of them, but many of the students we have here, have personal issues they've struggled to overcome, things they've been exposed to and I think it's good for them to see, you know, that we've all got baggage."
The baggage surrounding the rural-urban divide in America has been given newfound light since the election of President Donald Trump last November; his victory has been widely attributed to rural, blue collar whites who, like Trump, appear to be at odds with the urban Northern culture that pervades the media — except when shows like "Beverly Hillbillies" and "Here Comes Honey Boo Boo" are produced.
The true product of many Southern writers — as in the case of legends like Erskine Caldwell, William Faulkner, Eudora Welty and even Flannery O'Connor — tends to be full of macabre irony and the oft-horrifying de-idealization of the ridiculously rosy tomes of a Mark Twain.
"I don't know why Southern writers tend to tell dark stories," Joy said. "Any story about survival, in some aspect, has to be a dark story. Most stories that come out of the South in one way or another are stories about survival."
Such work, Joy told the students, is a more honest portrait of a culture that is misunderstood or outright ignored in the literary world.
"Larry Brown, William Gay, Harry Crews — all of those people were working-class writers, writing about working class people. I recognized that their stories matter, and because their stories matter, my stories matter. They talk like I do," he said in a marked Southern drawl.
"We live in an interesting time," Joy said, "because people who never had a voice before now certainly do."