Archived News
Forgotten Pigeon Street school has historic roots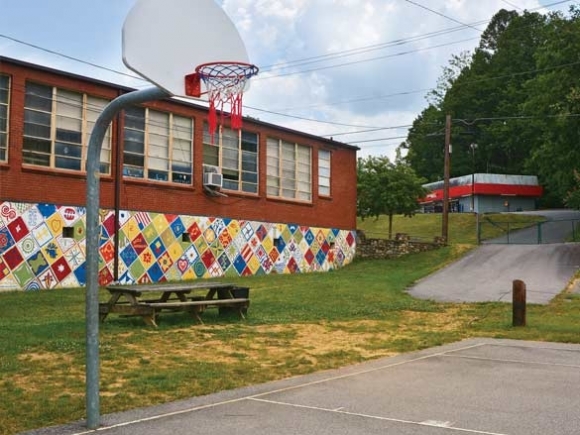 More than a century ago, the state of African-American education in the antebellum South was so utterly deplorable that it took the combined forces of a civil rights pioneer and a department store magnate to make lasting improvements that continue to reverberate across the region, including in Western North Carolina.
A German Jew born in 1862 and raised just blocks from Abraham Lincoln's home in Springfield, Illinois, Julius Rosenwald entered the clothing business as an apprentice by the age of 16.
After a few business failures in New York, Rosenwald achieved moderate success as a clothier in Chicago by the early 1890s. In 1895, he found himself quarter-owner of a struggling mail-order catalog business then called Sears, Roebuck & Company.
A natural manager, Rosenwald diversified and streamlined Sears' operations, taking the company from $750,000 in sales in 1895 to more than $50 million in 1907 — more than $1.25 billion in 2017 dollars.
He took the company public with the help of his old New York friend Harry Goldman, became president of the company in 1908 and retired from the company in 1924 as one of the richest men in the world.
Rosenwald's association with Goldman led to an association with Goldman's partner, Paul J. Sachs, who acquainted Rosenwald — an avid philanthropist since the 1910s — with prominent civil rights activist Booker T. Washington.
Born a slave in Virginia in 1856, Washington attended what are now Hampton and Virginia Union universities and served as a proponent of African-American education until his death in 1915.
Perhaps Washington's greatest legacy — and Rosenwald's — is the Rosenwald Schools.
Beginning in 1914 with the construction of six state-of-the-art Alabama schools, the Julius Rosenwald Foundation built more than 5,000 schools in 15 Southern states from Oklahoma to Florida and Louisiana to Maryland before the program ended in 1932, according to Nashville's Fisk University Rosenwald Fund Card File Database.
Designed by architects from what was then called Tuskegee Institute, the buildings were simple, utilitarian, and commonly accommodated between two and eight teachers; in addition to the complimentary blueprints, Rosenwald would put up 10 to 30 percent of the construction cost, and local fundraising would make up the rest.
It's estimated that by the late 1920s, more than a third of rural African-Americans in the South attended Rosenwald Schools.
North Carolina was home to more Rosenwald Schools than any other state — over 800; Halifax County had 46, Anson and Warren counties 27, Edgcombe and Mecklenburg 26.
Records from Fisk University show that Rosenwald Schools were built across Western North Carolina, despite relatively low African-American populations.
Schools were built in in Bryson City in 1918, Hayesville in 1922 and in Brevard at an unknown date; the Chapel School in Macon County was built in 1922, the Texana School in Cherokee County in 1924, and a large eight-teacher type school in Buncombe county in 1927.
The Sylva Consolidated School, built in 1924, was a rare five-teacher type, and also served as a lending library and residence for teachers.
They're all gone now; the closest remaining Rosenwald School to Haywood County is near Mars Hill in Madison County, and was the subject of refurbishment in 2015.
Nationwide, less than 15 percent of these structures survive today; historical markers dot the South, testifying to their now-forgotten existence.
But not in Waynesville.
Waynesville's four-teacher Rosenwald School was located in the town's historically African-American Pigeon Street neighborhood and built on 2 acres in 1924.
According to School Segregation in Western North Carolina: A History, 1860s–1970s by Betty Jamerson Reed, a June 1925 report by Rosenwald Buildings Supervisor Dr. George E. Davis — a Wilmington, North Carolina native and the first black professor at what's now known as Johnson C. Smith University in Charlotte — said that the "Town of Waynesville has built at a cost of about $12,000 a very good four-teacher building. It is a brick construction and steam heated. The location, though accessible, is not all that we could wish, but it is perhaps the best that could be obtained in this rapidly growing summer resort."
Members of the public — mainly African-American churches — raised $10,900 of the $12,000 cost.
"The Waynesville School," as it was called, remains a common memory for the oldest residents of Pigeon, who are rapidly approaching their 90s, but as such has become somewhat veiled in the mists of time; it's been erroneously reported — repeatedly — to have stood where the Pigeon Multicultural Development Center now stands.
But records from the Rosenwald Fund show the location as the East side of Oakdale Road at the junction with Pigeon Street — currently occupied by a gas station. Fisk's archive contains a photo of the school, which sits across from Jones Temple AME Zion church, backed right up against the segregated Dix Hill Cemetery.
The exact location of the school is important, as Pigeon begins honing in on possible National Register of Historic Places designation.
In February, the Town of Waynesville allotted $4,000 in matching funds toward a $10,000 State Historic Preservation Office grant request that would fund a study to identify structures and locations important in Waynesville's African-American history.
The town expected to hear back on the grant in early May, but Claudia Brown, architectural survey coordinator in the North Carolina State Historic Preservation Office said May 4 that granting decisions have not been made yet, mostly because of questions over how much federal money her office will receive; President Donald Trump's budget calls for a 12 percent decrease in funding to the National Park Service, which funds the HPO.
Even if the grant doesn't come through, the town may step up and take on the rest of the cost of the study, as it did when a similar grant request was rejected for Green Hill Cemetery.