Archived News
Pigeon Street revival continues at community center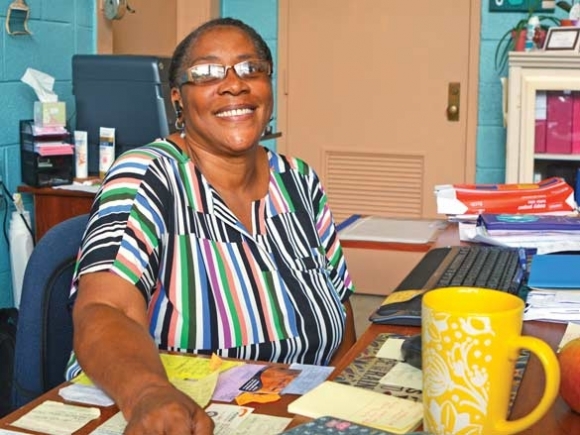 Things are happening in Waynesville's historic African American community along the Pigeon Street corridor; the town is pursuing a grant to identify historic structures, has demolished a problematic former church and is planning a park of some sort for the site.
Now, it's the Pigeon Center's turn.
"I'm definitely excited, and nervous," said Lin Forney, executive director of the Pigeon Community Multicultural Development Center. "For this area, we haven't seen this much attention paid to it in a long, long time. It's encouraging to think that this community is not invisible anymore."
Haywood County commissioners recently voted to sell the mid-1950s brick and cinder block schoolhouse on Pigeon Street to the nonprofit organization for $1, pending a final public hearing June 5.
Known formerly as the Pigeon School, the building housed the last segregated elementary students in Haywood County.
"After desegregation it became the instructional material center. They stored books here, they had meetings and conferences here," Forney said. "When they found they no longer needed it for that purpose, somehow word got to the community and it was offered as a community center."
Forney began volunteering at the center in 2003, shortly after it opened in 2002 with help from the Asheville-based Center for Participatory Change.
"What they did was guide and help us as a grassroots organization get up and running and show us what we needed to do as a nonprofit," she said. "So without that base, we wouldn't be as far as we are now, because they were huge help to us."
In the past, the center offered GED classes, exercise programs and a senior program, but today, those programs have fallen by the wayside in deference to, among other things, a food pantry and childcare.
"But it's more than childcare," said Forney. "We look at it more as an educational thing. Each one of those classes has a daily curriculum, where it's not just childcare. They're really structured and each classroom has its own program curriculum."
Forney explained that the program fills a need for working parents who can't generally afford arrangements for their children who are not yet old enough to be left home alone.
"Their parents can work knowing that they're not at home alone, thinking 'What are they doing? Burning down the house?'" Forney said.
The program serves somewhere around 45 children on average each day in the summer and costs $450 per student, but the PCMDC will often try to find scholarships from churches and the community for those who can't come up with the funds, no matter their race.
"It's called the 'multicultural' center," said Forney. "We serve anybody and everybody, and are actually seeing more white students and families participate in the program because now they know they're welcome to do that. Word is getting around as to how good a program this is. There is nothing like what we're doing here out there in the county."
SEE ALSO: Forgotten Pigeon Street school has historic roots
Of particular note is the growing presence of Hispanic students; data from the 2015 U.S. Census Bureau in 2015 shows a county Hispanic population of 17.6 percent, up 1 percent from 2010.
"Their focus there is in speaking English all summer, as opposed to speaking Spanish, so that is a help for those families also," Forney said. "We also serve about 10 to 15 migrant students in the summer. They travel from Florida to Haywood over the summer, and their parents work."
Those children are in Haywood County until October, and are in the Haywood County Schools system until moving back to Florida. Their parents work long hours, Forney said, and they come mostly from Bethel, Canton and Clyde.
Now that the PCMDC owns the building, serving children of all cultural backgrounds may become easier, but then again, it may not.
"Because we will have ownership, we will be able to write grants for windows and upgrades and that kind of thing that we couldn't do before, because we didn't own the space," Forney said. "People also know that because we own the space, it's ours and whatever we do here, it's going to stay here. We're now seeing that it's going to be very helpful in the community, having that ownership. We're hoping they will rally even more around us because they know it's going to be here."
Some on the center's board of directors were hesitant to purchase the property from the county, which had been responsible for upkeep and had dumped thousands into big-ticket items like the roof, the heat and the electrical system.
Although daily maintenance is under control — peeling tiles, faded paint, broken fixtures — the building still has major needs in many critical areas, including air conditioning.
The sun blasts the PCMDC's southwest-facing façade in the summer, making temperatures almost unbearable, and additional service charges on the electric bill make cooling the space a losing proposition.
"Right now our electric bill is through the roof," Forney said. "If you use over a certain amount of power per month, then you get 'on-demand' charges on top of your normal electric. So our electric bill could be $300, and the on-demand part on top of that is like $200. So it's really high for us."
Forney said the Town of Waynesville gives PCMDC $5,000 a year for the electric bill, which in the past would last a whole year. Now, she said, that lasts barely six months.
An increase was requested from the town for the coming budget year; that budget has not yet been released to the public.
Probably the biggest need at the facility is new windows; as the dated air conditioning window units and central heaters struggle to outpace the climate, much of the effort — and money — goes right out the window.
When board co-chair Rocky Tucker first got involved with the PCMDC, he said they had $2 in their bank account.
"I was like, 'What am I doing?'" he laughed.
Almost a decade later, he's realistic about what has to be done now.
"We need to work harder," Tucker said. "We just need to do what we need to do. They [commissioners] fixed the heat and fixed the electricity and the plumbing, but it's not worth it if your heat's just going out the window."
The PCMDC operates on a yearly budget of around $80,000, pretty much all of which comes from churches and private individuals.
"I'm supposed to be part-time, but you cannot run this place on part time," Forney said. "If there's money to pay me, then I get paid."
The center also possesses an expansive playground behind the building, including a full basketball court with tired rims and torn nets and some dated playground equipment; Forney says improving the outdoor facilities is a priority, albeit a big-picture, down-the-road type priority.
She also said she'd like to see some solar panels take advantage of the sun's unobstructed gaze on the PCMDC and help cut down on her power bill at the same time, but was unclear on how or when the center would be able to pay for it.
What is clear, however, is PCMDC's bright future.
"People know we're here," Forney said. "And others need to know there's a lot more going on over here than on then the police reports they see."