Archived News
Folkmoot's Cultural Conversations: Inclusiveness program graduates first class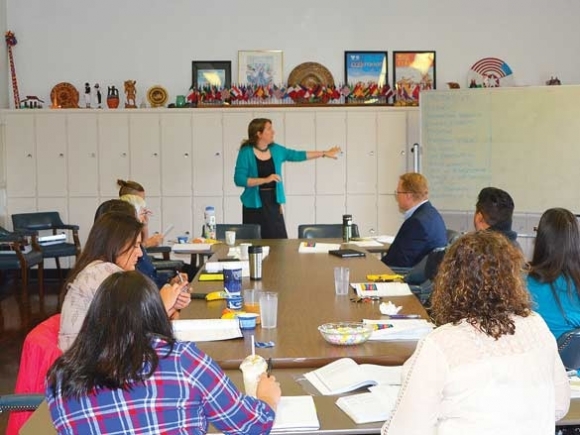 When most people think about Folkmoot, they doubtlessly think about the huge 10-day international folk dance festival that has taken over Western North Carolina each July for more than three decades.
Perhaps without even knowing it, participants and spectators have become a part of the organization's mission to meld "many cultures into one community," but now that Folkmoot's first "Cultural Conversations" program has come to a successful completion, the way that Folkmoot engages — and creates — the community it hopes to see will leave a legacy of tolerance that will resonate far longer than the simple sound of clogs clacking on parquet.
Something to teach, or something to learn
The theory behind Cultural Conversations is simple — assemble a diverse group of people in one big circle and spend two hours a week over five weeks discussing issues of race, privilege, identity, hate and bias.
This reporter sat in that surprisingly comfortable circle for 10 hours with people of Germanic, Hispanic, African and Native ethnicities who were also what Folkmoot Executive Director Angie Schwab called "opinion leaders" — academics, activists, cops, elected officials, non-profit professionals, and ordinary workin' folk with something to teach, or something to learn.
Although it was the very first class, it wasn't Folkmoot's first attempt at such an endeavor. During the 2016 incarnation of the annual Folkmoot Festival, Angela Dove led a luncheon at First United Methodist Church in Waynesville where members of the international touring groups participated in a cultural exchange Q & A, which resulted in Schwab and Dove to beginning work on Cultural Conversations.
It might seem that Folkmoot is straying from its mission by conducting non-dance related forays into community development, but it's actually quite the opposite; nowhere in the organization's purpose statement or list of values does the word "dance" appear.
What does appear three times is the word community. The word "culture" or variants thereof appears four times.
Turns out, the festival is but one of the means by which Folkmoot fosters cultural understanding and develops community prosperity — two tenets in Folkmoot's purpose statement; Cultural Conversations is simply another.
"With each festival, it became more apparent that the heart of Folkmoot is its ability to engage diverse populations in cultural exchanges that foster understanding and acceptance," said Rose Johnson, a former Folkmoot board president. "Using the platform of heritage music and dance, Folkmoot is well suited to help others recognize their commonalities and to explore emotions underlying bullying, discrimination and judgmental censoring of differences."
Cultural Conversations, Johnson said, provides a "neutral platform" for community discussions on cultural inclusiveness.
Those discussions were frank and enlightening, but far from confrontational — this would not be a chair-throwing obscenity-bleeping reality TV talk show; no one in the circle had problems identifying those in our society upon whom unearned inequities have been foisted, and empathizing with them.
Rather, discussion focused on ways the group could take that a step further by advocating for inclusiveness in both personal and professional spheres of influence.
In the end, a small group, the first of many, Schwab says — will go back out into their communities as cultural ambassadors or emissaries, having both taught and learned.
'What are you?'
"I was born here, but I moved to Kentucky, and being in Kentucky a lot of kids are kind of like, 'What are you?'" said Lisa Wilnoty, a participant in the group. "I didn't understand what that meant. They were like, 'Are you Mexican? Are you Chinese?' and I said, 'I'm an Indian.'"
It seems both grim and laughable that anyone would be asked "what" they are, as though the "person" portion of a noun had instead became a "thing."
But in race-obsessed America, such questions are still common, and experiences like that of Wilnoty, an enrolled member of the Eastern Band of Cherokee Indians, are far from unique.
Such experiences can be compounded when one is a member of not one, but several oppressed groups, like Yetunde Bashorun's father.
"My dad, when he went to work, there was just this feeling he was very incompetent," said Bashorun, also a member of the group.
Her parents emigrated from Lagos, Nigeria, to Asheville in 2005 amidst concerns over the cultural and economic future of the country, which is one of Africa's most highly developed but is also a graft-ridden narcotics trafficking haven where groups like Boko Haram routinely operate.
Bashorun's dad wasn't incompetent; he was, however, both black and an immigrant who speaks with an accent.
"My dad is a mathematical genius," she said. "He's a mechanical engineer. He was a math teacher back in Nigeria."
Bashorun is currently a student at Western Carolina University, studying political science and international relations, and will return to her Cullowhee campus as a resource to her peers, much like another member of the group will influence hers.
"I'm a Haywood County native, born and raised in Waynesville. Besides that I'm a police officer," said Sgt. Dee Parton of the Waynesville Police Department. "But here again, I'm a person. A lot of people do know me by my occupation, but I am more than that."
During her career, Parton has had countless interactions with people, some of whom may be in the midst of the worst day of their lives.
Diffusing differences during circumstances that can rapidly and unexpectedly become life-or-death is what sends law enforcement officers home most every night; Parton praised the Cultural Conversations program as "inspirational" for its potential to bring people together.
Parton stressed that part of her profession was to be non-judgmental, and she thinks that the program will help her better deal with different segments of society.
"A lot of times in the media in our community we are negative all the time, but it's so promising to be able to sit down, look at our differences, and know that we're basically on the same page," she said. "We want the best for one another, and yes, we've got some challenges, but let's put our differences aside."
Much like Parton, Jon Feichter deals with all segments of Waynesville society in his role as a town alderman.
"Obviously as a government official, I have to consider a lot of different people's points of view," said Feichter, adding that the program exposed him to points of view he wouldn't normally see. "One of the main benefits for me is that it allowed me to walk a mile in somebody else's shoes, however briefly."
Maggie Valley resident Jesse Lee Brooks — formerly Dunlap, before their recent marriage — would like you to walk a mile in their shoes.
By the way, the pronoun "their" isn't a typo. Brooks, who goes by "Jesse Lee," also goes by "they, them, and their" on account of identifying as trans, queer and boyish.
Born female-bodied and socialized as a female, Brooks will soon have top surgery — a big step in what they say is the alignment of the body and the mind.
"With folks in the present, in public situations, I say 'they, them, their' just for visibility, but I go with perception and however I'm perceived, because I do feel equal parts boy and girl," they said.
The Associated Press now concurs with them; in late March, the organization alternately revered and cursed for setting the language usage standards followed by many journalists finally recognized the need for a gender-neutral pronoun for people of non-binary gender.
The pronoun policy generated its fair share of discussion, notably centering around pluralizing a singular person, even though common spoken English often uses "they" as singular.
It may take some getting used to, both for writers and for readers, but the power of the pronoun — in The Smoky Mountain News, at least — is here to stay, thanks in part to discussions fostered by Folkmoot's Cultural Conversations.
"Asking is great," Brooks said. "It's never an embarrassing thing if you misgender someone. I misgender someone on a regular basis, and I am a gender-queer individual. As long as it's well-intentioned, I don't have a problem with it."
Experiences like those shared by Brooks, Feichter, Parton, Bashorun and Wilnoty during the program speak to the hope of the more equal, more inclusive Western North Carolina prophesized by the late, great square dance caller Sam Love Queen, from whom Folkmoot draws much inspiration.
"Now let's all join hands, in one big circle," he'd say at the start of the dance.
Bashorun, who hopes to work in international development one day, said the same thing, but in a completely different way.
"It may be a divided country, but we're not that different. So why do we keep separating ourselves?"