Doing business in Haywood County
What's in the cards? National, state, regional partners play a role in local economic development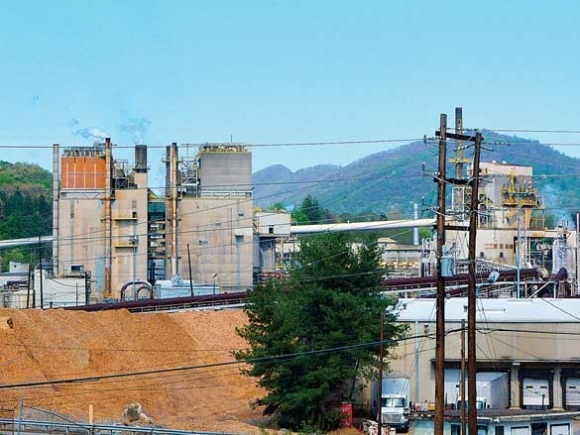 In the first installment of this series on Haywood County's economic development, the analogy of a bathtub was used to illustrate the county's economy: water flows in, water drains out and the freeboard is always changing, but amidst all the splashing, insular yet interconnected bubbles of industry rise and fall and swell and pop.
Now take that bathtub and place it an inflatable kiddie pool. Then, take that kiddie pool and float it atop an in-ground pool. Then, take all of that and drop it into the ocean.
Haywood County's bathtub is but one in an interconnected pool; it's from whence our water comes and also to where it goes.
Those differently-scaled pools represent local, regional, statewide and national economies, all of which have their own development advocates but all of which both draw from and contribute to each other, drastically affecting how money flows into or out of Haywood County.
Sea change
Like many regional, statewide and local economic development agencies, the U.S. Economic Development Administration arose as part of President Lyndon Johnson's War on Poverty in the mid-1960s.
Established in 1965 under the U.S. Department of Commerce, the EDA is the only federal agency devoted solely to economic development, providing research, planning, technical assistance and grants to regions hoping to attract investment and jobs.
President Donald Trump's 2017 budget proposal — which seeks to cut domestic discretionary funding by more than $50 billion and increase military spending by a similar amount — would terminate the EDA amidst a 16 percent cut in Department of Commerce spending.
The defunding of the EDA — which would eliminate the Appalachian Regional Commission — could be seen as a move to semi-privatize economic development. Removing economic development responsibilities from the government sphere is a sea change, but not a recent one. Local governments — like Haywood County — have been doing so for years, and many state governments have followed suit since the turn of the century.
SEE ALSO: State's designation for Haywood brings mixed feelings
Counter-intuitively, President Trump may be giving national economic development a boost by defunding the EDA, just as then-Gov. Pat McCrory may have given statewide economic development a boost in 2014.
"At the time, North Carolina was the 16th state to take this approach in migrating functions from what used to be a public agency into a public-private partnership or a non-profit," said Christopher Chung, CEO of the Economic Development Partnership of North Carolina. "Unlike a state agency, we are set up as a 501 (c) 3 nonprofit, so we are permitted — actually, required by legislation — a to raise a certain amount of private funding each year that can augment the public funding we receive."
Prior to Chung's arrival at the newly-created EDPNC in 2015, economic development in the state was handled by the N.C. Department of Commerce.
"But if they're only relying on public resources alone, they are missing out on additional resources that could also help with their mission," said Chung.
Chung explained that the EDPNC asks private sector companies that would indirectly benefit from its work to support that work with a donation similar to any they might make to any other nonprofit.
"So, construction companies, banks, utilities — those are a few examples of private sector companies that financially support our work," said Chung. "They know that if we're successfully creating a new manufacturer or helping an existing company to grow, more building construction will take place, more bank deposits will be made by new employees and more electricity will be sold. They see a direct line between what we do and what's good for their business."
The EDP's 2016 annual report shows $3.8 billion in investment and 15,000 new jobs created on a budget of $19 million, of which roughly 5 percent is private funding.
The EDPNC is now set up as a contractor to the Department of Commerce, essentially performing several economic development functions on their behalf for about $16.9 million that year.
Those functions encompass five core areas, similar to what the Haywood Chamber of Commerce and Haywood Economic Development Council prioritizes in its development efforts.
"The first one is essentially tourism promotion," Chung said. "Every time someone comes in who's not a resident and spends money in the community, that's money coming in from outside the local economy, and often coming from outside the state economy, and that's an economic impact that stays here in North Carolina."
Last week, the N.C. Department of Commerce announced that tourism spending in 2016 was up 4.3 percent over 2015, just shy of $30 billion. Sales tax receipts related to tourism were up more than 5 percent.
"That's a huge economic impact, but it only continues to be achieved if we continue to attract outside visitors," said Chung.
Attracting outside businesses is another of the EDP's core functions, as are supporting existing industry, encouraging startups and promoting international trade.
See change
The new public-private economic development model brought to life in the EDP wasn't without casualties.
In the mid-1990s, nonprofit Advantage West Group was created to fight for economic development in Western North Carolina. Although the 23-county Advantage West helped bring companies like Sierra Nevada to the region in 2012, its 2014 budget appropriation by the General Assembly was cut from $1.1 million to just $337,000.
That appropriation was half of Advantage West's budget; the organization shut its doors at the end of 2015.
"When they went away, that's when we set up the Mountain West Partnership," said Sarah Thompson, director of the Southwestern North Carolina Planning and Economic Development Commission. "It's an exciting step in a new direction."
The Mountain West Partnership gets Western North Carolina back in the fight for investment and jobs by serving as a regional resource for development.
Each of seven western counties including Cherokee, Clay, Graham, Haywood, Jackson, Macon and Swain participate in the partnership, as does the Eastern Band of Cherokee Indians Secretary of Commerce, the NCEDP and Thompson's Southwestern Commission.
"It's a regional attempt to work together and pull existing resources together," Thompson said.
Although each of these counties routinely competes against each other for economic development projects, Thompson thinks that the counties recognize the mutual benefit whenever one scores a success; her additional role at the Southwestern Commission — formed in 1965 — gives WNC a presence in the federal funding pipeline.
"We are the lead agency for the U.S. Economic Development Administration and the lead agency for the Appalachian Regional Commission," she said. "We're basically the 'boots-on-ground' for them."
One of Mountain West Partnership's key accomplishments so far has been the development of a website that touts the offerings and advantages of the seven western counties (www.gownc.org/). It's a comprehensive site that is a great resource for any business considering relocation to the region.
Knowing the key players in the region and connecting them with state and national resources is Thompson's job, as long as the EDA and ARC remain funded; as long as they do, that chain of developmental effort flowing from Washington to Raleigh to Haywood County always terminates at the local level.
"We work with CeCe Hipps at the [Haywood] Chamber of Commerce," Chung said. "Generally, chambers are advocating for a better business climate, which helps because if we're out there trying to sell North Carolina, you need a good business climate to back that claim up."
The same, Chung said, goes for Mark Clasby, executive director of the Haywood EDC.
Both the Chamber and the EDC work in concert with the EDPNC and with the county itself.
"The county government has long had a role in economic development," said Ira Dove, Haywood County manager since May 2014.
Dove cites 2001 industrial incentive grant guidelines as evidence of ongoing effort, but also points to county expansion of infrastructure as a different sort of incentive to the traditional property tax-based grants.
"These are all regulated by the state," Dove said. "There's a whole battery of statutes that we have to follow, to work through, when we do that."
The county's partnership with the EDC, a contract similar to the one EDPNC has with the N.C. Department of Commerce, demands similar duties.
"They're supposed to be marketing to bring in new companies, to help build relationships with existing businesses and help them expand, to do some research, to respond to the requests that companies have as they're coming in and trying to learn about the area and locate here," Dove said.
At an even more granular level, the county interacts with both municipalities and like-minded funders to complete projects that ultimately contribute to economic growth in the county.
"We got a Golden Leaf grant — and not an insignificant one — to try to do some infrastructure development with the Junaluska Sanitary District, and that was a team effort," Dove said. "That's a lot of players coming together talk about looking at how businesses expand when infrastructure expands."
The county, through its interactions with regional, state and national economic development agencies on one hand, as well as smaller municipalities, outside funders and local development organizations like the Chamber and the EDC on the other, serves as the lynchpin of the whole process.
And as the county, the Chamber, and the EDC look back at the bubbles in the bathtub, they see several market sectors upon which to concentrate when pondering the whats and wheres and whens of their efforts.
As The Smoky Mountain News series on economic development continues, we'll look deeper into the state of Haywood County's tourism, retail, manufacturing, education, medical, real estate and entrepreneurial sectors — attempting to find meaning in metrics, truth in trends and returns on economic development investments, from Washington to Raleigh to Haywood County.