Archived Opinion
We don't really 'do' camping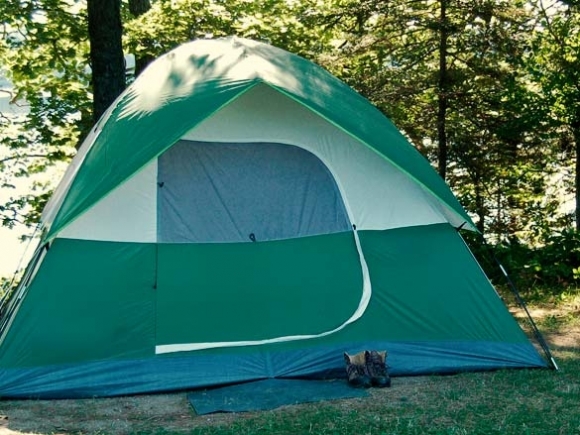 When my wife brought up the possibility of camping at this year's Merlefest — a four-day and three-night music festival in Wilkes County — naturally, we thought she had taken ill or had just awakened from a bad dream, which will sometimes cause her to say things like, "Did you put away the jar of spiders" or "No, you cannot borrow my helicopter."
We have learned that during these spells — as my grandma might have called them — it is best to allow a 3-to-5-minute waiting period while she transitions into our reality, since she only grows frustrated and maybe a little surly if we make any attempt to transition into hers.
"Well, what do you all think about camping this year at the festival?"
Silence. My daughter looked at me. I nodded at my watch.
"I already bought a tent," she said. "It's big enough for eight people to sleep in."
Just as I was getting ready to call the doctor, she pulled it up online and showed it to us on her laptop. My daughter recoiled in horror, as if a diamondback rattlesnake were coiled up inside the screen, about to spring toward her.
"I really cannot BELIEVE that you did that!" she shouted. "We talked about this! We already discussed this! I do not do camping!"
As she stormed out of the room to spread her fury to other rooms in the house and possibly to her bewildered boyfriend on her cell phone, I realized two things at once: a) this was not the aftershocks of a bad dream; and b) my wife and daughter had already been kicking around the idea of camping, which in all of our years as a family we have done exactly zero times.
My daughter is correct. We don't really "do" camping. Our idea of an outdoorsy experience is eating dinner on the deck, or, on wilder days, walking the dogs up on the hill above the graveyard across the road to admire a rainbow or a sunset. We'll hike now and then, especially if we can use it as a pretext to pick blueberries at Graveyard Fields or something with a tangible benefit.
My wife argued that camping at Merlefest had a tangible benefit. We wouldn't have to spend the equivalent of a decent used car to secure a hotel for three nights, and we wouldn't have to drive an hour each way to my mother's house in Sparta. We could just hop on one of the shuttles that run every 15 minutes to and from the campground.
"Easy peasy, lemon squeezy," my wife said.
"Don't ever say that again," said my daughter.
My wife is surly for those first few minutes after waking up. My daughter, a teenager (how many more years is it?), is surly the rest of the time.
Despite persistent threats of a boycott, on the day of the festival, my daughter at last complied, piling into my wife's Toyota RAV4, loaded to the brim with camping supplies, while my son and I had to wait until Friday so that he could play in a Little League baseball game, which was inconveniently scheduled on the first night of the festival.
A few hours after they left, I received this alarming text:
"We're here. This tent is a nightmare. I'm about to cry."
As a former Boy Scout, I have some experience pitching tents, though it is fair to say that this particular skill set is about as rusty as a 40-year-old Swiss Army Knife. Still, I had to offer some words of encouragement, or come up with some ideas. I was typing away on my phone with two fingers when the image of the tent suddenly flashed up on my phone, pitched just as perfectly as it appeared in the picture on the box.
"Done!" said the text. "We are off to see the Avett Brothers!"
Shockingly, my daughter reported the next morning that her first night camping experience was "not terrible." It helped that the campground had an indoor bathroom and shower facility, as well as a station where she could keep her phone charged.
By the time we left on Sunday afternoon, we were feeling pretty proud of ourselves, let me tell you. We made a fire, cooked up some S'mores, bonded with a guy named Steve from Toronto whose tent was pitched next to ours, and saw about two dozen bands. We're already planning to do it again next year.
And we may go hiking next weekend, even if we don't bring home a gallon of blueberries.
(Chris Cox is a writer and teacher. He can be reached This email address is being protected from spambots. You need JavaScript enabled to view it..)