Archived Arts & Entertainment
Rivers that I've crossed: Unspoken Tradition rolls into Sylva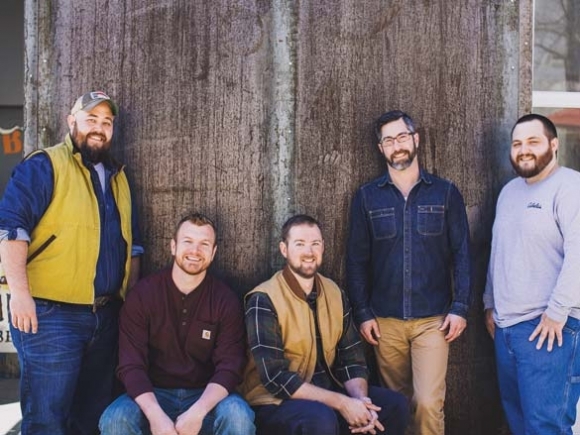 The key element of bluegrass music is the "unspoken" — in practice, in performance and in personality.
Whether you're 8 years old or 80, the foundation of bluegrass lies in its traditions, where knowledge and technique is passed down through the generations. That transition of wisdom is found while strumming in a field at a festival with strangers, chugging along onstage in the heat of a jam with your friends, or pickin' and grinnin' on a back porch with family members.
Hailing from Western North Carolina, bluegrass act Unspoken Tradition has been making a name for itself around the Southeast as a fundamental intersection of mountain and string music. The band is a prime example of that openness within the scene. Members not only share their tone and appreciation for bluegrass, they also are constantly immersed in whatever and whoever has something to say — in their voice and through their instruments.
Smoky Mountain News: With bluegrass, some might say there are two camps: neo-traditional and progressive. What do you see currently going on in the genre?
Ty Gilpin (mandolin, Unspoken Tradition): Sure, people like to put music into camps. It's how we're able to explain different styles to each other when we're talking about a specific band. But, the best thing about bluegrass and mountain music is that it's all based in tradition, so there's more in common between particular bands than there are differences. Good music is good music, and you know it when you hear it. When you look at national festival lineups, and I think you will continue to see, more of a mix of performers that live in one of those two worlds. That's a great thing because you expose the audiences to a wider variety within the genre. I think when you do that, the audiences are smart enough to appreciate the similarities and differences, and enjoy all of it.
SMN: In terms of the band name, Unspoken Tradition, what does that name and sentiment conjure for you when it comes to the interactions unique to bluegrass and mountain music?
TG: I joined the band after that name had already been chosen, and I love it more and more as I come to realize that it speaks to the culture of our music. Music from this part of the country has a specific rhythmic style and pulse to it. It has drive. It's something that's hard to explain, but understood by all of us who play it. That speaks to an unspoken tradition. The guys in this band were all raised around this music and they all played it from a young age. It's in their blood and when it's that ingrained, it seems very natural. When we play a new song together that we want to work up, there is a style that immediately emerges that is based in the musical traditions of this area. 
SMN: What sets bluegrass apart from other genres? 
TG: There is a saying about bluegrass — "it's easy to listen to and hard to play." I love that. Of course, it's set apart because it's acoustic music, so there's just as much attention to tone as technique. You can't rely on a pedal to get a specific sound. Also, it's participatory music. It's something you can be a part of on multiple skill levels, so it's community music. 
SMN: With Western North Carolina and Southern Appalachia moving forward, why should folks care about seeing bluegrass not only being preserved, but also perpetuated into the next generation?  
TG: Our music is an expression of who we are as people and a culture. I don't think you can really ever lose that. If there's a need to actively preserve and perpetuate it, then it would be for the same reasons you preserve and perpetuate any part of your culture from the way you cook food, gather together or worship. All these things are not just what we do, but who we are. A big part of our identity as people of this region is our music identity. I think we have a strong one, and one of the best around.
Editor's Note: Unspoken Tradition will perform at the "Hook, Line & Drinker" festival from 12:30 to 2:15 p.m. Saturday, May 20, in downtown Sylva. For more information on the band, upcoming shows or to purchase one of their albums, visit www.unspokentradition.com.