Archived Arts & Entertainment
This must be the place: Ode to Steve Sutton — banjo legend, dear friend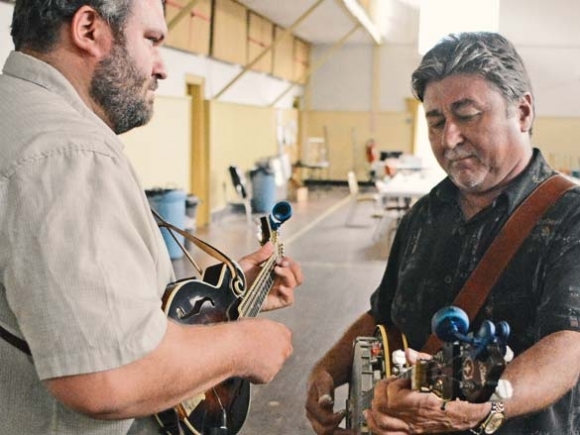 It came as a shock that has had a ripple effect within music circles around Western North Carolina and beyond.
With the sudden death of legendary Haywood County banjoist Steve Sutton on Saturday, the region — and the world — has lost one of the great pickers and torchbearers of bluegrass and mountain music. A longtime member of the Darren Nicholson Band and Whitewater Bluegrass Company, Sutton was 60 years old when he passed away in his sleep on May 13, one day shy of his 61st birthday.
"I basically owe my musical career to him," said mandolinist Darren Nicholson of IBMA "Entertainer of the Year" bluegrass act Balsam Range, who was Sutton's best friend and longtime collaborator. "He got me my first professional job, which led to all the relationships that are still relevant in my current career. I had a $300 Harmony mandolin, a beginner instrument, then graduated to a hand-built mandolin that Eddie Rose loaned me. Steve believed in me so much that he took me to Strains of Music in Waynesville and paid cash for a Gibson mandolin. We never looked back. We were best friends ever since, and went so many miles all over the United States and around the world. We were always laughing together and loving life. Steve was kind to everyone he met and helped countless people — he just had a good heart."
A Grammy-nominated, multiple IBMA award-winner himself, Sutton graduated from Tuscola High School in Waynesville. Upon graduation, he was simultaneously offered gigs with the "Godfather of Bluegrass" Bill Monroe and bluegrass legend Jimmy Martin.
"But, Jimmy offered me something like $10 more a week, so I took it," Sutton chuckled in a 2015 interview with The Smoky Mountain News.
In 1974, Sutton joined Martin on the road, kicking off a career that took him across the globe, ultimately gracing the Grand Ole Opry stage numerous times. Sutton also had stints with Alecia Nugent and Rhonda Vincent. And through his lifelong pursuit of bluegrass and mountain music, Sutton also remembered where it all began, alongside banjo great and Bluegrass Hall of Famer Raymond Fairchild.
"Raymond was the first banjo player I ever saw in person," Sutton reminisced at his home in 2015. "It was 1965, I was about 7 years old, watching Flatt and Scruggs on TV. I loved watching Earl Scruggs play that banjo, and my daddy said he knew of a guy who played up on the side of the road in Maggie Valley."
Sutton was in awe of Fairchild's intricate playing. He'd never seen something like that, and immediately wanted to be up there, onstage, doing the same thing.
"I wanted to play," Sutton said. "I asked my daddy right then and there if I could get a banjo, and I did that Christmas. I learned how to play through the winter, and come spring, I was over there at the Hillbilly Funhouse playing alongside Raymond, learning everything I could from him, watching everything he did."
In an effort to maybe get a few extra tips from passerby tourists, Fairchild would pass off Sutton as his son onstage, saying the folks in the crowd (Sutton's parents) were kind enough to watch him for Fairchild when he was up there trying make money "to pay the electric bill."
"And if we drew a crowd, we'd pass the hat around and it'd fill up with tips," Sutton said. "And Raymond would always give me all the money in the hat, which is what I saved up and used to buy my first real nice banjo a couple years later."
Ever the jokester, Sutton could have had a side career as a standup comedian, as witnessed first-hand by countless bystanders — onstage and off — in awe of his sharp wit, clockwork timing and signature laugh, all of which were magnified and amplified by his partner-in-crime, Nicholson.
"As a banjo player and guitar player, Steve was different because of his versatility and love for all kinds of music. That smile when he played came through to everyone in a crowd that he loved what he was doing — a consummate entertainer," Nicholson said. "He had the best 'feel' for backing up a singer or fitting any song that I ever got to witness out of any musician. He was the ultimate team player, always trying to make others sound better. He took anyone or band he played with to another level because of this. He was innovative and truly a virtuoso. He was unparalleled from the standpoint that he literally could play any song or style of music — he was a crown jewel of our mountain music."
Words of condolence and remembrance spilled across the internet, telephone lines and text messages throughout the weekend, with folks from all corners of the music industry thinking of Sutton and his influence on their lives — personally and professionally.
"Steve Sutton was one of the most important musicians to come out of North Carolina — period," said close friend and mandolinist Ty Gilpin, who is also the marketing director of Crossroads and Mountain Home Music Company in Arden. "It was always so special to me that one of my heroes would actually become one of my friends. Luckily, there are people all over the world that knew Steve and can say the same thing."
"[Steve's] talent and free-flowing sense of humor constantly fed that professional effort to the highest levels," said Marc Pruett, Grammy-winning banjoist of Balsam Range. "Steve was a valued, respected member of a heritage-schooled, living culture. He was 'the real deal,' and his warm smile and larger-than-life talent leaves a void in our mountains that can't be filled."
"There's a major hole in Western North Carolina music and the bluegrass world," Nicholson added. "Steve said a thousand times, especially when we would be belly laughing about something — 'Darren, as long as you live, I will never die.' There's a major hole in my musical existence, and bigger hole in my heart. Steve was the best friend and mentor that anyone could ask for."
Hot picks
1 The 16th annual WNC QuickDraw will be from 4:30 to 9:30 p.m. Saturday, May 20, at Laurel Ridge Country Club in Waynesville.
2 Nantahala Brewing's "7th Anniversary Party" will be held May 19-20 at the brewery in Bryson City.
3 Guitar virtuoso Richard Smith will perform at 6 p.m. Friday, May 19, at Balsam Mountain Inn.
4 The Friends of the Library will host "Celebrating Haywood's History" at 7 p.m. Thursday, May 18, at the First United Methodist Church in Waynesville.
5 The inaugural "Songwriters in the Round" will be held at 7:30 p.m. Friday, May 19, at Franklin Underground.