Archived News
Swain's band blossoms despite budget constraints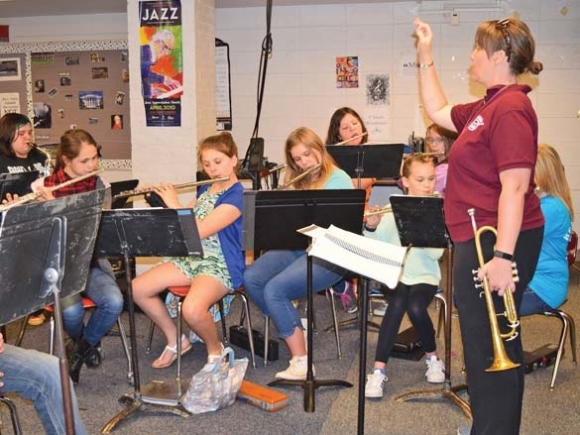 Karen Williams only had a handful of students in her beginner class when she first took the band director position for Swain County Schools 14 years ago, but today she has an average of 50 beginner students a year and the program continues to grow.
"It's just been a slow progression," Williams said. "We've done a much better job at recruitment at the elementary school level and also the kids are seeing that the band gets to do some pretty amazing things."
The Swain County High School Band performed at the Washington, D.C., Fourth of July Parade a few years ago and had the opportunity to perform at the 75th anniversary of Pearl Harbor ceremonies in Hawaii last fall.
"We've kind of gotten our name out there now and I think parents trust the program as well — they see the value of taking the class so that's been very helpful."
Williams, a Tuscola High and Western Carolina University grad, is passionate about exposing more children to band and the many benefits of learning to play an instrument.
Williams said learning an instrument helps students in other subjects, including math, reading and even history because she weaves in lessons about the composers students are learning.
"There's a lot of coordination development — they're reading notes and learning rhythms," she said. "Studies have shown how the brain lights up when they play an instrument."
Swain County administrators and the school board say they've been impressed with what Williams has achieved with the band program, especially on a tight budget. When talking to commissioners about the schools' financial needs, School Board Chairman Gerry McKinney said he was amazed with the size and talent of Swain's marching band compared to other larger schools in the region.
"We're a small school and we cry the blues sometimes but because of the personnel we have in our schools, this program has just blossomed," he said.
McKinney and Schools Superintendent Sam Pattillo asked commissioners to take over salary payments for school resource officers so the school would have enough funding to put toward hiring an assistant band director for Williams. Currently her time is split between the middle and high school teaching two beginner sixth-grade classes, one seventh-grade class, one eighth-grade class, concert and marching band. It's a full plate with a total of 150 band students all on different skill levels.
"Typically school systems have a middle and high school teacher to handle band and directors spend after school time for lessons to get students caught up," Williams said. "But we can't do that because I'm having to do marching band, I have a musical to plan for that's a collaboration with the drama department, I have district band too, so my students are trying to compete with students in the state with just me — it limits the students in our program."
Ideally, band students would be getting private music lessons in addition to what they're learning in class, but most Swain County families can't afford private lessons. Hiring an assistant director would free up more of Williams' time for after-school lessons for her students.
Because of Swain's low-income population, many of the students can't afford to buy their own instruments either, but Williams doesn't let that hold any of her students back.
"I want it to be open for students to participate as much as possible — if a kid wants to play, I want them to be able to play," she said.
She said the band booster club has done a phenomenal job of collecting donated instruments and one booster mom — Jean Howell — even scouts out yard sales in the summer to find good instruments for the band program so kids won't have to buy their own.
"The amount of support we've received always exceeds my expectations. This community has taught me what community means — the people of Swain County have taught me that," she said.
Swain County Schools also has many infrastructure needs, including more space for the band students. As president elect of the WNC Bandmasters Association, Williams sees what other wealthier districts have for band facilities compared to Swain County, but she also understands the school district has more pressing needs. The current band room at the middle school is cramped and not ideal space for rehearsals, but Williams said they make it work.
"We're probably the only school system where the middle school room isn't a band room but there are so many facility needs right now, you make whatever you have work," she said.