Archived News
Swain fights to change school funding formula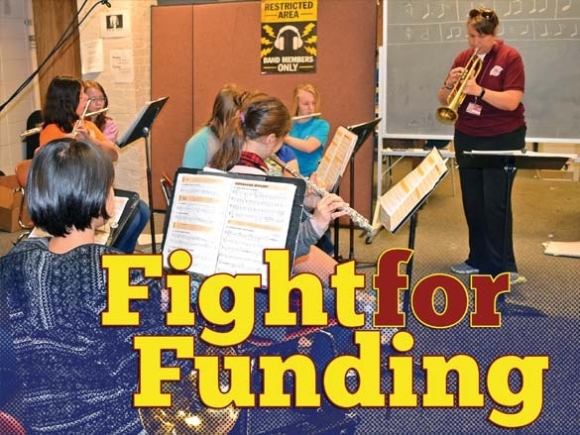 While many local school districts are struggling to make ends meet these days, Swain County Schools is facing a much steeper battle to qualify for state and federal funds the district feels its students deserve.
"We're struggling as most boards are trying to look at our financial situation and fund things we crucially need," said Superintendent Sam Pattillo.
Maintenance costs increase every year for the county's four school buildings; renovations and expansions are needed to keep up with a growing student body and more teachers will need to be hired soon to meet smaller class size requirements passed by the General Assembly.
The school system's needs continue to grow, but Swain County's limited tax base paired with a low property tax rate doesn't generate enough revenue to adequately fund the education system.
The county tried to create a new revenue stream for the school system by proposing an additional quarter-cent sales tax to go toward education. It would have generated about $300,000 a year for the school system, but the referendum placed on the November 2016 ballot failed.
SEE ALSO: Swain's band blossoms despite budget constraints
Pattillo said he couldn't expect the county commissioners to raise property taxes in order to give the school system more money each year. He knows the county is allocating all it can for school expenses and taking out loans to fund must-have capital projects like replacing the HVAC systems recently at both elementary schools.
He says it's the federal and state governments that have the ability to ease the school system's financial burdens by making more funding available for low-income communities like Swain County.
At the end of the day, Pattillo said it's his 2,000 students who will ultimately pay the price if a lack of funding makes it impossible for them to compete with students graduating from wealthier school systems in the eastern part of the state.
"The law states that every child in North Carolina should have appropriate, equal education, but we have to compete with Orange County and we're expected to have the same type of outcome for our kids?" Pattillo said. "They have to be able to compete for the job market and they have to compete to get into universities, so it's a question of fairness."
Low Wealth funding
Pattillo said the district is missing out on available funding through the state's Low Wealth Funding program because of what he calls an inequitable formula. The program provides supplemental funding for counties that fall below the state average in their ability to generate local revenue to support the public school system.
While the school administrators think the district should be eligible to receive 100 percent of available funding through the program, School Finance Director Stephanie Treadway said Swain only qualified for about 25 percent — or $152,000.
"Had we qualified for 100 percent of low wealth funding that would have equated to about $599,000," she said.
Eligibility is based on a complicated formula that takes several weighted factors into account, including total county tax revenue (40 percent), property tax paid per square mile (10 percent) and per capita income (50 percent).
Swain County's low tax rate per square mile is the factor penalizing the school system. When folks in Raleigh see the large square mileage of Swain County paired with the low tax rate of 36 cents per $100 of assessed value, they assume the county isn't paying its fair share to the school system. If the county would increase its tax rate to get it closer to the state average — 66 cents per $100 of assessed value — the school system would have plenty of revenue coming in.
However, commissioners have made it clear they're not willing to do that and have worked hard to keep the tax rate low for residents.
County Manager Kevin King said what the state doesn't take into account is that only about 13 percent of the land in Swain County is taxable — the rest is made up of national park and the Qualla Boundary. While rental properties and the second-home market drive up the property values in Swain, King said a majority of county residents couldn't afford a major tax hike.
Treadway said the school system is fighting to get the state to weigh the formula factors equally, which would increase funding eligibility for Swain schools. Based on the current formula, Swain County's State Average Wealth is 84 percent and is ranked 42nd in the state, but if all factors carried equal weight, Swain's wealth percentage would be about 67 percent.
While that's till not 100 percent of the funding, Treadway said it would be a step in the right direction.
"There's a good chunk of money there that we can't qualify for and we have 2,000 kids that are in the middle — basically they're in limbo. They have no control over that," Pattillo said.
The school district also argues that counties that are not considered low wealth shouldn't even be included in the average state tax rate because the wealthy outliers skew the numbers.
According to data collected in a 2017 Local School Finance Study, there are huge disparities in local education funding per student. The state average is $1,537 per student, but Orange County spends $4,734 per student while Swain is at the low end of the spectrum at $387 per student.
Pattillo said he has told the Department of Public Instruction that Swain County is a sparsely populated area with a majority of low-income residents and an economy that relies heavily on tourism.
"Our capacity for growth can't compete with other counties," he said. "But our kids are just as special as those kids in other counties and deserve a fair share of the pot of money so we can fund what they need."
Gerry McKinney, chairman of the Swain County School Board, said he understood that commissioners didn't want to increase the tax rate and understands residents in Swain County can't afford to pay any more than they already are. He hopes a solution can be found by getting the state to change the funding formula.
In the meantime, he said the schools have to ask the community for help by fundraising for athletic, music and band needs.
"The band kids are being taught in a dungeon basically. I'm trying to get $38,000 right now for a paint machine for the ball fields — we shouldn't have to do that," he said.
Treadway said she provided the same information about Swain County financials to Sen. Jim Davis, R-Franklin, who is in the process of scheduling a meeting between Swain school administrators and the chairman of the Senate's Education Committee.
Commissioners agreed to draft a letter of support for Pattillo to present to legislators during his next trip to Raleigh.
Commission Chairman Phil Carson said the county was all too familiar with making trips to Raleigh and Washington, D.C., to explain to politicians why Swain County is different than other counties and why those differences are keeping the county from receiving the aid it desperately needs.
"We have to remind them of our story every time we go to Raleigh or Washington, D.C.," he said.
Swain County Schools are also fighting to receive more federal Impact Aid funding, which is available to counties that have lost a portion of their local tax base because of federally owned property within their borders.
With 75 percent of Swain County being occupied by national park, it would stand to reason the school system would be getting a big chunk of money each year, but Pattillo said unfortunately that's not the case.
The Impact Aid law includes language that prevents Swain from receiving the funds commiserate with how much federal land is in the county.
Commissioners and school officials have traveled to Washington, D.C., to lobby Congress to change the law to make it more equitable for Swain's unique geography and demographics.
County funding request
Treadway told commissioners the school system needs $1.3 million from the county to cover local expenses — that includes $575,000 for utilities, $285,000 for maintenance costs and $46,000 for salaries and benefits for maintenance employees.
"Last year there was an increase of our county appropriations by $100,000 bringing our total up to $850,000, and that has definitely helped," Treadway said.
Since Swain County has a public charter school — Mountain Discovery Charter — the school system can't keep all the funding provided by the county. It has to share the appropriations with Mountain Discovery and any other charter or virtual online school that is attended by Swain County students.
As for capital improvements needs, Treadway said the school system was requesting $160,000 from the county and will be transferring another $145,000 from its reserve funds to cover $305,865 worth of capital projects.
Some of the larger projects include new ceiling tiles for classrooms at the high school, new tile and carpet for Pre-K classes and renovations to stairs at the middle school for the visually impaired, repairing the gym floor at East Elementary, gray lifts for the bus garage, a new forklift for the maintenance department and upgrades to the federal building to accommodate the school's central offices.
Treadway said the final capital list had been pared back from the original list of priorities that totaled $735,000.
"We scaled back dramatically from the current year — the current year was about $585,000. We're trying to preserve our fund balance and build back up," Treadway said.
Lastly, the school system is asking the county to assume the cost of school resource officers that isn't being covered by state funding, which is about $30,000 a year.
"We get a partial state grant but there are some matching funds required," Pattillo said. "We understand the importance of our school resource officers — we do not want one position eliminated."
Pattillo said the school system could then use that $30,000 to put toward enhancing some of its successful programs, like the growing band program at the middle and high schools.
"We could use that money to fund a new band position — we feel like that would be a plus for our kids and also give our band program a big boost," he said.
Swain County Schools funding
• Federal funding: $1.6 million (7 percent of the budget)
• State funding: $15 million (70 percent of the budget)
• Local expense funding: $786,000 (4 percent of the budget)
• Local capital funding: $485,000 (2 percent of the budget)
• Federal Impact aid: $2 million (9 percent of the budget)
• Private grants/donations: $1.5 million (8 percent of the budget)
• Total budget: $22.4 million