Archived Opinion
Tastes great, can't take the smell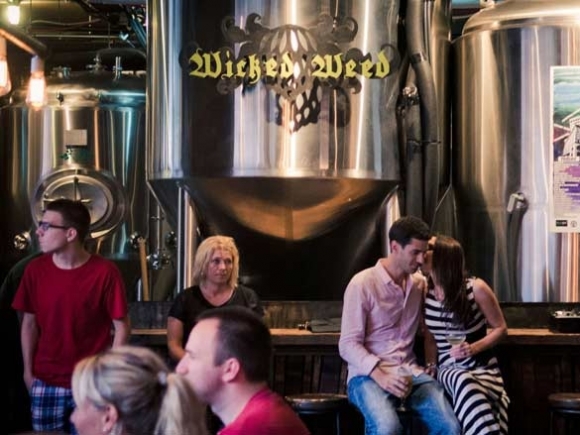 When I read about Wicked Weed Brewing getting bought by AB InBev (formerly Budweiser) — one of the world's largest brewing conglomerates — my instinct was to be incensed at the decision.
For years, this newspaper has been a very vocal advocate of the homegrown, buy local movement whose roots reach deep into these mountains. As late as the 1950s there were pockets of Appalachia where people still grew, raised, hunted and made a great deal of what they needed to survive. Nowhere else in this country is the resolve to be independent from governmental authority and corporate marketers worn so easily and proudly by so many.
The craft beer industry has taken to heart this spirit of independence and innovation. Although there is a familial camaraderie among brewers, there is also a fiercely guarded proprietary pride in crafting something very good and very different. It's just a great brewery vibe right now, one that still seems welcoming for almost all brewers and is a source of pride for all of us who live here.
InBev, on the other hand, has built a reputation as somewhat of the Grim Reaper of the craft beer industry. Remember those Super Bowl ads for Budweiser? Funny, perhaps, but a definite backhanded swipe at the craft beer industry and those who enjoy their craft beers.
Here's the verbiage from one of them: titled "Brewed the hard way" — really, like small brewers have it easy? — the words "It's not brewed to be fussed over" show up on the screen while the voice over says, "The people who drink our beer like to drink beer brewed the hard way …. Let them sip their pumpkin peach ale" (Wicked Weed has both a "Peach Habanera Saison" and a "Pumpkin Up The Volume").
But perhaps where AB InBev has earned the most enmity from craft brewers is not with its advertising, but rather with its distribution practices. According to the Wall Street Journal, beginning in late 2015 the giant brewer began offering distributors reimbursements of up to $1.5 million if 98 percent of the beer they sell were InBev products. In addition, those distributors who sell 95 percent InBev products could get reimbursed for half of their display and marketing costs.
In other words, InBev is paying bonuses to keep small brewers out of the distribution chain. Getting in that chain is a key measure of success for craft brewers who want to grow.
So, the giant conglomerate starts buying the more successful regional craft beer makers — in addition to Wicked Weed they have ownership in Goose Island, Breckenridge Brewery, Blue Point, Golden Road, Four Peaks and Devils Backbone — all the while doing its best to keep smaller craft beer makers from inking agreements with distributors.
Wicked Weed has been going like it was on steroids from the day it opened four years ago, and the beers are fantastic. First a brewpub, then the sour beer Funkatorium on Asheville's South Slope, and then two new production facilities. It is one of those companies that came out of the gate strong and never looked back, and right now it employs almost 200.
So, is it a great story of free enterprise and capitalism? Look, as a journalist-entrepreneur, I'll admit there was an immediate tinge of jealousy when I read the news. It's the pie-in-the-sky dream of most small businesses to attract the attention — and the checkbook — of a corporate giant, to be rewarded for the early mornings, sleepless nights, weekends, for putting your family's financial future at stake, for believing in the dream while you sweated making the next payroll.
I don't begrudge those guys making their payday and having more money to invest in product and hopefully for their employees, but I quit buying InBev beer a long time ago. Then it was mostly because their beer just isn't any good.
No hard feelings, but Wicked Weed will now move to my personal "no-buy" list. If I was making a commercial about my decision, perhaps the verbiage would read something like, "tastes great, can't take the smell."
Besides, there are just too many great local beers made by so many fine local brewers.
(Reach Scott McLeod at This email address is being protected from spambots. You need JavaScript enabled to view it..)