Archived Reading Room
A fresh look into an enduring classic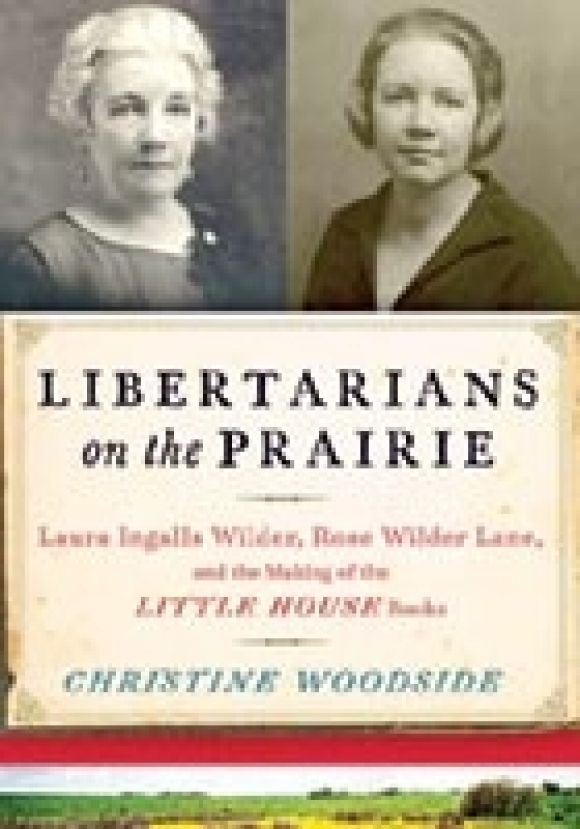 After finishing the last pages of Libertarians On The Prairie: Laura Ingalls Wilder, Rose Wilder Lane, and the Making of the Little House Books (Arcade Publishing, 2016, 259 pages), my first thought was: I am glad I am not a farmer.
Years ago, I read the Little House books to my children. The one that made the greatest impression on me was The Long Winter, a chronicle of blizzards, temperatures cold as iron, and grinding seed grain in a coffee mill to make bread. But the Little House books are aimed primarily at children, and in Libertarians On The Prairie, Christine Woodside gives us the harsher truths of that winter and of farming in general in the then new Western lands. Clouds of crop-munching grasshoppers, drought, hail, and fierce winter storms: the Ingalls faced these natural ordeals and more. Add in the poor health of Almanzo, Laura's husband, and the blindness of Mary, Laura's sister, and the difficulties these people faced are staggering.
Rather than being daunted by their trials, the Ingalls family, and thousands of other pioneer families, remained staunch believers in individual rights, freedoms, and responsibilities. As inferred by the title, they were libertarian with a small L. Indeed, modern libertarians regard Rose Wilder Lane as one of the "founding mothers" of libertarianism along with Isabel Patterson, Ayn Rand, and Zora Neale Hurston.
In her novels and short stories, Rose celebrated men and women who faced hardship and took responsibility for their actions. She wrote The Discovery of Freedom, a libertarian manifesto with some historical inaccuracies, and numerous columns attacking the state in general and the American government, particularly during the Roosevelt years. Later, Rose would leave the Little House copyrights to Roger Lea MacBride, whom Rose regarded as a "grandson" and who ran for president on the first Libertarian Party ticket in 1976.
By now many readers are aware that Rose heavily edited and even rewrote the stories put down on paper by her mother, Laura. When they began this collaboration, often a source of friction in an already fractious mother-daughter relationship, Rose was a nationally known novelist and columnist, and her mother had written only simple farm and housekeeping columns for a newspaper. With Rose's encouragement and then her active involvement in writing the books, Laura's reputation grew while Rose's began a long decline.
In addition to giving us this dual biography of Rose and Laura, Christine Woodside takes us, as much as possible given missing letters and manuscript drafts, deep into this remarkable collaboration. We come away cognizant of the frustration of both women, of the resentment each felt toward the other, yet we also realize, as Woodside points out, that both mother and daughter tried to love each other.
And whatever the costs in their relationship, we also come away from Libertarians On The Prairie grateful for both these women. They gave us a portrait of the American spirit, the spirit that lived in so many people then and which, I believe, lives in many Americans now. The Little House books gave rise to the television series, produced by Roger MacBride, to offshoot books like The Little House Cookbook, and to such products as Little House dolls and Christmas ornaments.
That collaboration also gave us not only a great story of grit and courage, but Rose and Laura also produced some beautiful prose. Here, for example, are the opening words of Little House On the Prairie:
"A long time ago, when all the grandfathers and grandmothers of today were little boys and little girls or very small babies, or perhaps not even born, Pa and Ma and Mary and Laura and Baby Carrie left their little house in the Big Woods of Wisconsin. They drove away and left it lonely and empty in the clearing among the big trees, and they never saw that little house again.
They were going to the Indian country."
If you read those words aloud — only three sentences — you can hear the music in the words. The writer — in this case, writers — use short, simple words and arrange those words into a rhythm that brings to mind the better work of Ernest Hemingway. The first paragraph reveals sadness and regret in their leave-taking, while that one sentence second paragraph brings an instant sense of foreboding as they begin their new adventure.
Some Little House fans were unhappy to discover that Laura did not write the books alone. Rose Wilder Lane's biographer, William Holtz, roused the ire of many fans with his book, The Ghost In The Little House, in which he pointed out the influence of Rose in the series. In response to these angry readers, Holtz suggested, Woodside tells us, that "many of us had blurred Laura the actual person with Laura the fictional character."
Instead of being unhappy with the news of this joint effort, readers should instead be thankful and rejoice. These two women, mother and daughter, both tough and independent, put together a series of beloved tales that are as much a part of the American literary landscape as Huckleberry Finn or The Great Gatsby.
Kudos to Christine Woods and Libertarians On The Prairie.
(Jeff Minick is a writer and teacher. This email address is being protected from spambots. You need JavaScript enabled to view it..)