Archived Arts & Entertainment
Turning to face yourself: Comedian Dave Stone comes to Franklin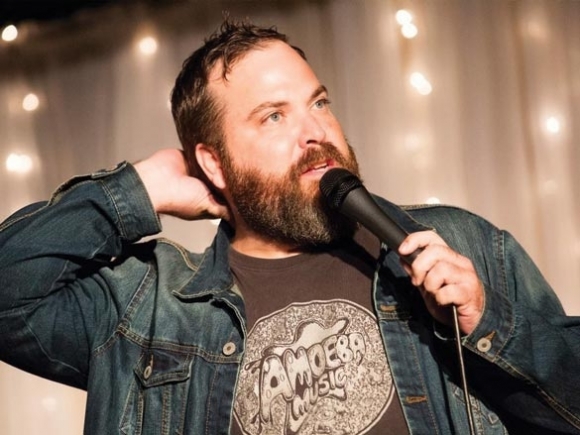 It's brutal honesty.
Within the wide-spectrum of creative mediums, standup comedy may just be the most vulnerable and jarring of the artisan crafts. Standing in front of a roomful of strangers, all staring at you, comedians peel back the layers of who we think they are, who they think they are, and who they actually are — warts and all.
It's a therapy session that's live, raw and in your face. But, between the joke setups and ensuing laughter (or lack thereof), there still is a single person speaking in front of you — directly to you — about the trials and tribulations we all go through, whether we want to believe that or not.
Dave Stone is one of those comedians. Dragging out every single item in the cluttered closet of his mind, Stone brings to light his issues with being overweight, trying to make sense of his southern roots, and also why he feels justified living out of a van that is also his kitchen, office, bedroom and physical/emotional vehicle to bring him that much closer to his comedic dreams.
Smoky Mountain News: Being on the road constantly, and living in your van, what are you seeing out there, socially and what not, with all those people, places and things you're crossing paths with?
Dave Stone: For the first time in my career, I'm starting to cultivate a legitimate fan base. I'm not sure if it's my actual comedy, the constant touring, or both, but I'm starting to find my audience. I've chosen to avoid generic comedy clubs and instead book bars and rock clubs and it's fun to interact with real folks after the show who actually came to see me, rather than some '90s sitcom star or YouTube sensation, or whoever comedy clubs are booking these days. I'm meeting real folks who appreciate good comedy and are willing to seek it out. The world is more tumultuous than it has been in a long time, and I'm seeing folks who just want to come to a bar, have a few drinks, enjoy a good show and take their mind off of the daily news.
SMN: "The Boogie Monster," your weekly podcast with beloved comedian Kyle Kinane. How did that come about, and what it is about your relationship with him that makes the dynamic and interaction work?
DS: Kyle and I have been friends for about eight years, ever since I opened several shows for him when he would pass through Atlanta years ago. When I moved to L.A. in 2012 we became closer and pal'd around quite a bit. Most of our time together involved hanging out at shows and bars talking about weird stuff we both were into, UFOs, aliens, Bigfoot, conspiracy theories. One day last summer we were doing just that and he said, "This should be a podcast, us talking about this nonsense." I attribute our chemistry to the fact that we have similar thoughts on how we see the world and how we treat people. We both pride ourselves in being regular, unpretentious dudes, and I guess that comes out in the podcast. We don't take ourselves too serious and we're not afraid to admit we're just a couple of dumbasses.
SMN: You're working on this upcoming documentary about you being overweight, and also trying to lose that weight. Although, at first, it seems you're poking fun at it, toying with the whole thing, you gradually begin to take it more serious and truly make the effort to preserve your health. What provoked that project, and why is it important now to do it, in this day and age?
DS: "Gutbuster" was shot back in 2015 after a production company reached out to me about their idea for a documentary about the difficulties touring comedians have trying to stay healthy while constantly being on the road, and I fit that description to a "T." I've always struggled with my weight and it seemed like a good opportunity to try and get serious about my health. Comedy is a lifestyle and health can play a positive or negative part, depending on where you stand, health wise, so it's important for me to make good health more of a priority.
SMN: And with the weight loss documentary, what did you learn about yourself and being overweight?
DS: I realized that, up until now, I equated health and weight loss with physical aesthetics. But, now at my age, I realize it's more about staying healthy and quality of life. It's a constant battle. I've regained a few of the pounds I lost during the documentary, but I'm still lighter than I was when I started, so I'm turning a profit.
SMN: What are your thoughts on this explosion of comedy and comedians back into the mainstream of pop culture?
DS: It's great that comedy is in the public consciousness again. I just hope the market doesn't become oversaturated, or rather, oversaturated with mediocre comedy. It's important that our collective comedy IQ remains high and we avoid the comedic dumbing-down of America.
SMN: And though these new avenues of exposure are popping up, what does that mean for the genre as a whole, seeing as now there are folks coming out of the woodwork in hopes of being a comedian, whereas before you really only saw the real deal road warriors pushing ahead on their own merits, blood, sweat and tears?
DS: There are definitely more comics now than ever before, or so it seems. The positive side effect of that is many of us are carving our own path and not waiting around for the industry to throw us a bone. That's a big part of living in L.A. as a comic, trying to catch the attention of the industry, and while I have, and to a small degree, still attempt to do that, recently I've taken matters into my own hands. I don't need Hollywood's permission to do things like "The Boogie Monster" or "Gravy Boat," I just do them and provide my own content directly to my fans. I take the same approach with touring. I'm done begging cheesy comedy clubs for work. I don't need anyone's permission to book a bar or a rock venue. I just do it and try to provide a good show for people, rather than jumping through the comedy club hoops.
Want to go?
Comedian Dave Stone will perform at 8 p.m. Friday, May 12, at Currahee Brewing in Franklin.
As part of the "Comedy at Currahee" series, the evening will also include regional comedians Cary Goff (Asheville), John Gibson (Columbia, South Carolina) and Art Sturtevant. The host of the event will be comedian Carlos Canales of Waynesville.
Based in Los Angeles by way of Atlanta, Stone made his television debut on "The Late Late Show with Craig Ferguson" in 2013 and in the same year was selected to the prestigious "New Faces" roster of the "Just For Laughs Festival" in Montreal. Since then, he has been seen on Season 8 of NBC's "Last Comic Standing," Viceland's "Flophouse" and Travel Channel's "Cheat Day Chow Down."
When not headlining clubs across the country, Stone regularly tours with Craig Ferguson. He also can be heard voicing several characters on Adult Swim's "Squidbillies," co-hosting his new paranormal podcast "The Boogie Monster" with Kyle Kinane, and hosting his weekly alt-country radio show "The Gravy Boat."
The show is free and open to the public. 828.634.0078 or www.curraheebrew.com.