Archived News
Community fights to keep babies born in Franklin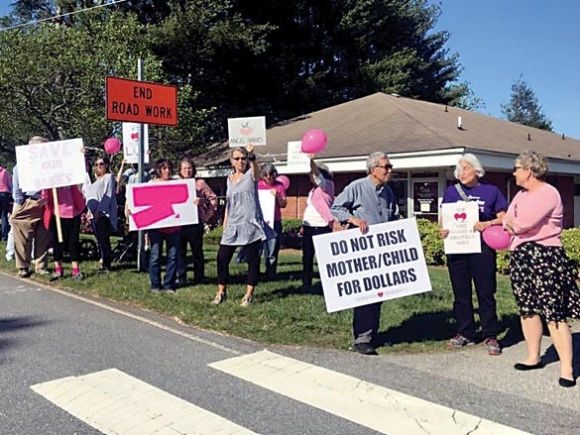 When Macon County residents joined together in 1971 to raise money to buy Angel Hospital and make it a community hospital, the effort was dubbed Operation Heartbeat.
The community has once again come together for Operation Heartbeat Two in an effort to ensure Angel Medical Center continues to provide labor and delivery services. The first Operation Heartbeat was successful in raising $300,000 for the hospital. The second coming of the community action group hopes it's not too late to reverse Mission Health's decision to shut down the labor and delivery unit at AMC.
An Operation Heartbeat Two Facebook group was created a few days ago and already has more than 700 members, and an online petition has garnered about 1,300 signatures from those opposing the decision.
More than 100 people gathered to protest outside the hospital Monday night as the AMC Board of Trustees held a meeting inside. Dan Kowal, a member of Operation Heartbeat Two, said he had hoped a few members of the group would be allowed to address the AMC board, but they weren't allowed inside.
It wouldn't have mattered anyway — Mission Health made the announcement about the closure April 25 and Mission CEO Ron Paulus said during an April 28 press conference that the AMC board already voted in favor of closing the unit as of July 14.
Mission Health issued a lengthy prepared statement Tuesday morning from the AMC board detailing how hard the decision was to make.
"Like you, our neighbors, family, and friends work in that department and we are proud that year after year, the women's department is recognized for the quality they provide," it read. "But the decision was not about whether to offer labor and delivery services or not. We were faced with a choice of making sure that the hospital can break even now and in the future so that we know there will be a hospital in Franklin."
According to the statement, the hospital lost large amounts of money prior to its affiliation with Mission and will lose money again this year without a major change and reduction in costs. Labor and delivery services lose more than $1 million every year, and those losses are expected to climb.
Mission continues to emphasize that it has invested more than $11 million into AMC over the last five years and also plans to invest $45 million in the next several years to build a new state-of-the-art hospital in Franklin that will have room for future growth.
"We will work with Mission to develop a new hospital design that could incorporate a labor and delivery wing in the future, provided that financing is available and that the health care funding landscape changes so that labor and delivery services can break even," the AMC board statement read. "For now, we will continue to focus our efforts on making sure that Franklin has the highest quality hospital available for our community now and in the future."
Macon County isn't ready to give up though. The Franklin Board of Aldermen discussed the hospital issue during a May 1 meeting and voted unanimously to send a letter to Mission Health and AMC asking administrators to reconsider keeping deliveries in Franklin, even if it meant looking at other programs to cut. Mission and AMC have not responded to that request.
AMC board member Joe Collins also serves as an alderman for the town and voted to oppose the closure and send a letter to Mission. Even though the May 1 town board meeting was packed full of people who spoke in opposition to the labor and delivery closure, Collins didn't speak up during the meeting to give any kind of explanation for the board's decision or even disclose the fact he still serves on the AMC board.
Until last week, the AMC website contained an outdated list of board members from 2014-15. It wasn't until several media requests that Mission updated the list online.
Blame game
Mission Health CEO Ron Paulus listed a number of reasons why Mission needed to close the labor and delivery unit at Angel — North Carolina not expanding Medicaid mixed with Mission's 75 percent rate of patients on government insurance policies or with no insurance at all, inadequate reimbursement rates from Medicare and Medicaid, increased costs of delivering services and the uncertainty of what the Affordable Care Act replacement would look like.
When asked if U.S. Rep. Mark Meadows, R-Asheville, was made aware of the potential financial problems presented at AMC before the decision was made to close labor and delivery, Paulus said he had conversations with Meadows about the state of rural health care.
"It would be impossible for him not to know — not to be aware this could happen because it's happening all over America," he said.
Paulus said he didn't think Meadows and others leading the Republican effort to replace ACA were mean-spirited or purposefully trying to hurt people or the hospital but are just dealing with "unfathomable choices" just like Mission Health.
Had the N.C. General Assembly expanded Medicaid under the ACA, which the federal government would have funded for several years, Paulus said Mission Health would have been about $8 million better off. Instead, he said the nonprofit health system is $34 million behind where it needs to be.
With the labor and delivery unit losing up to $2 million a year, AMC President and Chief Nursing Officer Karen Gorby said it was putting the financial solvency of the entire hospital at risk. Without delivery services at AMC, pregnant women will have to cross over Cowee Mountain to deliver at Harris Regional Hospital in Sylva, Haywood Regional Medical Center in Clyde or travel an hour and a half to stick with Mission in Asheville.
Gorby emphasized that AMC would continue to offer prenatal and postnatal care for patients, which she thinks will encourage expecting mothers to travel from Franklin to Asheville to deliver and stay with their Mission-affiliated providers. She also said Mission would be working closely with Harris Regional — a Duke LifePoint Health affiliated hospital — in the coming months to ensure a smooth process for Mission physicians to apply for privileges at Harris so they can deliver there as well.
County response
Macon County commissioners have been communicating with Mission Health and hope to have a more defined action plan by its May 16 board meeting. Commissioner Ronnie Beale said the board understands the huge impact this will have on the community and is trying to understand the economics of Mission's challenges as well.
"We're all working on it," Beale said. "We're asking Mission to please let the stakeholders be more involved in the decision-making process because we've had no involvement at all. We're a pretty innovative bunch in our area and we might be able to come up with a solution."
Beale said the county is also concerned about the closure date of July 14, which is only 60 days away. He said that wasn't enough time for any real communications between the hospital, the community and the transition of patient care.
"Delivery services are up at Angel, which means the service is much needed — not just for expected mothers now but also down the road for generations," he said. "They keep using the word regional and I know there are 37 hospitals in the system, but those who are elected officials and those living in Macon County, we look at it as Angel Hospital — and they can help us here by giving us an opportunity to weigh in."
Meadows surprised by developments at Angel
Rep. Mark Meadows, R-Asheville, said he was just as shocked by the announcement about the discontinuation of labor and delivery care at Angel Medical Center as everyone else in the region.
Despite what Mission Health CEO Ron Paulus portrayed as the reasons leading up to the decision, Meadows said Mission's decision was based solely on business and not on the repeal and replacement of the Affordable Care Act.
Meadows said he has had conversations with Paulus and his senior team about the challenges facing Mission Health, but wasn't aware this particular decision was a possibility.
"Obviously it came as a bit of a surprise to me but the decision was not predicated on anything we're working on in regards to the repeal and replace of Obamacare — it was an independent business decision that was made," Meadows said.
Meadows has become a national spokesperson on the federal government's health care efforts after the Republican congressional Freedom Caucus — of which he is chairman — blocked President Trump's first health care bill.
Meadows said he has spoken to county commissioners about the issue and applauded their willingness to work with Mission to make sure labor and delivery services remain available in the community. However, as a private business, he said it would ultimately be Mission's decision whether to keep the service.
Paulus said Mission would have been better off if the state had expanded Medicaid under the ACA, but Meadows maintains that was not a deciding factor for Mission. If anything, continuing to operate under the ACA would only lead to more losses for Mission.
"When looking at expanding Medicaid, it was mostly going to be for able-bodied single adults — that's a totally different argument," Meadows said. "There should be a work requirement there even if it's volunteering for a local municipality or a nonprofit."
One of Paulus' complaints that Meadows and the rest of Congress may be able to address is the issue of disproportionate share funds. The federal pot of money provides higher reimbursement rates for critical access hospitals that have a higher percentage of patients without insurance or are on Medicaid or Medicare.
Harris Regional in Sylva is a designated critical access and therefore has access to those additional funds, but Mission does not even though Paulus said 75 percent of its patients are on government subsides or have no insurance at all.
"I'm working with colleagues in the Senate on how we can work with what they call the disproportionate payment for Mission and other hospitals," Meadows said. "We now have to look at how we can make sure there's incentive for taking care of those with critical needs and also keep providers financially viable."
The health care bill just passed by the House removes the federal subsidies for health care coverage provided under ACA and replaces them with flat tax credits based on age, which would dramatically reduce assistance for people who can't afford an insurance plan. Meadows said he's confident the final bill out of the Senate will include a "more robust" tax credit for the working poor than what was passed in the House.
Meadows also said there is a proposal out there to make the tax credit available on a limited basis to hospitals when a patient isn't insured.
"I'm optimistic we will find a credible financial model that provides a real safety net and at the same time make this work for providers," Meadows said. "At the end of the day, making sure our health care providers have adequate resources to provide health care is something we must do."