Archived News
Stalled student housing project could revive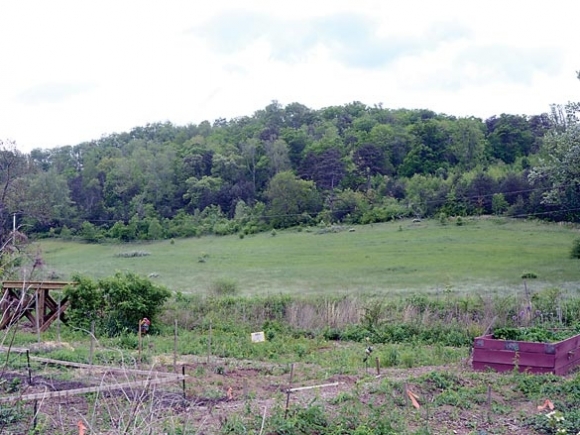 Two years have passed since developers first got approval to build a student housing complex along South Painter Road in Cullowhee, though not a shovel of earth was ever turned. But the stalled project could move forward this summer if a handful of Jackson County boards give approval.
In 2015, Monarch Ventures got the go-ahead to construct a 136-unit complex holding 488 beds on the 11.7-acre property, getting its application in just before the Cullowhee Community Planning Standards and county subdivision ordinance took effect. Many people worried about the effect that the large complex would have on the rural area with its narrow roads and lack of walkways, but based on applicable rules the Jackson County Planning Board had to approve the application.
However, the development was never built. Internal issues at the company resulted in the two co-owners going to court, and Monarch Ventures was eventually dissolved. Now, a new developer is hoping to use the land.
Atlanta-based Mallory & Evans Development is proposing a gated student community comprised of 97 townhomes with four bedrooms apiece — a total of 388 bedrooms. In addition to the 12 buildings containing the townhomes, plans call for a pool, a clubhouse and 418 parking spaces.
"A lot of students reach the point where they want a more grownup lifestyle, and usually that means renting houses," David McKenna, vice president of development for Mallory & Evans, told the Jackson County Commissioners during their May 1 meeting. "That's the students we're going for — the older, more mature students looking for an adult type of experience."
The developers had come to the commissioners requesting an easement across the Cullowhee Community Garden — located directly across the street — to allow for sewer access and stormwater disposal. They also hoped to purchase a triangular 0.19-acre piece of county land that is surrounded by the land slated for development. Mallory & Evans offered $10,000 for the easement and $25,000 for the land.
After a lengthy presentation and several back-and-forth rounds of questioning, commissioners decided to table the vote, likely until their next meeting Monday, May 15.
Traffic, parking and stormwater
Potential impacts to traffic and plans for alternative transportation to campus were a significant part of the conversation. The site is located in an area of Cullowhee characterized by narrow, winding country roads that have been called upon to handle increasing traffic from the student housing developments springing up along them. After a WCU student hit and killed a pedestrian walking nearby Ledbetter Road last year, the county stepped up its efforts to improve pedestrian safety in the area.
The developer has offered to build a sidewalk along the property line and then out to South Painter Road's junction with Monteith Gap Road. Of course, that would leave a significant amount of road without a sidewalk before reaching the university, and some commissioners feel it's not a safe bet.
"You build a walk back out there and that's fine. I think all that's needed, but we're just funneling more traffic into a problem road already, and it's sure not a road that looks like it's very safe to be walking on right now," Commissioner Boyce Dietz said in a follow-up interview.
He'd rather see a greenway go in along Cullowhee Creek to the university, which is the more direct walking route and likely to be favored by college students. But greenways — which often require easements through private land — are typically harder to establish than sidewalks.
Brantley Basinger, principal in the project, said the thought process was that building the sidewalk segment might spur the N.C. DOT to bring it the rest of the way to campus. In addition, he said, Mallory & Evans hopes to get bus service to the development. WCU discontinued off-campus busing in 2015 due to decreasing ridership, resulting in a high cost per ride. According to Bill Studenc, communications director at WCU, the developers and the university's transportation team have had informal discussions about bringing shuttle service back.
"They need some financial support to do that," Besinger told commissioners May 1. "We can provide that."
Commissioners also expressed concerns about parking issues. Plans call for 418 parking spaces for the 388-bed development — just 30 extra spaces for friends, family or anyone else who might stop by.
"Having the community garden across the street from it and what very little parking that they have, the last thing we want to see is that become the overflow parking," Commissioner Mickey Luker said at the meeting. "I think that's something we need to think about and study."
Besinger offered that the development could monitor the community garden parking lot from the clubhouse and ensure folks who are illegally parked get towed. However, Luker feels that the fact that the community is to be gated might make orderly parking difficult to guarantee. With few extra spots inside and access restricted, what happens when a student hosts a party in their townhome? Would the students park unsafely along the narrow roads rather than fighting for a spot inside the gated development?
"I would rather see them double-parked, parked on the property's grass or whatever instead of alongside our roads and impacting South Painter Road or impacting our community garden," Luker said in a follow-up interview.
Overall, Luker — who has a background in development — isn't a fan of the gated community concept. He feels that it creates an impression of a desire to be segregated from the community, and that it could cause safety issues should an ambulance or fire truck experience delays getting through the gate. Besinger, on the other hand, said that safety is the reason his company favors gated communities.
"My target market is you're going after me as a parent that wants to keep their children safe," Besinger told commissioners. "We gate all of our communities so there is security and we can monitor who is going into the complexes, who's coming out of the complexes. We also put security units in our complexes."
Commissioners also had some questions about stormwater — how the increased runoff might impact Cullowhee Creek and, in turn, the community garden on its banks. Plans call for construction of a retention pond, with the water straight-piped to the creek when it's had a chance to settle.
"The soil will be saturated, the Cullowhee Creek itself will be filled with water, so whatever on-site mitigation can be provided by the developer will help minimize those impacts," said Adam Bigelow, director of the community garden. "It is an interesting subject to look at how it's going to impact the water flow, and that's been a lot of my concern as I look at that project."
Though questions and concerns abound, there hasn't been much outright opposition to the project.
"I would love it to remain a beautiful, wide-open field blowing in the wind and all that, but the reality is that property has been purchased to be a development and somebody's going to develop it," Bigelow told commissioners during the public comment period May 1. "I look across there and see 400 potential garden volunteers … the garden was designed knowing there would be a sewer easement going through here at some point, but really think about the long-term plans for that park."
Cullowhee resident Curt Collins, also speaking during public comment, told commissioners that "Ultimately, I don't know if it (the development) is the best idea," citing the continued traffic issues and recent pedestrian death in the area.
Needed approvals
Though several commissioners said they're leaning toward approving the easement when it comes up for a vote May 15, none of them said so with absolute certainty and all said they had more research to do before forming a firm opinion.
However, the question before commissioners May 15 won't be whether or not the development is a good idea or how student transportation should be arranged or if the parking situation should be handled differently. They'll simply be voting on whether to approve the sewer and stormwater easement across the community gardens and whether to sell the 0.19-acre property Mallory & Evans has requested.
The development will still have to gain approval from the Jackson County Planning Board and the Cullowhee Community Planning Council before moving forward. During its meeting at 6 p.m. Thursday, May 11, the planning board will decide whether the development meets the requirements of the county's subdivision ordinance.
At a later date — likely Monday, June 12 — the Cullowhee Community Planning Council will decide whether to grant a conditional use permit for the project. Townhomes are an allowed use for the property, but the conditional use procedure is triggered anytime the proposed development includes more than 40 units. The Cullowhee planning ordinance requires that, for a permit to be granted, the board must find that the use won't create a traffic hazard; won't endanger public health or safety; is compatible with significant natural features; won't injure the value of adjoining properties; fits the character of the Cullowhee community; and has proper access to facilities such as water, police protection and transportation.
For his part, Besinger is hoping that the county comes back with a favorable reply, and quickly. He wants to have the development finished by the time students arrive for the fall 2018 semester. To meet that deadline, he'll need to start grading no later than Aug. 1.
"We're cutting it close now, honestly," he said May 1.
Be heard
The Jackson County Planning Board will decide whether the proposed 388-bed student development on South Painter Road in Cullowhee meets the county's subdivision ordinance during its meeting at 6 p.m. Thursday, May 11, in the Heritage Room of the Jackson County Department on Aging. No public hearing is scheduled, but meetings always begin with an opportunity for public comment. Speakers are limited to three minutes each.