Archived News
Baby deliveries to cease at Angel Medical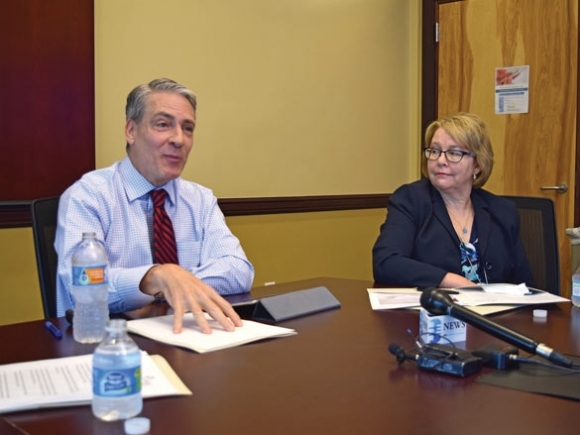 A difficult decision for Mission Health will now present a difficult decision for expecting mothers in Macon County.
With Mission's announcement that labor and deliveries at Angel Medical Center in Franklin will cease by July 14, pregnant women will have to decide whether they want to deliver at Harris Regional Hospital — a Duke LifePoint hospital — 25 minutes away in Sylva or travel an hour and a half to deliver at Mission Hospital in Asheville.
"We are very sorry we cannot keep this program open — we looked at every possibility we could conceive of … we just couldn't find a way," Mission Health CEO Ron Paulus said Friday morning during a press conference. The decision was made based on Mission's current finances, the increasing costs of labor and delivery services and anticipated fallout from the repeal and replacement of the Affordable Care Act.
SEE ALSO:
• Mission to invest $45 million for new hospital in Franklin
• Harris prepared to deliver more babies
• Community backlash ensues following AMC decision
Even though the decision to close labor and delivery will have wide-reaching implications for Macon County, Mission Health held a press conference regarding Angel Medical at 8 a.m. Friday in Asheville after an official announcement was made Tuesday, April 25.
AMC will stop delivering babies but will continue to provide pre- and post-natal services, gynecological services, surgical procedures as well as preventive, routine and complex care for women of all ages.
Karen Gorby, president of Angel Medical Center, said labor and delivery was costing the hospital too much money at the detriment of other needed health programs. The program loses $1 million to $2 million a year.
"We realized that continuing that service would put the hospital at risk," said Gorby, who joined Mission about a year ago. "It was really about sustainability for all residents of Macon County and believe me it's a tough decision."
The announcement caught Macon's citizens off-guard, including local government officials, state legislators and hospital administrators at Harris Regional in Sylva.
Rep. Kevin Corbin, R-Franklin, said he was made aware of the decision by Mission's lobbyist in Raleigh on Monday, April 24 — a day before the press release was issued. While he understands the financial challenges, he thinks it's a shortsighted mistake on Mission's part.
"I think it's a step backward for medical services in our area," Corbin said. "I get the business side of it and I understand that it's not profitable and it's not growing, but any business has areas that individually aren't profitable but contribute to the overall success of the organization. I just think it's a mistake."
Corbin doesn't foresee many people driving from Macon to Asheville to deliver babies. He predicts Macon residents will do what they did years ago during a time Angel Medical didn't deliver babies — they'll go to Sylva for pre-natal care, obstetrics, delivery and pediatric services.
"And while they're over there, they'll go shopping, buy groceries and get gas," he said. "It will set Franklin back 20 years."
Change of plans
Last May, Mission Health announced that it would invest $4.3 million into expanding the women's unit at Angel Medical Center, which included adding one ADA compliant delivery room/recovery room, four ADA-compliant post partum patient rooms and relocating and expanding the nursery.
"The expansion of Angel Medical Center Women's Unit will accommodate the growing number of births in our region," the press release stated. "When the project has been completed, the medical center will feature 9 Post Partum Rooms and 4 Labor Delivery Recovery rooms."
When asked what had changed since that announcement, Paulus said a closer examination of the AMC facility by architects revealed more structural problems than originally anticipated. He said renovating and repairing the problems in the building would have cost more than $50 million — $5 million more than it would cost to build a brand new hospital in Franklin.
When the expansion was first discussed, Paulus said Mission was seeing a significant shift in where women were deciding to deliver their babies. More women were coming from Sylva to Angel Medical to deliver, which made Paulus concerned about whether Harris would continue to offer labor and delivery.
"I had concerns Harris may decide not to deliver babies and there has to be an option available in that region," he said.
Around that same time, Harris made the announcement it would be investing $6 million to expand its women's unit.
"No longer did we need to consider the possibility of no service being available," Paulus said.
Mission ended up backing off of the expansion plans for AMC.
Despite the May 2016 press release that stated the expansion was needed to keep up with the increasing births in the region, Paulus said the number of births was never increasing — only the number of women choosing to travel from other counties to AMC.
When asked how many babies were born at AMC last year, Gorby said about 400. However, Paulus was quick to say that number was a "recent phenomenon" and the average was more like 260 babies born each year at AMC.
"Demographically we all know there is no increase in the demand for labor and delivery — there is no population increase," he said.
Mission's press release stated that about 25 percent of women in surrounding counties, including Jackson, Swain and Macon, were already delivering their babies at Mission in Asheville. Specifically looking at Macon County, a majority of those women still give birth at Angel.
According to data from Jon Yeatman, Mission Health's chief strategy officer, Mission Health delivered 302 women from Macon County — 258 at Angel Medical Center and 44 at Mission Hospital.
Again, Paulus said the increase in babies being born at AMC was due to a market shares shift from Sylva, but not due to growing population or changing demographics in the region.
State of rural health care
According to Paulus, the closure of the labor and delivery unit at AMC has to be done for financial reasons — a culmination of the demographics of Western North Carolina, the North Carolina Legislature's decision not to expand Medicaid, and proposed legislation to repeal and replace ACA.
Paulus attributed the hardships to the current state of health care in rural America. More than 100 rural hospitals have closed in recent years and less than half of rural county hospitals provide labor and delivery services.
"We live in a world unfortunately where health care is not being supported the way it needs to be and no more tragically so than within rural America," he said.
The ACA was designed to improve health care in rural America, Paulus said, by providing federal subsidies for people who couldn't afford the insurance premiums and expanding Medicaid to provide a better safety net and better reimbursement for nonprofit health systems like Mission.
However, the North Carolina Legislature chose not to expand Medicaid, which led to a larger gap of people without health coverage and left Mission with more "no-pay" patients and less reimbursement from Medicaid and Medicare.
"We should be about $8 million better off after ACA than before ACA, but because North Carolina didn't expand Medicaid — and during the last government shut down they implemented 2 percent sequestration cuts across the board — we're $34 million behind instead of $8 million ahead," Paulus said. "That creates an extraordinary pressure for Mission Health and again each and every one of our member hospitals. If we were to roll forward what we do today and just let that play itself out over the next nine years, Mission Health would increasingly be losing money."
Paulus went on to say the "dirty little secret" of health care is that Medicare and Medicaid pay far below the hospital's cost of delivering care. In a normal market, the ratio for privately insured patients and those with government subsidies or who are uninsured is usually about 50/50. But since 75 percent of Mission's patients are on a government plan or have no insurance at all, Paulus said Mission is left with little options to make up the difference.
"The way health care systems make up the difference is by shifting that additional cost onto commercial insurers," he said. "There just aren't people to shift the cost to because those government insurers mandate the price they pay to us and we have no influence on that and they don't take into account our cost to provide care."
The average patient within the Mission Health system saw a 1.4 percent increase in the cost of services last year, which generated about $21 million in new revenue going forward, but Paulus said Mission's input costs — drugs, medical devices and supplies — have risen much faster than 1.4 percent.
Mission Health also gave all of its 14,000 employees a raise last year, which cost a whopping $37 million. Paulus said Mission Health now needed to cut $37 million just to break even moving into next year.
Paulus said he's not hopeful that the health care situation is going to improve when looking at the proposals being put forth by Republican legislators in Washington, D.C.
"In every reform scenario that's been discussed those impacts range from really bad to tragic," he said.
If the so-called "Trumpcare" bill passes in its current form, the health insurance subsidies that have been available under ACA would be replaced with a flat tax credit at a much lower amount. For example, a family of four making $40,000 a year would receive a subsidy of $23,000 to be able to afford an ACA health care plan. Under the proposed replacement plan, that same family would only receive a $10,000 tax credit.
"And that's nothing compared to the impacts on the elderly," Paulus said. "That's why in many media reports — for those who have actually studied and understand and it's so hard to understand — that this has been called the anti-elderly act."
With the aging population in Asheville and the surrounding communities, Paulus said it's no big surprise a recent study ranked Asheville No. 10 on a list of cities that would be most impacted by Trumpcare.
All these factors add up to a financial disaster for Mission if it doesn't change course. Paulus said Mission would see a $412 million loss over nine years unless something changes. Last year, Mission had $61 million in net income. Even though it's a nonprofit health system, Paulus said that income is needed so Mission can continue to invest in new technology, build new facilities and pay its employees.
Some might accuse Mission of wasteful spending or ineffectiveness, Paulus said, "but reality is just the opposite — if we weren't better than most already we'd be bankrupt." He said the average nonprofit health system loses about 8 percent on every Medicare patient while Mission loses only 2.5 percent.
"We have been named in the top 15 health systems in the U.S. using objective data for five out of six years — that's never been done by any health system before," Paulus said.
Transition plan
With the delivering of babies set to end July 14, Angel Medical has already begun the transition process for the labor and delivery support staff, which encompasses about 25 employees.
The labor and delivery unit employs four obstetricians, three nurse midwives, nurses and other support staff.
Gorby said Mission's Career Exploration Center would be assisting displaced employees to help them find another job offer within the Mission system if they choose to take it. If they choose to leave the health care system, she said Mission would provide them a severance package.
Paulus said Angel currently has 24 and Highlands-Cashiers Hospital has about 18 open positions for nurses and physicians.
By the numbers
Total number of babies born at Angel Medical Center for the last five years
2012: 161
2013: 205
2014: 206
2015: 367
2016: 374