Archived News
Community backlash ensues following AMC decision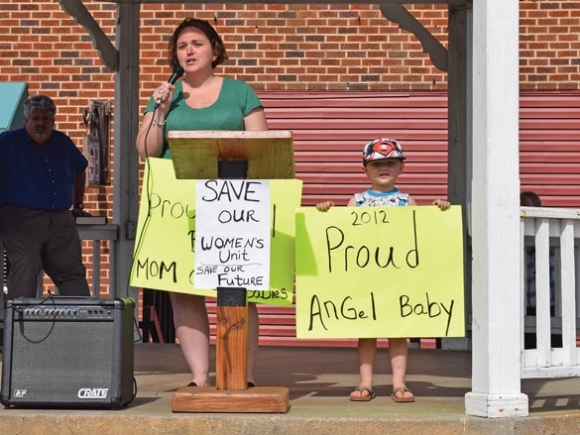 Macon County residents have made a clear statement that they oppose Mission Health's decision to discontinue labor and delivery services at Angel Medical Center in Franklin.
About 40 people gathered at the gazebo in downtown Franklin Sunday afternoon to express their opinions about how the labor and delivery closure at AMC will impact the community.
"I am very much against this as I think most people in the county are for many reasons," said Dan Kowal. "I think it's dangerous for women to have to go over that mountain to get to Sylva or Asheville in the middle of winter or at night or in a storm. I think it's bad for our economy if we can't attract young people here, new businesses, etc., because that's what they're looking for."
While Mission CEO Ron Paulus stated the decision was made for financial reasons, residents in Macon County aren't buying it. If Mission Health — a nonprofit health system — is losing up to $2 million a year on the labor and delivery program at AMC but made $61 million in profit last year, Kowal said he didn't understand why some of that profit couldn't be used to pay for the program. He also pointed out that Paulus earns an annual salary of more than $700,000 a year.
Park Davis said he thinks Paulus is being disingenuous when he says it costs too much to operate the labor and delivery unit at AMC.
"How does he think he'll save any money by delivering those same babies in Asheville? Medicaid and Medicare will still reimburse the same amounts for those patients in Asheville," he said.
Carmela Birolin has lived in Franklin for 25 years. She had her second child at AMC and her daughter is pregnant and due on July 14 — the same day AMC will stop delivery services.
"I don't want to see this happen — it's 2017, why in the world are they even thinking about this?" she said.
She said she was supposed to have her second child at Harris because of complications during her first pregnancy, but her second child was coming much quicker than anticipated.
"I was crowning by the time I got to Winn Dixie," she said.
Her husband barely got her to the emergency room at Angel Medical before her daughter was born.
"If it wasn't for Angel, I would not have been able to deliver her over that mountain," she said.
Lauren Hickman, a Franklin mother and a childbirth doula, said women would lose some of their options with the closure of labor and delivery at AMC. For example, she said Harris does not perform VBAC births — a vaginal birth after a woman has had a previous cesarean — but AMC does. Women who want a VBAC will have to drive to Asheville now.
"In that hour and a half to Asheville, a lot of things can happen — and we're not just talking about one person's life — we're talking about two people's lives," she said. "I don't want to get too political, but I think this is a wake up call for everyone. I think until we change the way that our health care system is run in this country, this is not going to change."
Even more people showed up the town of Franklin board meeting Monday night to talk about the issue.
Maggie McRae, a retired certified nurse midwife at Harris, said the number of babies has increased at AMC because women followed their nurse midwives who moved from Harris to AMC. She said AMC gave those midwives more options when it came to delivery, including VBAC and water births.
"Nurse midwives feel an openness at Angel they didn't have at Harris," she said.
Nancy Scott said this decision would have a huge impact on local women as well as Macon County's future economy.
"We don't want this to be a retirement only community — we need this labor and delivery service at our hospital," she said. "They're coming up with $45 million for a new hospital — we don't need a new hospital. We need these services."
For a poor, rural community like Franklin, Carole Peterson, an OB/GYN who was recruited to start the L&D unit at AMC, said many residents wouldn't have the capacity to get to Asheville to deliver their babies.
"They will come to the hospital and we will deliver them and we will lose people," she said. "Doctors and nurses will get jobs — they're not going to be unemployed — it's the people who really need this service who don't have resources to get out."
The Franklin Board of Aldermen unanimously approved sending a letter to Paulus asking that Mission reconsider its decision even if it means considering cuts to another program.
No one from Mission Health attended the town meeting or the community forum on Sunday to offer feedback to residents. A press conference regarding the decision was held in Asheville at 8 a.m. Friday, April 28.
Paulus did say during the press conference that the decision was one that couldn't be avoided and maintains it's the best decision for the community in order to keep AMC open.
"I realize some people don't think we're very smart but I think we're pretty good — the objective evidence by outside observers verifies that feeling," he said. "We've made the decision to invest $45 million in that community … and we don't do that because we're stupid. We do it because we care deeply about that community. We accept people won't see it that way all the time, but that's what leadership is — doing the right thing even when you're going to be disliked about it."