Archived Outdoors
Mountain bikes roll into Swain High
Wednesday, April 26, 2017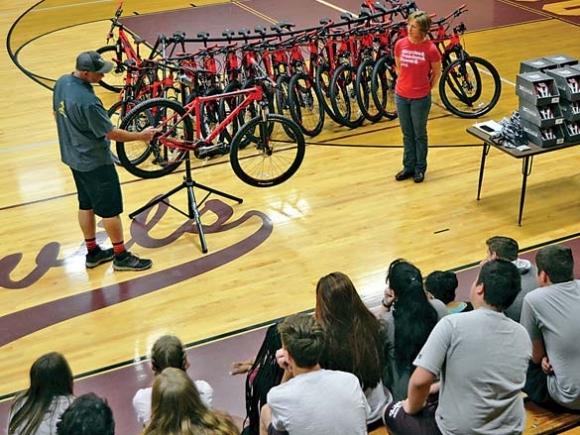 A fleet of new mountain bikes has come home to roost at Swain County High School, thanks to a donation from Bryson City Bicycles.
In December 2016, the bike shop landed an award from Synchrony Financial that granted it $10,000 to grow the business and another $10,000 earmarked for a community project of its choosing. Bryson City Bicycles was one of only five small businesses nationwide to land one of the Working Forward Small Business Awards, and co-owner Diane Cutler had no doubts about where in the community she wanted to invest that $10,000.
"Bicycling can be a lifelong activity, and if we can get kids into that now, it's something that is a tool for them to stay active the rest of their lives," she said.
That's in sharp contrast to most organized sports, which most people stop playing regularly upon graduation. The problem, however, is that bicycles are expensive, and children from low-income families in particular wouldn't likely have the opportunity to give the sport a real shot.
Because of the bike shop's expertise and connections, Cutler and co-owner Andy Zivinsky were able to leverage that $10,000 award into more than $20,000 worth of bicycles and equipment. Last week, they headed over to Swain High to deliver 17 bicycles, 20 helmets, a floor pump, a repair and wash stand, a cleaning kit, various tools and a new 6x12 enclosed cargo trailer to store and transport the bikes. The donation also includes two years of free maintenance, replacement parts and service from Bryson City Bicycles.
Last week's visit to Swain High was about much more than dropping of some bikes, however. Cutler and Zivinsky ran an orientation program for two different high school physical education classes, talking about helmet safety, bike anatomy and the basics of riding. Not every teen, it turned out, knew how to ride a bike.
"There's a lot of anxiety there with kids, and that's where I'd like to be able to help where I can," Cutler said.
She remembers one student who was especially nervous, having never ridden before. But in the course of about five minutes, she was a bike rider.
Cutler and Zivinsky returned the next day, as well, to help out with a mini-triathlon that students in the school's leadership program had organized. The course included a half-mile run, a mile bike ride and then a quarter-mile of trail running.
"That was really an exciting way to have the kids use the bikes for the first time," she said.
For Cutler, use is the key. Before she even sent in the application for the award, she started contacting the school system to see if they'd even have a way to use a fleet of bikes.
"I didn't want to just bestow a fleet of bikes on someone who would put them in a garage," Cutler said. But, as it turned out, "the school was very excited about it."
"We hope that we will create a generation of kids who enjoy biking, get their future families involved and support the local community," said Sonya Blankenship, assistant principal and Healthy Services Coordinator at Swain High.
Scotty McMahan, a physical education teacher at the school, is excited about incorporating the bikes into his curriculum. Ultimately, he'd like to be able to take kids out for trail rides nearby and perhaps get enough coverage to be able to take kids out one at a time.
"Realistically, at first you may only get one or two kids who take and hold and make it a lifetime activity. Next year it may be three or four, then five or six. Then it really takes hold," McMahan said.
For its part, Bryson City Bicycles is looking forward to partnering in whatever way will be helpful.
"There are so many different things, and it kind of depends on where the school wants to go," Cutler said, "but we are 100 percent backing this and so enthusiastic to make it happen."
In the long-term, she'd love to see an intramural bike program, a middle school bike program and even a bike share program for faculty. And, ultimately, the dream is to found a National Interscholastic Cycling Association team. The organization allows high school students to travel for mountain biking competitions, offering an alternative to traditional team sports.
North Carolina is one of 18 states to have a NICA league, and Swain High is strategically placed for its students to excel should such a team become available in Bryson City. The nationally known trails at Tsali Recreation Area are just 20 minutes to the west, and 20 minutes to the east a new system of mountain bike trails in Cherokee is about to be unveiled.
While cycling is set to soar in Western North Carolina, nationwide the sport is suffering, Cutler said, citing statistics that bicycling as a hobby dropped 8 percent across the general population and 21 percent among people ages 7-17 between 2000 and 2010.
"That's a problem," Cutler said. "Kids just aren't there playing and being active while they're developing, and you've got to get those habits in early. Having something fun is really important. I'm just glad we were able to provide this opportunity."
Boosting the online presence
While half of Bryson City Bicycle's $20,000 award from Synchrony Financial went to the bike donation at Swain County High School, the other half will allow the shop to set up an e-commerce platform.
Keeping a retail business afloat in a seasonal, tourism-based economy can be difficult — 75 percent of the shop's annual revenue is made in six months, and 85 percent of it comes from tourists. By creating a robust platform for online sales, owners Diane Cutler and Andy Zivinsky hope to create a more reliable, year-round income stream.
The $10,000 grant will allow them to make that happen.