Archived Reading Room
A desperate tale, beautifully written
Wednesday, April 26, 2017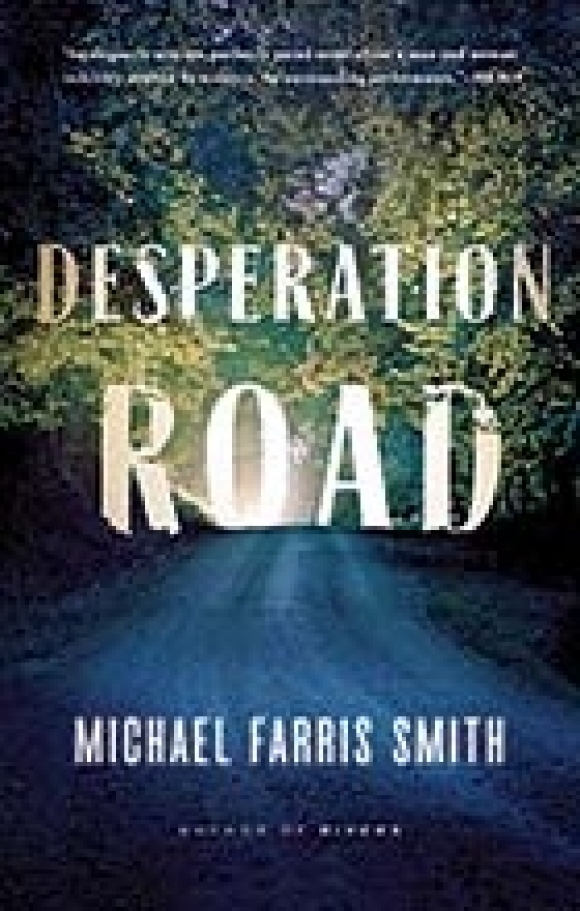 "And if you spend yourselves in behalf of the hungry
And satisfy the needs of the oppressed,
Then your light will rise in the darkness,
And your night will become like the noonday."
— Isiah 58:10
The setting of Desperation Road is a short stretch of highway in Mississippi between Magnolia and McComb near the Louisiana state line. It is a rural area and other than the Fernwood Truck Stop and the Armadillo bar, there is nothing of interest ... just closed stores, a bus station and a half-way house. This is where Michael Farris Smith's characters spend their time in a desperate search for peace or redemption. They are all defeated and bear the scars of their encounters.
When Maben and her daughter, Annabelle, appear on the highway, they are on their way to the truck stop. Maben carries a garbage bag that contains their worldly possessions: some ragged clothes and the child's coloring books. When an elderly gentleman is touched by their plight, he gives them a ride to the truck stop and gives Maben $40.
So, this story of blighted lives begins with an act of kindness from a stranger. It is an act that serves as a catalyst, igniting a series of actions that eventually leaves Maben on a remote road with a dead cop and a gun in her hand.
Russell Gaines is just out of prison, having served an 11-year sentence for a drunk driving charge. One night, the drunken Russell had been out joy riding and he had encountered a truck parked on a bridge (a courting couple) and the subsequent collision left Jason Teasdale dead. Russell knows that some people (Jason's brothers, Larry and Walt) feel that his 11-year sentence was not sufficient punishment and they are prepared to repeatedly beat Russell senseless. Russell seems to accept this and survives his first beating on the day he arrives home from prison. Although his former true love has now married and has three children, Russell has irrational dreams of starting over.
Larry Teasdale dreams of killing Russell. In fact, he spends much of his time driving the dark roads between Magnolia and McComb, muttering constantly about hate for Russell. He rides with a crow bar on the seat next to him. Ah, but Larry has other problems. He has an unfaithful wife who makes no effort to keep her affairs a secret. Larry feels that the world is laughing at him and he is right. He also suspects that his wife is involved with Russell.
Boyd, who was Russell's best friend in high school, is now the local cop, and spends much of his time cruising the same dark streets as Russell and Larry. As the search for the killer of the cop who was killed with his own gun continues, the lives of the desperate characters begin to merge and Boyd suspects that the consequences of Russell's plight will become the same as ... Maben.
It is Boyd who remembers the frightened girl who was with Jason the night that her lover died on that bridge. When Russell brings Maben and Annabelle home to his father's farm and watches the two settle into a safe haven, he vows to help Maben. He convinces her to get rid of the gun and even suggests that he can keep Annabelle if Maben will make her escape on the bus. All of this plan is known to Boyd who suddenly finds that the secret that he carries is a weighty responsibility. The security of the other characters is dependent on his silence.
One character is remarkable in that they are not a part of the aimless and frantic movement of the desperate. Russell's father, Mitchell, is a man who has found peace with Consuela, his Mexican housekeeper and his catfish pond.
Suddenly, things begin to come together. Perhaps Russell cannot have his lover back, but perhaps there is a kind of recompense. Is his own redemption realized in the saving of Annabelle? As Russell watches his father and Annabelle fish and notes the growing bond between the old man and the girl, he senses that much has been lost, but here is a permanent bond taking shape. Only Maben's final fate is uncertain. Although battered and badly damaged, she has survived.
As for Larry, he reaps the fate he so desperately sought.
This book is beautifully written. The dialogue is especially noteworthy and much of it sounds like it was overheard in a rural bar or cafe. The characters, especially the waitresses and the weary store clerks, sound like the people in small rural areas.
Several years ago, I read Michael Farris Smith's Rivers, another remarkable novel and I feel that both books contain a recurring theme. Cohen, the protagonist of Rivers, feels that he is an ordinary man with unremarkable talents and capabilities. However, he finds that he has been given a daunting responsibility. If he and his world are to survive, it is necessary that he become "remarkable" ... even heroic. He reluctantly strives to accomplish his goal and succeeds. I felt that Russell is also a man that circumstances require that he become "remarkable," both in what he is willing to sacrifice and in what he accomplishes. Like Cohen, he succeeds.
(Gary Carden is a writer and storyteller. He can be reached at This email address is being protected from spambots. You need JavaScript enabled to view it..)