Archived News
Tools of the Trade: GE grants Pisgah High $100K for industrial education
Wednesday, April 26, 2017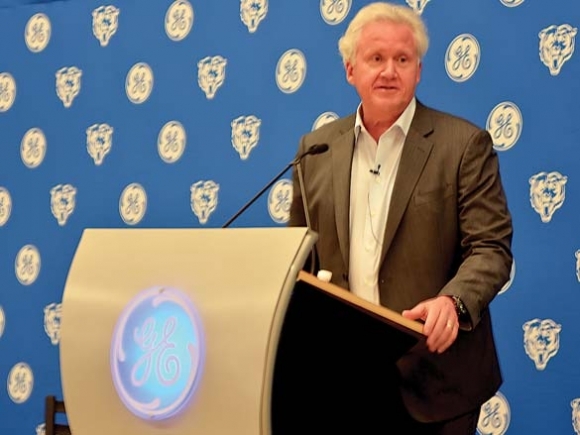 Advanced manufacturing and machining in Western North Carolina just got a huge boost from a Fortune-500 multinational conglomerate with more than $127 billion in yearly revenue.
On Tuesday morning, General Electric CEO Jeff Immelt visited Pisgah High School to present the school with a $100,000 grant from the GE Foundation.
"We think this is the kind of relationship worth pursuing," Immelt said.
"This specific grant is for the machining and metals department," said Jenny Wood Valliere, executive director of the Haywood County Schools Foundation, the nonprofit organization that supports the school system with grant writing, fundraising and scholarships. "They can buy equipment, do professional training with their teachers, and hopefully offer some new classes."
Machine shop has been a part of Pisgah High School since the very beginning, according to Chip Singleton, Pisgah's metals manufacturing teacher. Singleton is himself a graduate of Pisgah, and once worked at Smiths Aerospace Components in Asheville making parts for jet engines.
"Around 2005 there was a need for skilled machinists at Smiths Aerospace, which later became GE," Singleton said. "They hired a couple of my kids right out of high school, and were very impressed with them, so we got to talking about how we could expand that."
Students at Pisgah start out by learning how to make precision measurements with micrometers, progress into operating manual machines and finally get into CNC programming operation.
Singleton said he's hopeful the program — which currently has a waiting list — can expand to serve more students.
GE Aerospace's Rick Kennedy feels the same.
"Approximately 16 percent of all the employees of our Asheville operation graduate from this high school," Kennedy said, adding that finding a quality workforce is a much greater concern for GE than one might think.
"What you're seeing here is a microcosm of a national crisis," he said. "And that crisis is that we have jobs around the United States, but we don't have the people to fill them. We see this in aerospace all over the United States. So, we have a pipeline out of this school of people in a position to be trained by General Electric. You can't just walk in off the street and work at a General Electric plant. The equipment is getting more sophisticated, and so the challenge is getting people who are experienced in operating sophisticated equipment."
North Carolina is still the fifth-largest manufacturing state in the union despite years of setbacks in the sector. Many Pisgah grads also end up working at the county's largest employer, Evergreen Packaging in Canton, which has been making important contributions to the regional economy for more than a century. Like GE, the paper mill relies on skilled workers to keep things moving.
"It's a huge deal for them to come in for a meeting like this and recognize Pisgah High School for what we're trying to do to help them out," Singleton said of GE. "Because if they can't find the talent here, they're going to have to go somewhere else."
GE Aviation holds a major presence in the worldwide commercial, military, business and general aviation markets and also creates digital products that monitor fuel usage and optimize operations. A marine division manufactures both civilian and military gas turbines for ships, including the $13 million, twin-shaft, 6,000 horsepower LM500 engine, which is used by the navies of Denmark, Japan and the republic of Korea.