Archived News
A short break with Coffay
Wednesday, April 26, 2017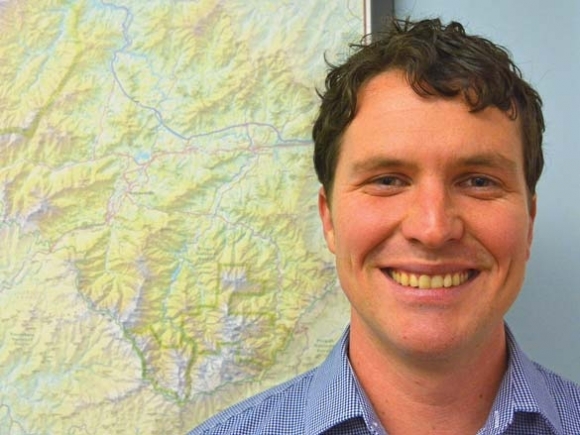 Born in Florida but raised in tiny Blue Ridge, Georgia — just a few miles outside of Murphy and not far from where Tennessee borders Georgia and North Carolina — Matt Coffay, 30, has spent a little over a decade in Western North Carolina, after moving to Asheville to attain a degree in philosophy.
A Bernie Sanders supporter during the last election, Coffay founded the Asheville chapter of Our Revolution, a Sanders-affiliated group evocative of the Howard Dean movement that has watched the Democratic Party reluctantly accommodate some of Sanders' positions since his primary loss to Hillary Clinton in 2016.
That says a lot about who Coffay is, and what he believes — but that's not all he brings to the table. A former farmer who up until recently operated a small CSA (community supported agriculture), Coffay has some overseas experience and has certainly gotten his hands dirty.
Coffay sat down with The Smoky Mountain News to talk about this and more, just hours before he stood in front of a microphone at the Historic Haywood County Courthouse and declared his intention to challenge Congressman Mark Meadows, R-Asheville, for his congressional seat in 2018.
Smoky Mountain News: Why philosophy?
Matt Coffay: I started taking philosophy courses and the idea of really getting to the bottom of everything, really analyzing everything and getting to the bottom of everything in this world really appealed to me.
For a long time I thought I would be a teacher. I wasn't sure if it would be high school or college, but I wanted to have an impact on the education system. The longer I was in school and the more I started looking at graduate school and the way that that works, the less appealing that became to me.
I ended up moving for about a year to China and I lived in China for a year. I spent a couple of years in acupuncture school, so when I moved to China I was thinking, 'Well, I'm going off to China and getting some first-hand language experience, and then maybe I'll go to graduate school and do some Chinese philosophy and also geopolitical stuff, and end up being able to teach.
I lived in Nanjing and Shanghai, which are two of the most polluted cities in the world in terms of air pollution and water pollution. I just felt like I needed to be doing something tangible, to try to do something about what I was seeing. One of the scariest things to me was the way the food system was working in big cities there. I would take the train every day to school and see fields being irrigated with basically green sludge, like wastewater of the factory downriver — basically the worst kind of stuff you can imagine.
So when I came back to the states, I wasn't really sure what I wanted to do with that, and then I ended up meeting some folks that were farming, small-scale farmers. I started looking at the food system in the states and wanted to make changes in a really tangible and direct way.
That was how I ended up getting started farming.
SMN: Farming has a tradition of political activism, and I think we know why that is. How do you move from one to the other?
MC: While I was farming, I was volunteering with this organization called the National Young Farmers Coalition, a 501©(3) based out of New York. They do grassroots organizing aimed at changing federal policy to make it easier for young people start farming and stay farming. I started a local chapter, and then after I stopped farming I got a job with them.
But after the election, I started the chapter of Our Revolution in Asheville. So I ended up getting pretty involved in the Democratic Party as a result, not intentionally, it just sort of happened organically because what we were doing — when I say we I mean the national organization and all the local chapters including ours — what we were really focused on was getting new people involved in the political process, and it just so happens that our stance on the issues and our set of values corresponds most closely to the platform of the Democratic Party. But the organization is still considered nonpartisan, because there are a lot of people involved who are not members of the Democratic Party as well.
So we were really trying to get people involved at the precinct level — going to meetings, getting people involved in the party so that they're ready to do things like canvass and get out the vote and really put that infrastructure into place.
As a result of that, I started talking to people about what the next step was going to be, and when we started talking about what races we'd to put our energy into, we said, 'Let's think more about getting out of the bubble of Asheville as well and into the rest of Western North Carolina,' and the hot topic with everybody, really, was who's going to run against Mark Meadows?
SMN: So that task fell to you.
MC: People started jokingly saying, 'Oh you should run, you'd be great, you're a former farmer, you're young, you're a great speaker and great organizer. You're the perfect person to run against Meadows.'
SMN: And how did you take that?
MC: I kind of laughed it off for weeks. I never, ever thought of running for public office. I thought of being a teacher or a farmer but never in my mind was it that I would run for city council or anything like that. The more I started thinking about it and talking to people, friends and family, and saying I was thinking about doing this, I started thinking, "Wow, actually…"
SMN: What makes you qualified for this job?
MC: I think just regular people like me probably should be running for office. I come from a working-class background and I'm not independently wealthy by any means. I think there's a real problem that you have so many people in Congress that are independently wealthy that are just completely out of touch with what's going on with regular people. Certainly, that's not the case across the board, but the vast majority of people in Congress, if you were look at the entirety of both houses, you're talking about a bunch rich lawyers basically. And most of the country's not comprised of rich lawyers.
SMN: I don't consider Meadows to be in that class — he's not mega-wealthy, not an attorney, and was a small business owner who worked hard using the benefits of our system to become a millionaire.
MC: You can make the case that he was the sandwich shop owner, and he worked hard, and became a developer, and then made his money doing that. The reality now is that somebody like Mark Meadows is really in my opinion out of touch with what people in Western North Carolina actually need. If you look at the numbers for Western North Carolina, on average we have more people on Medicare, more people on Medicaid than the national average. Those are the things that really matter to people in Western North Carolina. That's what I believe.
And I believe that people voting for Mark Meadows against their own interests don't realize that they're voting against their own interests — they don't realize that his plan to repeal Obamacare is not going to give them better health care.
This is not about personal attacks; this is not about him being a bad person. That's not where I'm going with this at all. The policies that he wants to advance at a national level are going to hurt people that I care about in Western North Carolina. That's the bottom line.
SMN: Another thing that matters to people in this district is the Second Amendment.
MC: I have no problem with people hunting. I have no problem with people owning guns for recreational purposes, whatsoever. Gun control is not a big issue that I want to get involved with in this campaign. I think there are way more important things we can do in Congress to help the people in this district. If you want to talk about gun control, I think things like the loopholes that exist for purchasing guns at gun shows, those things need to be addressed at some point. Gun control is not going to be a focal point of our campaign.
SMN: Another wedge issue that divides both parties is choice.
MC: I believe that what all of us want is for there to be as few abortions as possible. I think everybody can agree. Nobody is pro-abortion. I'm certainly not pro-abortion.
I think if what we want is for there to be as few abortions as possible, then what we need to do is expand access to healthcare services. We need to make sure that people have access to birth control, and education. The vast majority of what Planned Parenthood does has nothing to do with performing abortions. But I think if people want to talk about whether you're pro-choice or pro-life, if you're going to talk about pro-choice and pro-life what you really need to be talking about is what happens to children after they're brought into this world.
Right now we have a completely broken healthcare system. Virtually half of all pregnancies are being paid for with Medicaid. What we really need to be talking about is how to take care people after they come into the world.
SMN: Speaking of the world, you said that you'd lived in China, which has been both a boogeyman for the Trump administration, as well as a potential partner in solving the North Korea conundrum.
MC: I think there's a serious lack of understanding on the part of a lot of people in Congress who pretend to have this kind of awareness of what our foreign relations are and what they ought to look like.
People that have never been to these places that think that they know what sort of a stance we should take with this country or that country, I spent some time in South Korea and I can tell you that there's a very different perception of antagonizing North Korea happening in Seoul then there is here in United States.
So I think that a lot of what's going on right now in terms of the stance that Trump is taking with Syria with North Korea et cetera, this is essentially just a smokescreen to distract people from domestic issues.
Our relationships with those countries are important, but I really think that what most people in Western North Carolina care about is jobs, education, healthcare and infrastructure, and not whether North Korea is making another one of its million empty threats to South Korea.
SMN: You've also talked about farming, and the food system both abroad and here in United States. In Western North Carolina, the Haywood County chapter of the Farm Bureau said at a breakfast last week that their two major issues were health care and labor.
MC: I'm a good example of somebody who would have never been able to farm without the ACA. I was making so little money farming, which is certainly the case for most small farmers, that I never would have been able to afford health insurance plan without a subsidy through the ACA.
In terms of the immigration situation, if we take all of the migrant workers who are essentially shouldering our food system right now and singularly go through and county-by-county, state-by-state, try to deport all of these people, the food system would collapse.
We need comprehensive immigration reform, and a path to citizenship for people who want to work hard.
The reality is, working with NYFC and farming myself, there're not a lot of people that want to do that kind of work in United States. That's just a fact. People that are here that are willing to work hard and pay taxes need a path to citizenship so that they can be in this country and do that work.
SMN: Your messaging could resonate with certain crowds, provided they're exposed to it. How do you, a Democrat, plan to raise enough money to compete with a popular three-term incumbent in a heavily Republican district?
MC: I've had plenty of conversations with career political consultants and what they want me to do is six to eight hours of call time per day with the wealthy 1 percent and the donor class.
That's how people think you win congressional campaigns. And a lot of congressional campaigns have been won that way. They're right. It does work. If you sit on the phone, you can raise a lot of money.
We are planning to run a historic groundbreaking small donor campaign the same way that the Sanders campaign was able to compete with the political machine of Hillary Clinton. We are going to raise money with a small-donor machine that's going to be able to compete with Mark Meadows.
And that's not a naïve statement on my part. We're going to seek out endorsements from most national organizations, and I feel confident that because what Mark Meadows is doing and what he stands for in Congress — and again this is not personal — what he stands for in Congress is so damaging for working people that working people are going to step up and help us fund this campaign.