Archived News
Is this thing on? WNC groups claim Meadows isn't listening
Wednesday, April 26, 2017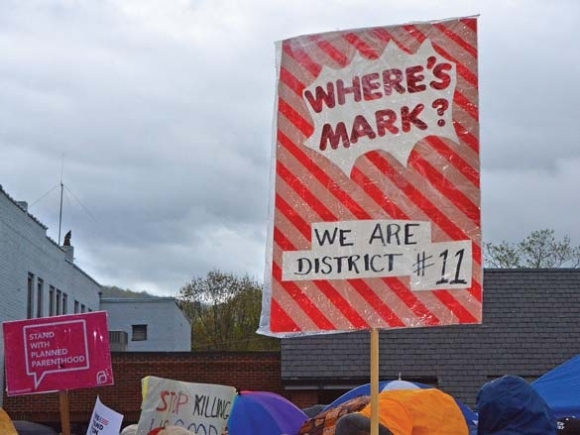 Members of several progressive groups concerned over the moral and monetary implications of Affordable Care Act repeal in rural Western North Carolina say that although their congressman isn't listening to them now, maybe he'll hear them in 2018.
But in 2016, voters endorsed Rep. Mark Meadows, R-Asheville, by an almost 2-to-1 margin, both in Haywood County and in his sprawling, mountainous district. He chairs the influential House Freedom Caucus, appears regularly in the national media and has loud-and-clear electoral support.
Taking up that fool's errand — or hero's quest, depending on who you ask — is a youngish newcomer to politics who says he's part of a Bernie Sanders-style movement that will indeed make itself heard.
Communication breakdown
It was somewhere around 1 p.m. on Sunday, April 23, on the edge of Waynesville when the rain began to take hold.
A low dark deck of clouds blanketed the region, sometimes dipping down into the misty mountains and filling the sky with terrific raindrops the size of small grapes.
That — and temperatures in the high 40s — didn't stop about 300 people from gathering in front of the courthouse to express their increasing discontent with Meadows.
In the rain they stood for three hours, or more, listening to speaker after speaker recount heartbreaking — and wallet-busting — stories about how repealing and replacing the ACA as championed by Meadows would hurt people across the country, across the state and across the region.
"We invited Mark Meadows," said Natasha Bright, co-founder of one of the multitude of groups sponsoring the rally, Progressive Nation WNC. "We're all very concerned about healthcare and the repeal of the ACA and we feel like we should have the opportunity to ask Mark Meadows questions."
Meadows didn't attend, and doesn't have a town hall meeting scheduled in the area until August.
"As we've said before, we have no plans to change our normal Town Hall schedule that we've used every year, but we are always active about receiving public feedback," said Meadows' Press Secretary Ben Williamson on April 24. "The congressman held over 50 public events last year alone, for example. Additionally, Congressman Meadows strongly values constituent comments, concerns, and feedback that we receive through our website, phone calls, and meetings. Every concern is relayed directly to the Congressman and he's insistent on receiving their input before making decisions on major legislation."
"He's about to put forth a health bill," Bright said. "They're about to work on a tax bill. We need to be able to ask him questions now, in person."
Bright said Meadows' office hasn't reached out to her group about their concerns; judging from the look of the homemade signs held by protestors — some calling him "MIA Meadows" and some displaying an obvious Where's Waldo motif — many at the event seemed to feel Meadows had left them feeling like a fool in the rain.
Meadows, however, isn't the only target; Republican members of Congress across the country have seen similar displays of disaffection over the ACA.
In the land of ice and snow — Wisconsin — constituents of House Speaker Paul Ryan withstood temps in the 20s and heavy mid-march snowfall to demonstrate against Ryan's ACA repeal plan.
Weeks later, South Carolina Congressman Joe "You lie!" Wilson, who directed his infamous allegation at then-President Obama during a joint session of Congress in 2009, saw it thrown back in his face at a town hall meeting because of his support of an ACA repeal.
On the same dreary day as the Haywood County event, a similar demonstration was planned in Hickory for N.C.'s 10th District Rep. Patrick McHenry — whose district includes large parts of Asheville and Buncombe County.
In stark contrast, a small crowd of less than 30 people showed up to a "thank you" rally for Meadows in Haywood County on a bright, sunny Tuesday earlier this month.
But about 60 people showed up to an April 20 health care forum at the Haywood Regional Arts Theater hosted by an ad-hoc group calling itself Concerned Citizens for Health Care.
"It was a very nonpartisan event that really just asked people from the community to come forward and talk about their experience with Medicaid, Health Choice, and the Affordable Care Act," said Dr. Stephen Wall, a pediatrician who practices in Canton and Clyde.
Most startling to Wall, who presented a resolution April 3 to the Haywood County commissioners asking them to "go on record" in opposing cuts to the ACA and a host of social services, was a short speech by Haywood County Sheriff Greg Christopher on opiate addiction and recidivism.
"If people can't get adequate health care and can't get treatment, they just bounce right back," Wall said from beneath his green and white umbrella. "The statistics in Haywood County are really quite disturbing."
Wall estimates that he's had over 120,000 patient encounters during his 28-year career, which is still going strong; but on the other side of the doctor-patient relationship is Transylvania County resident Lucia Gerdes.
"I'm a cancer survivor. I was able to leave my corporate job and become a small business owner because of the Affordable Care Act," she said. She came to the Haywood County rally from her home in Cedar Hill to speak on the ACA's impact on small businesses.
"It's shortsighted, his stance," said Gerdes, who is also a vice chair in her local Democratic Party. "Meadows ran to 'repeal and replace' with common sense solutions, and to fix health care. I think that people who voted for him didn't realize what his definition of 'fixed' meant. It's not something that works for everybody — the poor, the disenfranchised, business owners — we all want affordable health care."
Joseph Pritchard, who travelled from Morganton in Burke County where he serves as a Democratic Party precinct chair and also participates in the Our Revolution Asheville group, agrees with Gerdes.
"Any business that has over 50 employees has to provide benefits," Pritchard said. "So we're stifling those small businesses that are reaching that point but can't afford to grow because they can't afford to provide health care for their people."
The very topic of the government's role in "providing health care for their people" has been hotly debated for years, but never more so than after many of North Carolina's living-wage jobs that also conferred benefits dried up.
"We lost all of our woodworking industry, the furniture industry, we lost the textiles — those may not have been the highest paying jobs, but they came with benefits," Pritchard said. "They came with health care. And now we don't have any of that anymore."
Whole lotta love
Throughout the afternoon rally, the rain dwindled and then rekindled in gusty, blustery, mercurial fits, much like the day Donald John Trump was sworn in as the 45th President of the United States.
The day before that, in his D.C. office, Congressman Meadows told The Smoky Mountain News, "Taking the rug out from underneath people who have coverage is certainly not the thing to do. It's not the compassionate thing to do, and not something I would support."
His Press Secretary Ben Williamson reiterated that stance in a recent email.
"Throughout this process the congressman has made it clear that he will not support a bill that fails to lower premiums or neglects to protect those with pre-existing conditions," he said. "Along those lines, we chose not to support the AHCA because we didn't feel that it would serve our constituents well. We remain wholeheartedly committed to those same principles as we move forward."
As of early April — shortly after the House Freedom Caucus forced Speaker Ryan to pull the so-called "Trumpcare" bill — Meadows was still pushing for states to be able to waive out of some or all of the ACA's required essential health benefits, like addiction and mental health treatment, ambulatory and emergency services, hospitalization, laboratory tests, maternity and pediatric care, physical rehab, prescriptions and wellness care.
The ACA also mandates coverage for those with pre-existing conditions, but Meadows wants high-risk insurance pools similar to those of the past.
Protesters at the Haywood rally, including Gerdes, hope the 2018 election will serve as a referendum on health care for Meadows.
Meadows supporters hope for the exact same thing.
"I think Mark is a solid candidate that has widespread support throughout the 11th district," said Jeremy Davis. Davis is the chairman of the Haywood Republican Alliance, a political action committee made up of local Republicans proffering themselves as the more conservative flavor of Haywood County Republican.
"Mark is a good communicator, and has shown he sides with the people he represents, which is how it should be," Davis said. "I suspect Mark's seat is safe but I will campaign on behalf of Mark and spread the good news about what he's trying to do."
Meadows — who spent just $332,000 to beat his opponent in 2016 but is certainly capable of raising much, much more — has made no secret of his desire to be rid of the ACA, and voters in WNC have now sent him to Washington three separate times over six years largely because of it.
First elected in 2012 with 57 percent of the vote, Meadows has only grown more popular since then, garnering 63 percent in 2014 and 64 percent in 2016.
At this point, in a district that is red and only getting redder, probably the best candidate to dislodge Meadows would come from within his own party. In late March, President Trump called Meadows out, saying he was "coming for" the congressman if Trumpcare didn't pass.
Trump may have been joking at the time, but he may not have been; South Carolina Republican Congressman Mark Sanford told the Charleston Post & Courier March 30 that Budget Director Mick Mulvaney said to him, "The president asked me to look you square in the eyes and to say that he hoped that you voted 'no' on this bill so he could run [a primary candidate] against you in 2018."
Meadows has declined to comment on whether or not he'll run for re-election, saying through a spokesman that his sole focus was "to do the job that Western North Carolinians sent us to do, which is to represent them and their values in D.C."
But while there might just be enough room for a centrist, establishment Republican to challenge Meadows in this heavily Republican congressional district — one perhaps more willing to go along with the less-severe changes originally proposed for ACA — that hasn't stopped a young, liberal Asheville Bernie Sanders supporter from becoming the first to throw his hat in the ring, 18 months before Election Day.
The rain song
Huddled beneath portable canopies hastily assembled on the courthouse steps, a dozen or so people — and a pile of electronic equipment — remained out of the rain, which by 4:30 had become unrelenting.
The crowd had only grown larger as the rally wore on; after a fiery speech by former Rep. Joe Sam Queen, D-Waynesville, one neatly dressed young man stepped from a far corner of a tent and took the podium.
"More than 20 groups have come together to fight for the things that are important to us," said Matt Coffay, 30, a grassroots organizer and former farmer who is — or rather, was — the director of Our Revolution Asheville until he resigned right then and there, before the crowd.
"We need to do more than just resist," he said. "We reach a point where we have to do more than just fight back, and play defense all the time. I think what we need all across America are leaders that will stand up for the working class values that everybody in this crowd cares about."
That thoroughly-soaked crowd with members from Buncombe, Burke, Graham, Haywood, Jackson, Macon, McDowell, Swain, and Transylvania counties sang its approval in the downpour, pumping signs in the air while shouting and clapping cold hands that were already trying to hold umbrellas, cameras or canes.
"I think we need people who will stand up to the likes of Mark Meadows, people who only serve the interests of wealthy donors and grandstand, every week, on TV, for publicity for their own benefit, at the expense of the people of their district," he said just prior to declaring his intent to seek the Democratic nomination for the 11th congressional district and take on Meadows in 2018.
Coffay has taken an unlikely path and faces a hard road; a graduate of UNC-Asheville with a degree in philosophy, he's young, inexperienced, and has even made some missteps, like earning a late-2014 Madison County DUI he called "a big personal mistake" that he deeply regrets.
"I knew this would come up if I pursued public service but that one event doesn't define me, because I faced the consequences, performed my sentence of community service and 12 months of unsupervised probation and took control of my life," he said in a statement when asked about the incident.
Campaign spokeswoman Ashley McDermott said Coffay has had no other run-ins with the law.
What Coffay does have going for him, however, is his youth, and possibly his inexperience. He's intelligent, energetic and well versed in policy matters, and, maybe most importantly, he isn't a congressman.
"We feel like the unaffiliated voters are the key to success in beating Meadows because many of them lean Democratic, and they're now the second largest group of voters in Haywood County and in North Carolina," said Myrna Campbell, who was re-elected earlier this April as the chair of the Haywood County Democratic Party. "They outnumber the Republicans. Matt should appeal to the unaffiliated voters for sure."
The rallies, demonstrations and town halls that have taken place across Meadows' district of late may just be the recurrence of a familiar American political trend — first-term presidents tend to see their parties lose seats in congress once they've entered the White House. Every president since Franklin D. Roosevelt in 1938 has experienced substantial loss, or little gain, except for George W. Bush.
Progressive groups like the 11th District coalition that put on the Haywood rally and candidates like Matt Coffay hope that what they're all shouting about — a deep opposition to Trump, and especially Meadows — doesn't go unheard.
"What do I hope comes out of today?" asked Progressive Nation WNC's Natasha Bright.
"I hope that enough people hear us to join us."