Archived Arts & Entertainment
Blue Ridge Big Band to play Folkmoot Friendship Center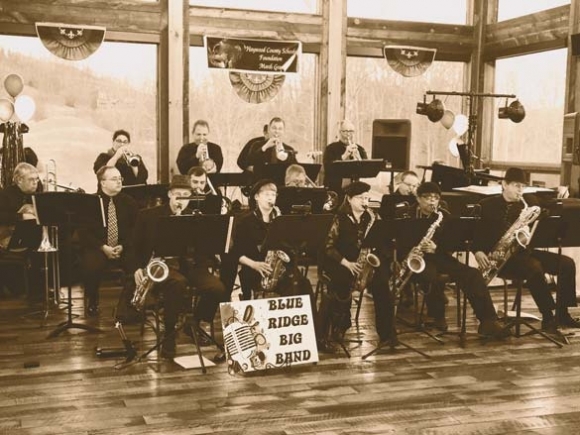 It's as timeless as the soundtrack of our lives, regardless of age.
When you listen to big band music, you either remember where you were when these melodies first hit the airwaves or you remember hearing them as a kid at your grandparents' house. The sounds of a full orchestra — led by the likes of Glenn Miller, Duke Ellington, Tommy Dorsey or Benny Goodman — conjure immediate memories. It's well-earned emotions of love, heartbreak, happiness and sadness, all wrapped together in the musical notes and songbird vocals of the singular force that is big band.
And carrying on these traditions is the Blue Ridge Big Band. Based out of Asheville, the 17-person ensemble is comprised of musicians from all walks of life, all backgrounds, and all corners of Western North Carolina.
"Live music is important to support, whether that is the BRBB or a local musician performing at a coffee house or The Asheville Symphony. Live music is being replaced by recorded and electronic music everywhere. It's really unique that a community our size has a group like this that performs as often as we do," said Chris Ulery, director of the BRBB and band director at Canton Middle School. "[And] I really enjoy the people who play in the band. Many were friends before playing in the band, four of us are band directors in [Haywood County], and many have become good friends because of the band — when you play with people you enjoy, it makes everything better."
Ulery took over the ensemble from former director David Teague five years ago, with the group changing their name to the BRBB. And during his tenure, Ulery not only has brought more regional exposure to the act, he's also encouraged the dialogue within the group in terms of what they'll rehearse and ultimately play.
"Our big band is a little different," Ulery said. "We don't just do 'big band' music. We try to give everyone something that they enjoy. It's also one of the things that the members of the band enjoy."
"One thing that might distinguish the Blue Ridge Big Band is that we actually like each other. We enjoy interacting inside and outside of the music — that's a bonus," added tenor saxophonist Bruce Henderson. "It's unusual for 17 people to get along this well, but the common bond is the music. We share the same goals and depend upon each other in attempting to improve with each performance. We might not be the best band, but we tend to be a band that most people seem to want to hear, and that must mean we are doing something right."
A Canton native, Henderson recently moved back to his hometown. A lifelong multi-instrumentalist, he has found his niche, his ideal setup in the BRBB, after years of attending music camps and workshops around the country.
"I was hoping to find opportunities right here in Haywood County. The Blue Ridge Big Band continues to be that very opportunity for me," Henderson said. "I was never formally trained in music. Everything I have learned I have had to dig out for myself, and I'm not my own best teacher. I continue to struggle to learn, and still know my place in the food chain as a musician. But, I know in my heart that I'm grateful that innate musical ability, hard work and dedication have allowed me to experience something that many musicians only dream of — the opportunity to play in a big band. It is, indeed, a great experience."
"The group has a fairly unique composition — folks ranging in age from their early 20s to, well, several 20s," Ulery noted. "We come from all walks of life. Business professionals, several teachers — one with a doctorate — two used car salesmen and our own psychologist."
And even though the BRBB spends countless hours rehearsing and performing throughout the year, what matters most to the group is their continued community involvement. They aim to lend their services to local nonprofits, and also to simply lift the spirits of those within earshot, especially during the holidays.
"One of the other things that is important to me is that we try to perform [around] Western North Carolina as much as possible," Ulery said. "We try to serve our greater community by doing performances and concerts, while they may not pay, give back to the community in a way that we can help. We do quite a few Christmas performances at a variety of venues to help spread a little holiday cheer."
"We try to arrange at least a couple of gigs during [the] Christmas season for people who live in nursing homes and other residential rehabilitation facilities. Some of the elderly residents have not heard a live big band in years, and they are as thrilled as we are to experience it," Henderson added. "It can be very emotional for us, as these people often don't get to hear the music of their past in a live setting. That's another reason I love playing in the band — to know that someone is actually enjoying your band's efforts is a great feeling, to know that you might be lifting someone's sprits, distracting them from daily stresses, or just giving them something to hum on the way home. Well, to me, that is part of the reward of playing in a big band right here in Haywood County."
Folkmoot and Blue Ridge Big Band
In partnership with the Blue Ridge Big Band, Folkmoot will host "Dancing through the Decades," a live big band music and dance experience, at 7 p.m. Saturday, April 29, at the Folkmoot Friendship Center in Waynesville.
The Blue Ridge Big Band is comprised of 17 musicians who share a love of big band music and performing. Musicians hail from Haywood, Jackson, Buncombe, Macon and Henderson counties and range in age from the young to the young-at-heart. Chris Ulery, band director at Canton Middle School, is the musical director. The BRBB's mission is to entertain audiences with a wide variety of musical styles from traditional big band music and contemporary jazz to popular music of the last few decades.
"Dancing through the Decades" will begin with appetizers and no-host bar. Guests can sit back and enjoy the musical performance or dance to music from the 1940s, '50s, '60s and '70s from swing to rockabilly and disco-style dancing. Dance instructors will be on hand to demonstrate dance steps and styles. Please dress to impress. This event is $30 for pre-sale tickets only. Tickets can be purchased at www.folkmoot.org or by phone, 828.452.2997.
Folkmoot's year-round programming initiatives have been made possible by Haywood Regional Medical Center, the Community Foundation of Western North Carolina and the Cherokee Preservation Foundation.
Folkmoot is a nonprofit organization dedicated to celebrating many cultures in one community. The Folkmoot Friendship Center is located in the Historic Hazelwood School at 112 Virginia Avenue in Waynesville. Staff can be reached by phone at 828.452.2997 or by email at This email address is being protected from spambots. You need JavaScript enabled to view it..