Archived Arts & Entertainment
This must be the place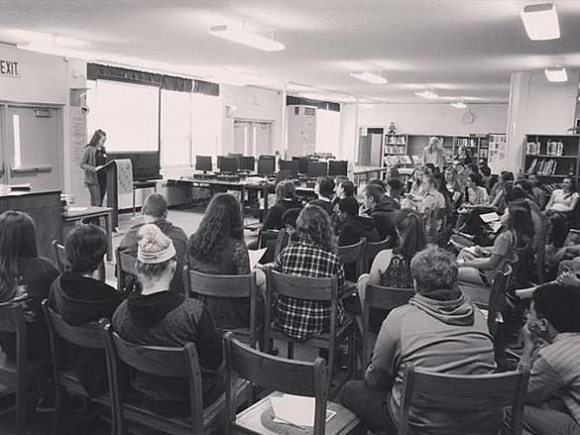 It was immediately familiar.
Stepping into the Canton Middle School last Friday morning, the sights, sounds and smells of the building transported my mind back to when I was 13 years old some two decades ago. There was the sights of teachers and administrators meandering up and down long corridors, sounds of young teenage boys and girls playfully teasing and laughing with each other, smells of an old gymnasium and predictable cafeteria food.
Seeing as it was "National Poetry Month," myself and another writer, Jessica Jacobs, who is a widely-acclaimed national poet, were asked to come in and present our work, our love of written word, to around 180 eighth-graders.
Having been an after-school teacher during college, and also a regular substitute at my old high school post-college, I love being in the classroom — interacting with young minds, and also holding court as I try to introduce new ideas and realms of thought. It's in my blood, with my mother and sister being educators, as well.
Preparing for the day at Canton, I had to sift through hundreds of dusty poems I hadn't looked at in years. Yes, I am a writer. And yes, I write all the time. But, I've never really thought of myself as a poet. That style of writing has always been more of an exercise or urge to harness a short burst of energy and emotion, one that I need to get out of my head, off my fingertips and onto a piece of paper. And yet, there they were, countless pieces of paper with words of mine, those short bursts of energy and emotion from years on the road, the last five in Western North Carolina.
It was cathartic leafing through the pages. I remembered those long lost ex-girlfriends, desert truck stops, endless cold highways, high mountain peaks, cheap motel rooms, vast oceans and happenstance strangers encountered out in the abyss. But, mostly, I remembered that person — me — who was out there on the horizon trying to figure it all out, wanting so badly to be a writer, and to make ends meet in doing so.
I'll be the first to tell you I don't know what the hell I'm doing when it comes to writing. I will say, however, that to be a good writer, you need to be honest, with yourself and your readers, with the rest being about finding your unique voice (and crisp prose, too).
All I know is that I can't stop writing. The literary faucet won't shutoff (thankfully), and I'll do whatever it takes to keep doing it. I tell people I'd go crazy if I couldn't write, go for a run and see live music. And I mean that, sincerely. All three of those things make up my existence, and connect the dots of what I'm trying to, and will ultimately, do.
And as I stood up there, in front of dozens of teenagers waiting to see if I have anything to contribute to hold their attention, I found myself not only talking to them, but also myself, in expressing just why writing is so important and vital — regardless if your work ever sees the light of day.
The beauty of writing is that every single one of us is a writer, whether we know it or not. There are currently 7.5 billion people in this world. Which means there are 7.5 billion individual stories. Which also means only you — and you alone — can tell your story. As I told the middle-schoolers, there are just as many teenage social cliques as there are in adulthood. The names, faces and ages may change, but the targets and subject matter tend to stay the same.
But, with writing, those social barriers get broken down and understood, where you as a reader are shown how, regardless of background or religion, we all have one thing in common — being human. No matter who you are, you've laughed, cried, had successes and failures, and, if you're lucky, loved and had that reciprocated. And once those hopes or frustrations, thoughts or concerns are laid out on paper, your mind is now able to relax and be clear, if but for a moment.
I remember being in eighth grade. I was a nerdy beanpole who would rather go to a history museum or play in the fields behind my childhood home than go to a middle school dance or try to gain acceptance in the popular social circles. And it wasn't until I was 20 years old that I discovered my love for writing, a force of creativity and inner passion that brought to light all of my past, my present, and what I hoped for the future.
It was mesmerizing to watch and listen to those Canton teenagers come up and read their poems. Some were short and to the point, while others expressed either sadness or joy — emotions that permeate through any age bracket. There were many students who walked away from the presentations excited about writing, with handfuls not even phased by it all. And that's ok, because for the ones that had something sparked within, it is a small ember that can ignite the biggest blaze — so long as you never stop being in awe of your dreams, your adventures, and the world surrounding you.
I may be 19 years older than those teenagers, but I'm still trying to navigate the unmerciful waters of life. And with writing, with what doors it has opened for me, and with those incredible people it has brought into my life, I'm able to row relentlessly with the ability to find safe harbor.
Life is beautiful, grasp for it, y'all.
Hot picks
1 The Strand at 38 Main (Waynesville) will host legendary singer-songwriter Jim Lauderdale at 7:30 p.m. Saturday, May 6.
2 Frog Level Brewing (Waynesville) will host Darren Nicholson & Caleb Burress (Americana/folk) at 7 p.m. Friday, April 28.
3 The Smoky Mountain Roller Girls will be hosting a double header for the first bout of the season on Saturday, April 29, at the Swain County Recreation Center in Bryson City.
4 The Art After Dark 2017 season will kickoff from 6 to 9 p.m. Friday, May 5, in downtown Waynesville.
5 No Name Sports Pub (Sylva) will host Humps & The Blackouts (psychobilly) at 9:30 p.m. Friday, April 28.