Archived Opinion
Boiling days down to simple routines
Wednesday, April 19, 2017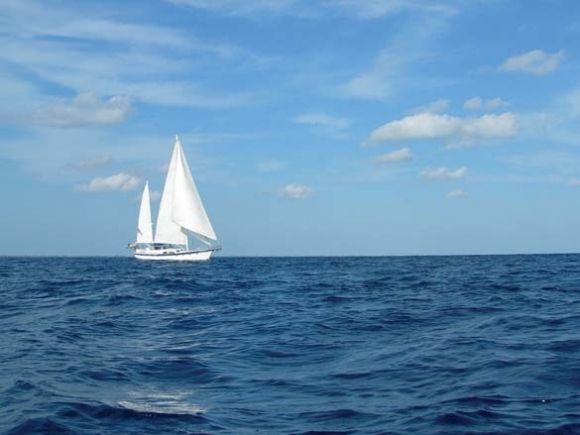 "The ONLY thing is, we don't have to go all the way to Adam's Creek," my wife Lori said. We had just shut down the motor after passing the last marker leading out of Broad Creek and into the Pamlico Sound. The sails were up and closely hauled as we headed into a 10-knot wind.
We were on day five of a spring break sailing trip, heading back up the mouth of the Neuse River toward Duck Creek Marina near New Bern, where Lori's father Bill docks "Tranquilo." The boat is a 32-foot Bayfield, a full-keeled sturdy Canadian line from the Great Lakes that handles rough water and gusty winds with a reassuring strength. She's not decked out with all the niceties some expect in a sailboat, but if boat and owner are supposed to have similar personalities, well, then Doc Sullivan and Tranquilo are a pretty good match: strong yet spry, pragmatic, intelligent, fun.
We had motored out that morning at sunrise. After four nights on the water, our biological clocks had self-adjusted comfortably to early nights and early mornings, each night a bit earlier to bed, each morning a bit earlier getting up. On this final morning on the water, I was wide awake a few minutes after 6 a.m., before sunrise (7:40 a.m.) and before Lori — a first for this trip.
This morning, I had gotten the water going on the propane burner that is attached niftily to a gimbal on the below-deck portion of the mast to keep the pots contents from spilling as the boat rolls. Coffee first, then oatmeal, then we take care of the few tasks required to move Tranquilo from sleeping to sailing mode, pull the anchor and finally get underway.
It wasn't just our bodies that had undergone a kind of transformation over the previous five days, though. Anyone who has camped or hiked for several days has experienced the same "de-complicating" of life down to a routine of basic tasks. On a sailboat you are always aware of the weather, the engine, fuel, food and water as you map out the day ahead. Then you think about your next destination and how to get there, gauging wind direction and how to trim sails, almost never able to manage a straight line.
And so Lori's admonition — "The ONLY thing is, we don't have to go all the way to Adam's Creek" — made me laugh out loud as I held the wheel, checked our course and gazed ahead, trying to spot the next Neuse River marker. When is a day boiled down — at least in this moment — to one thing, the ONLY thing? With perfect weather in store once again — clear skies with a few clouds, mid- to high-70s, 5 to 10 knot winds, seas 1 to 2 feet — we were both in a relaxed, comfortable place. We had our routine down and we had at least an eight-hour day ahead of us before we got back to dock.
Some people don't look forward to a day — much less nearly a week — of simple routines like these, but for the two of us who work full time and are always on the go, it's a slice of heaven. There were a plethora of seabirds to observe, and more dolphins than we had ever seen while in the Pamlico and Neuse area. Other boats and barges would pass. The great weather meant we could spend lots of time listening to music and reading. We are in the habit of reading aloud to each other while sailing, sharing books that hopefully provoke some discussion. I was finally reading Harper Lee's Go Set a Watchman, and the second half of that novel is all about race relations, Southern history and society, and civil rights — all as relevant today as when it was written in 1957.
The boat's name comes from stories Lori told upon returning from her first trip to Spain while in college. She and a couple of girlfriends were bumming around the country with backpacks, and armed with just rudimentary Spanish they would barrel into train stations in small towns and big cities, rushing to find out departure times and hurrying to buy tickets. Time and again the Spaniards they came into contact with would eye the three excitable American girls, hold up a hand and tell them, "tranquilo, tranquilo," which roughly translates to "calm down, relax." It's all-too-likely those girls didn't quite understand what those older Spaniards from a different culture were trying to convey, that it's important to slow down, embrace the moment, enjoy the journey.
But Doc Sullivan understood perfectly when he heard his daughter's stories and when he named his sailboat, and I'm pretty sure I get it now. Tranquilo.
(Scott McLeod can be reached at This email address is being protected from spambots. You need JavaScript enabled to view it..)