Archived Outdoors
Spring fire season arrives: Steady rain keeps wildfire to normal levels as region recovers from historic fall blazes
Wednesday, April 19, 2017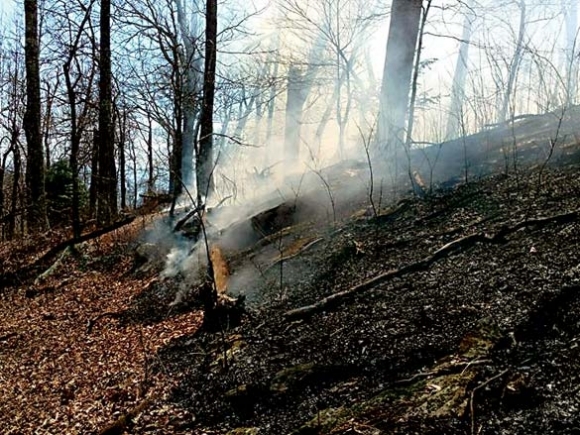 When rains finally quelled the flames of 2016's historic fall fire season, firefighters breathed sighs of relief and mountain residents rejoiced in the newly smokeless air, but land managers were already looking ahead to springtime, when wildfires are typically even more severe and damaging than in the fall.
At the time, the region was plunged in the most severe drought designation possible — even the days of steady rain that ended the fire season made barely a dent in it — and long-term forecasts were calling for a dry future.
Now, halfway through the spring fire season, the prognosis is positive. A repeat of last fall is not anticipated.
"We've had rain about every three to five days, so that kind of kept a lid on it. The leaves are starting to pop out. So far it's been a pretty normal fire season," said Mike Wilkins, district ranger for the Nantahala Ranger District of the Nantahala National Forest.
A normal fire season. But not a nonexistent one.
Things kicked off with the Sugar Cove Fire's ignition Jan. 28 when a brush burn escaped near Marion. The fire reached 577 acres over the next four days until it was controlled. A couple weeks later, the human-caused Cold Mountain Fire ignited in the Shining Creek Wilderness Area in Haywood County, reaching 132 acres before it was contained. The lightning-caused White Creek Fire in Linville Gorge burned for nearly two weeks before being contained at 5,538 acres March 28, and as of press time the Dobson Knob Fire near Marion, whose cause is under investigation, was 85 percent contained at 1,760 acres.
While the bigger fires have thus far stayed in the eastern part of the region, Wilkins has been dealing with blazes in his neck of the woods as well. The Appalachian Trail between Winding Stair Gap and Wayah Gap was closed all day Tuesday, April 11, due to the 446-acre Muskrat II Fire that started off of Boardtree Road, a U.S. Forest Service Road that branches off of U.S. 64 just west of Franklin. Working with the N.C. Forest Service, structures threatened on the private land adjoining the national forest were protected and the fire was contained.
"It's still under investigation, but at this point in time I feel like it was an arson fire," Wilkins said. "I feel like they went into the road a ways and set that. It wasn't lightning, it wasn't an accidental fire from a vehicle, so we strongly suspect arson. So it is under investigation."
Wilkins has had a few other blazes pop up recently, as well, but they've all been minor. Last week, a couple of one-tenth-acre fires were put out, as well as another that was roughly half an acre. That last one was technically on private land but started a couple hundred feet from the national forest boundary. Causes for those fires are under investigation, but Wilkins said, "We strongly suspect arson."
Over in Clay county, 30 firefighters are battling the 279-acre State Line Fire, which started April 15 and was 80 percent contained as of press time.
However, the spring fire season hasn't come close to approaching the severity of fall 2016, when roughly 48,000 acres burned through the national forests west of Asheville, with tens of thousands more east of Asheville and in Georgia, Tennessee and the Great Smoky Mountains National Park. According to the Western North Carolina Air Quality Agency, in 2016 Buncombe County recorded eight days with air quality that was either unhealthy or unhealthy for sensitive groups, when no such days were recorded in 2013, 2014 or 2015. In 2012, air quality was unhealthy for sensitive groups on two days.
"We haven't had that nighttime inversion too bad so far," Wilkins said of the season.
Spring fire season typically goes throughout the month of April into early May. Once the trees leaf out, fire danger diminishes as trees retain moisture in their leaves and humidity increases between the canopy and forest floor. So, if this year's early spring results in an early leaf-out, spring fire season could even be cut a bit short.
Things are still drier than they should be. Haywood, Jackson, Swain, Macon, Graham, Clay and Cherokee counties are all in severe drought, the second designation on the four-tier drought scale. But that's an improvement over the fall, when the six westernmost counties were designated as experiencing exceptional drought, the most dire of the four classifications, and the nine adjacent counties — including Haywood — were just one designation below that with extreme drought.
"A lot of those heavy fuels on the ground are drier than normal, so we've got a lot of potential (for fire)," Wilkins said, "but we've had regular rain."
That rain has kept the fire at bay and wildfire frequency to normal levels.
That's good for air quality and for residents' peace of mind. It's also good for Wilkins' ability to get his district back in shape after the fall.
The 2016 wildfires left the Nantahala District with miles of exposed dirt where firefighting crews had dug firebreaks through the forest, roads impacted from the steady traffic of firefighting equipment, and burned-up infrastructure. The observation area at Whitewater Falls near Cashiers was completely destroyed, prompting the Forest Service to close the popular area until it could be rebuilt. The tower roof at Wayah Bald burned up, as did the seven interpretive signs posted there.
According to Wilkins, the work is going well. Crews began rehabilitating the fire lines last year as the fires dwindled down but then stopped as winter moisture kicked in. Rehab started up again about three weeks ago and there are another three weeks or so of work to go. Come May, crews will turn their attention to the gated roads that doubled as fire lines last fall. More than 40 miles of line were built on 50 miles of road, and the Forest Service will work with the N.C. Wildlife Resources Commission to reseed those disturbed areas.
"There's not too much for erosion issues, but they need to re-establish the drainage, get those (plants) growing again," Wilkins said.
Up at Whitewater Falls, a contract to rebuild is out for bid. The Forest Service hopes to have the work done by July 4, with a price tag likely between $150,000 and $200,000. About 55,000 people visit the site each year.
Wilkins is still looking for funding to replace the lost interpretative signs, which will cost $10,000 to $12,000. However, a partnership is coming together to restore the roof that burned off of Wayah Tower.
Jeff Johnson Timber Frames, of Franklin, has volunteered to create a frame for the roof, with the Forest Service buying materials and the company's staff offering its nights and weekends to make the frame. The Forest Service will then hire a contractor to put the roof in place and shingle it.
"It will have the same look, just a couple feet taller to match the historical look," Wilkins said.
When the fires finally ended last year, Wilkins' office had its work cut out for it. And with uncertainty as to what the spring wildfire season would bring, it was hard to say when it might all get done. Now, with leaf-out imminent, Wilkins is feeling optimistic.
"We're busy," he said, "but we're on track."