Archived Arts & Entertainment
Hop, skip and a pour away: Waynesville's Leap Frog Tours
Wednesday, April 12, 2017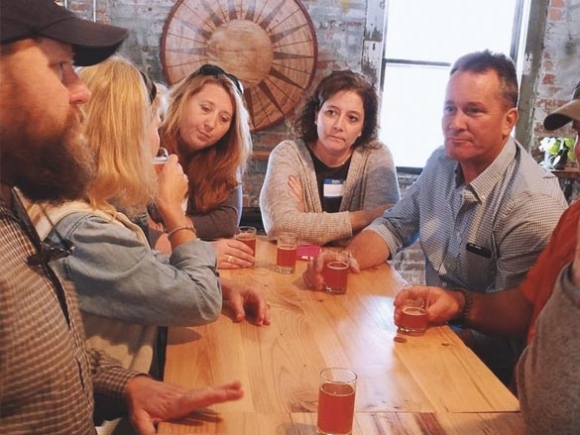 Stepping out of a large passenger van into the sunshine last Saturday afternoon, a group of around 10 people entered Bhramari Brewing in downtown Asheville. Once seated, an array of craft beer samples were placed in front of the group, with friendly banter swirling around the room while a brewery employee examined and explained each selection.
Welcome to the Leap Frog Tours.
Launched last month by Kim Turpin and Ann Smith, the Waynesville-based company specializes in tours and excursions around Western North Carolina. They showcase the rich culture within these mountains by fully immersing their guests in the beauty and wonder of what resides in your backyard, whether you're a longtime resident or first-time visitor to this region.
"For me, what makes a vibrant community is food, music, craft beer, art, and the outdoors. We've got all of that here, and not just in Asheville," Turpin said. "We want to show people a good time, and also what else there is to do in this incredible playground we have here in Western North Carolina."
Bouncing between tables within the group, Leap Frog Business Developer and Tour Leader Mark Merritt carefully goes through the intricacies of each beer, from style and origin, to flavor and potency. A self-proclaimed "craft beer lover," Merritt radiates a knowledge, passion and camaraderie for craft beer that resides at the foundation of this beloved industry and Western North Carolina economic driver.
"It's all about meeting different people, laughing in the van (aka: The Frog), making connections that organically happen," he said. "We want people to simply experience this area and all the great things it offers through these tours."
But, Merritt will be the first to point out that, at its core, Leap Frog is about connectivity within Western North Carolina, where small mountains towns outside of Asheville are on the same level playing field in their company's eyes.
"People come to Asheville to be in the mountains, and Asheville is in a very broad valley," he said. "We believe that these mountain towns — Waynesville, Brevard, Hendersonville, Maggie Valley or Black Mountain — have just as good craft beer, art, food and culture as Asheville does, and all of that is right in the middle of these incredible mountains we all love."
On the brewery tour itinerary last Saturday was Bhramari, Wedge Brewing's new second location in the River Arts District ("Wedge at Foundation") and UpCountry in West Asheville. In past experiences with other brewery van tour companies, one might have felt they were only scratching the surface of "beer gear talk," a lack of personal interaction with others and, perhaps, a mere sense they weren't getting their money's worth. And yet, with Leap Frog, you're immediately welcomed into this wild and quirky group of folks — owners, tour leaders and guests alike — where the more you dive in, the more fun you'll have.
"I'm so happy that we initially landed in the craft beer realm, because in the brewing industry they're all networking to collaborate together, and that's how we all will grow together in Western North Carolina," Turpin said. "And when everyone gets into 'The Frog,' they get on with maybe a loose connection to others on the tour, but, by the end, they're hugging goodbye like old friends — and that means we've done our job."
Want to go?
For more information on Leap Frog Tours and upcoming jaunts around Western North Carolina, visit www.leapfrogtours.com or call 828.507.1421.