Archived News
An uphill battle: Without parental support, finishing college is hard
Wednesday, April 12, 2017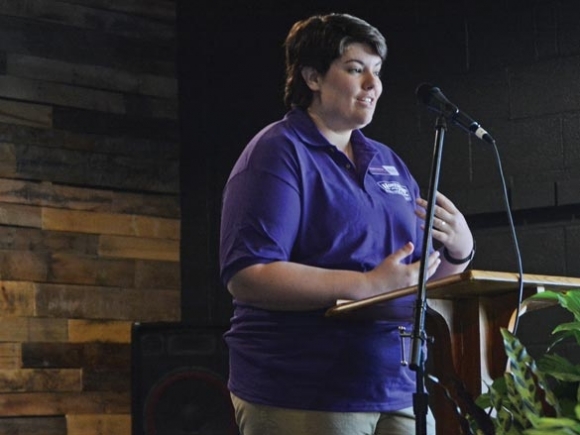 Sophia Calhoun was 9 years old the day the world changed. Her mother died, leaving her dad to care for Calhoun and her younger sister. When her father passed away four years later, the two girls were officially branded orphans, wards of the state.
Her father's will had outlined a split custody arrangement between her grandfather and her aunt and uncle, but that didn't last.
"It didn't take too long to realize the situation with my aunt wasn't going to work," said Calhoun, now a 22-year-old senior at Western Carolina University. "It wasn't a stable household."
So, the girls went to live fulltime with their grandfather in Lexington, who, as a retired man in his late 60s, certainly hadn't expected to find himself in charge of two teenage girls. Calhoun and her sister Sunny were both dedicated students who took their education seriously, but finances were hard. The road to college was difficult.
As a minor, Calhoun had been getting a monthly Social Security check to help with her living expenses, but that support stopped when she turned 18. Still a teenager, she found herself forced to become financially independent.
"I don't at all hold that against my grandfather," she said. "He couldn't afford to support me."
Calhoun had to find a way to completely cover her education through the financial aid system, which is how she discovered that the type of aid she relied on was being slowly phased out. There were other bills, too — food, rent, phone, transportation — so Calhoun works three campus jobs to keep herself afloat, totaling 10 to 30 hours per week depending on her schedule. While most students drive a car whose insurance is paid by their parents or count on some portion of their tuition or rent being covered or at least can ask for $20 every now and then when things get tight, Calhoun doesn't have that luxury. But she doesn't waste time feeling sorry for herself. She knows that there are students who face challenges miles higher than hers.
"I know students that are working 40, 50 hours a week to pay for an apartment, as well as going to school," she said. "I count myself as one of the luckiest for this kind of population. I still have family that I can go to. It's something not a lot of people can say."
The often-overlooked student population of which Calhoun is a leader is comprised of former foster kids, homeless students, orphans and other categories of financially independent students. They're students whose needs can often be invisible, sometimes by design. Many students who went through the foster system view college as their first chance to be just like everybody else — they don't want anyone to know about their past. Others need help, even want help, but don't know who or how to ask. Most people assume they've got it under control, because college students are adults anyway, doing their own thing independent of their parents.
Though of course, that's not really true. College students go back to their parents for Christmas or summer breaks, they get care packages in the mail, or they rely on their family to pay for phone bills or groceries or tuition. They're less dependent than their high school counterparts, but they still need help from time to time.
Among students in the U.S. who arrive at college as financially independent, the graduation rate is less than 10 percent.
"What I've discovered is these students are resilient and they're going to take care of their housing," said Jim Dean, director of Homebase College Ministry, a new program that aims to serve these types of students. "Oftentimes they'll take their financial aid package and find an apartment so they have a place to stay over break, but then they don't have money for food and books and things like that."
Some are even forced to skimp on needed medication when things get tight.
"We have a student who was diabetic and on an insulin pump, and he didn't have enough money to buy the medicine," said Lowell Davis, WCU's assistant vice chancellor for student success. "He was working as a security guard at the casino and passed out, I believe, twice."
The needs go beyond physical necessities. Many of the students Davis has spoken with have requested better access to counseling and psychological services to help them deal with the trauma they've experienced. They also need some sort of parental figure — someone they can call when the car makes a funny noise, or when they need advice going into a job interview, or need to know what the secret is to baking great bread.
Then there are occasions like graduation, when everyone else is surrounded by proud parents and brothers and sisters, and these students are all alone.
"Everyone's out there taking pictures and people are giving them balloons and things, and they're just like, 'I guess I'm going to go back to my apartment,'" Davis said. "No one is thinking about these kids on that day, but I am thinking about them, and I'm heartbroken."
For Calhoun, however, the sad story is poised to have a happy ending. She'll graduate this year with a degree in environmental health, and her sister is a freshman at Wake Forest University. In the fall, Calhoun will be back at WCU to pursue a master's degree in higher education student affairs — the same field that Davis is in. And she'll be living in an apartment within the Homebase building as a graduate assistant, shepherding the next generation of college students over the same hurdles she herself has cleared. The hope is that they'll jump high into a life full of purpose.
"I want to see us mold these students into great advocates for their population," said Calhoun.