Archived News
Student center aims to reach parentless students, increase graduation rates
Wednesday, April 12, 2017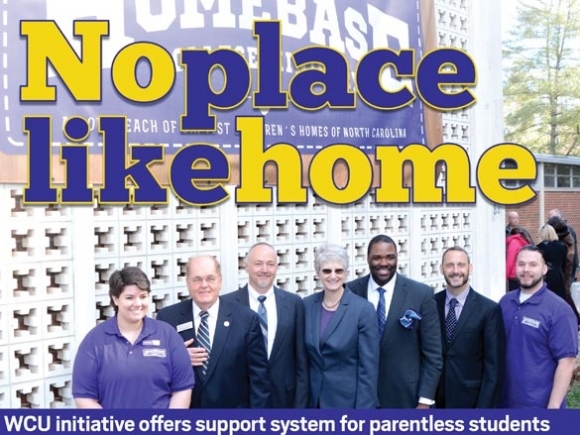 On virtually any college campus, they're there — students who have recently exited foster care, are homeless, wards of the state, or orphaned. And most of the time, they're invisible, blending in with the student body at large and keeping their struggles wrapped in a tight armor of privacy.
A new initiative at Western Carolina University, however, will reach out and serve those students in a way that no other college in the state is doing.
"It really just fell right into place," said Keith Henry, chief operating officer of the Baptist Children's Homes of North Carolina and a WCU alumnus. "It was like a puzzle ready to be put together."
Called Homebase College Ministry, the program is headquartered in what was once the Baptist Student Union building, on Central Drive next to the Cullowhee Baptist Church, and funded mainly by the Baptist Children's Homes of N.C. Staffed with a fulltime director and equipped with a kitchen, stocked pantry, laundry room and big-screen-TV-equipped living room, among other amenities, it's meant to serve as a home base for students who don't have a home base.
A place to come recharge in the company of people who understand, and a place to get help with the things that parents would ordinarily supply — anything from a few extra groceries during a week when money is tight to help figuring out what to wear to a job interview.
SEE ALSO: Without parental support, finishing college is hard
"Next year I want to see the outreach and advocacy really come to life," said Sophia Calhoun, a student leader in the effort. "I think this building is the best way to do it. I want to have speakers. I want to give a student panel where high school students come and ask questions … I want people to start knowing this building is on campus. If that happens, we'll see more students from our population that we didn't even know were here."
From Alabama to North Carolina
When Lowell Davis — WCU's assistant vice chancellor for student success — arrived at WCU four years ago, it was with the express desire to serve the students on his new campus who didn't have family support. He'd seen the need during his previous job as assistant dean of students at University of Alabama and quickly found himself wrapped up in the problem of addressing it.
Davis' involvement at Alabama started when a student from the Presbyterian Home for Children in Talladega, Alabama, showed up at the administration building one summer. He wasn't supposed to enroll until the fall, and he had absolutely no resources to start life on his own.
"He needs housing, he needs classes, he needs a meal plan, he needs all these things and he has no one to guide him on what to do," Davis recalled.
Davis worked with him to find housing and enroll in summer classes. He gathered donations from his local church, equipping the boy with food and a TV, among other things. And then he started thinking.
"I began to ask how many other students are on our campus who are very similar to him," Davis said. "They've aged out of foster care, they show up on our campus and they have to figure out what to do."
So, he came up with a list of more than 200 students who fit the category, and he invited them to dinner.
"About 10 students showed up to the initial meeting," Davis said. "Some of them were enraged because they didn't want people to know that they were in foster care. Some of them were happy that they had some support. We sat there, we ate food and we took tons of notes."
That first meeting led to what became a full-blown community program that drew support from other senior-level university faculty. They partnered with a foundation that offered to support the students, and families in the community volunteered to be paired with students who needed a shoulder to lean on — whether that be someone to call with questions about professional dress or how to fix a car, a place to stay over Christmas break when the dorms are closed, or someone to provide a home-cooked meal when the grocery money runs out.
Davis saw the results. That first student, the one who showed up out of the blue from the Talladega, is now working for a Fortune 500 company. His sister, who followed him to Alabama, completed a term with Teach for America and is now working fulltime.
"I came to WCU realizing I had a passion for helping the forgotten students," Davis said.
There were plenty of them to be helped. During the Fall 2016 semester, Davis counted 103 students whose financial aid data showed they fit the criteria. Initially, he followed the same blueprint he'd developed at Alabama — generating a list of financially independent students, sending out invitations and holding a meeting.
"The needs were a little different than Alabama," Davis said.
One of the first requests was always for more counseling support, and students also wanted an adult confidante they could trust, like a parent. Then, of course, financial support and help with necessities like food and books and medication.
Calhoun became a member of the group early on. The students dubbed themselves RISA — Resilient Independent Student Association — and began to meet regularly, hanging out for bowling and movie and pizza nights.
"For a long time we stumbled over that 'what do we want to do' aspect of it because we didn't know," Calhoun said. "Is this going to be a group that someone asks you when we need 20 bucks, or is this going to be a group that does something?"
Eventually, the students decided they wanted to be an advocacy group and began to plan what is now a yearly event — "Telling Our Stories." The students get up on stage, in front of university officials, board of trustees members and loved ones they've personally invited, and they tell the long versions of what has happened in their lives. It's a somber event that doesn't seek to shield the audience from the full force of the stories. It seeks to make them understand.
For Calhoun, the experience was emotional and cathartic in a way she hadn't expected it to be. At one point in her story, she cried. Usually, when sharing her past with someone, she peppers the tale with jokes and lighthearted comments to make it easier on the listener.
"In that case, I had to see what the weight of a story would do without relieving the pressure," she said.
Creating Homebase
The group was growing and thriving, but at the same time Davis' job responsibilities were increasing. Fulfilling those duties while also responding to the students' need for emotional support became overwhelming, and he reached out to Henry to see if Baptist Children's Homes might be able to help.
"Really it was a no-brainer," Henry said. "These are the children who grew up in the system, they were part of the foster care system, and now they're on they're own and they need a family. That's what we do."
And, he had an idea. A WCU alum, Henry knew that the Baptist State Convention of N.C. had a building on campus and that it was pretty underutilized. So he called John Butler, executive director of the convention's business services group, and asked for the building.
"It's rare that you call somebody and ask them for a building, but he said, 'Probably.' So we met the next day at that building," Henry said. "He drove up from Cary and basically handed me the keys and said, 'Have at it.'"
The Baptist Convention also put in $25,000 to start renovations, and the Baptist Children's Homes put in another $75,000, with ongoing expenses to total $100,000 per year. Gifts from Phil Drake of Macon County and the Community Foundation of Western North Carolina also contributed, and WCU placed a couple student workers in the building. With the help of student volunteers and interior design expertise from WCU professor Erin Adams, work started in September 2016 to haul out seven dumpsters full of trash, paint the walls, redo the flooring, install Wi-Fi and replace the furniture.
Opening day was getting close, and Henry had to think about what would happen to the building once renovations were complete. It would need a full-time director, and he knew who his first pick would be — Jim Dean, a Jackson County resident, pastor, WCU adjunct professor and foster parent. Dean took the job.
"This program is really geared to helping students that have no family or parental support," Dean said, "but Baptist Children's Home has also said to me, 'We're not checking IDs at the door. If a student needs help, help a student."
He's excited about the possibilities. With the renovated building just unveiled in February, the program isn't expected to fully take off until the Fall 2017 semester. However, a nightly schedule of activities is already in place — classes teaching life skills like cooking are on Mondays, TED Talk discussions are on Tuesdays, game nights are Wednesdays, the Baptist Student Fellowship holds a meal and worship service on Thursdays and movie nights are Fridays. The building is also available for use by other campus organizations as well.
Coming up, Homebase will likely offer weekend trips and outings. Dean is working with the counseling center to provide services like addiction support groups at the location, because there might be less stigma associated with walking into Homebase than with walking into the counseling office. Calhoun and Dean both hope to do a lot of outreach to find the students who need Homebase and draw them in. Davis' data indicates that more than 100 such students are enrolled at WCU, but Calhoun's only in regular contact with about 30 of them.
If the model succeeds, it could spread to other schools as well. Henry's been getting a lot of interest from other universities in the state, but money is always the issue.
"Financially we're not in a place where we can do that right now, but it's not out of the question for the future," he said.
A growing population
The number of parentless students at WCU seems poised to grow. The existence of the program will serve as its own recruiting school, steering students who fit the population to consider WCU above other schools. And the number of kids in foster care is growing in the state overall, thanks to the opioid drug crisis.
"We're just seeing families torn apart by this crisis right now, so these kids are in the system and who knows how long they'll be in the system," Henry said. "Sometimes they're in and out pretty quickly. Sometimes when we get them they're with us or in a foster home until they age out. With more kids coming in, there's going to be more coming out the other end."
According to the Children's Home Society of North Carolina, the number of youth aging out of foster care jumped 10.4 percent between 2015 and 2016, the highest jump since data compilation began 16 years ago.
In January, 10,722 children were in state custody in North Carolina, according to data from the University of North Carolina. That's up from 10,124 in January 2016, 9,991 in January 2015, 9,379 in January 2014 and 8,721 in January 2013. The number hasn't been as high as it is now since 2007.
Of former foster kids who attend college, fewer than 10 percent graduate nationwide. More than 90 percent do not. And the resulting low lifetime earnings coupled with the emotional — and sometimes physical — baggage of a troubled past can keep these young adults from realizing their potential, and can even cause them to perpetuate the cycle into which they were born.
With Homebase, the hope is that the students will graduate, life will get better and they'll pass on a legacy of positivity rather than pain.
"We hope that the love and care we give them while they're here will propel them on to a better life," Henry said, "and break this cycle they were a part of."
Help Homebase
Community support is needed to make Homebase work. The following donations are wanted:
• Gift cards, especially to grocery stores, gas stations and restaurants
• Toiletries, toilet paper and paper towels
• Fresh produce
• Checks made out to BCHNC
Contact Jim Dean, This email address is being protected from spambots. You need JavaScript enabled to view it. or 828.508.0035. Mail checks to Homebase at P.O. Box 2133, Cullowhee N.C. 28723.