Archived News
Joint initiative to create Nikwasi-Cowee corridor
Wednesday, April 12, 2017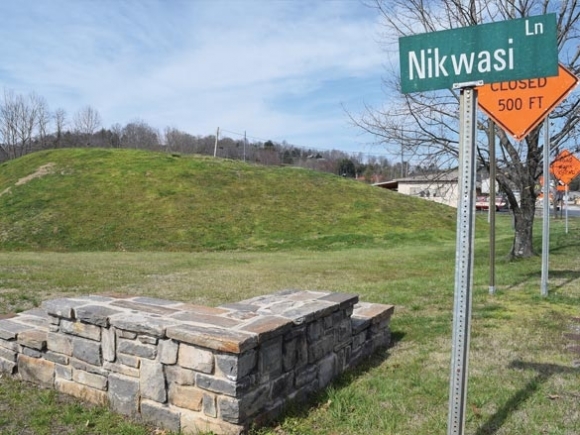 Much of Western North Carolina's native history is hidden in plain sight along the Tennessee River Valley from Otto to Bryson City.
A new community initiative hopes to shine more light along a corridor that is rich with Cherokee cultural history. Mainspring Conservation Trust based in Franklin was the catalyst for this group of interested residents that began meeting about two years ago, but the group has applied to become its own nonprofit so it can work toward moving the corridor project forward.
"The corridor will include any number of significant cultural sites along the length of it," said Mainspring Associate Director Ben Laseter. "Right now they're focused on developing the first two sites in the corridor — here at Nikwasi in Franklin and Cowee."
SEE ALSO: Mainspring projects to transform East Franklin
Nikwasi Mound is located in the heart of Franklin while Cowee Mound has a more secluded location north of Franklin. Laseter said Mainspring already has some designs for future interpretation kiosks panels around Nikwasi Mound and the Cowee Mound site.
"We're essentially creating a heritage driving tour with a cohesive view of the ancient and historic uses of the Little Tennessee Valley," said Mainspring Executive Director Sharon Taylor.
While the Nikwasi Mound is hard to miss, Taylor said she hopes the corridor will bring more attention to the Cowee School Arts & Heritage Center and direct people toward Cowee Mound from there.
However, directing more people to Cowee Mound presents a dilemma — how do we promote the cultural awareness of the site and still protect it from being damaged? The mound is hard to find if you aren't familiar with the area. There are no wayfaring signs pointing people to it along Bryson City Road, and good luck using GPS. One must pass through some private farmland and drive along a rutted and narrow dirt road before stumbling upon a large clearing that leads to the mound.
Laseter said Mainsprng does own some land across the river from the mound along Plotts Branch that would make a great viewing and interpretive site for Cowee Mound.
"It's a nice place to have a kiosk and we hope to be able to get funding in the future to create a trail and viewing platform there," he said. "It's a perfect use for that property really."
While Cowee and Nikwasi are the top priorities for the initiative, the project also includes several other points of interest, including Tessentee Farm and Coweeta in Otto; Needmore Properties in Swain County and Kituhwa Mound and Governors Island in Whittier.
Laseter said it's a long-range plan that will take a lot of time and resources to complete, but all they can do is tackle one site at a time. Once completed, he thinks a brochure, smartphone app and a website would be useful to showcase the corridor and encourage people to spend a day driving the route.