Archived News
Canton seeks input on bike and pedestrian plan
Wednesday, April 12, 2017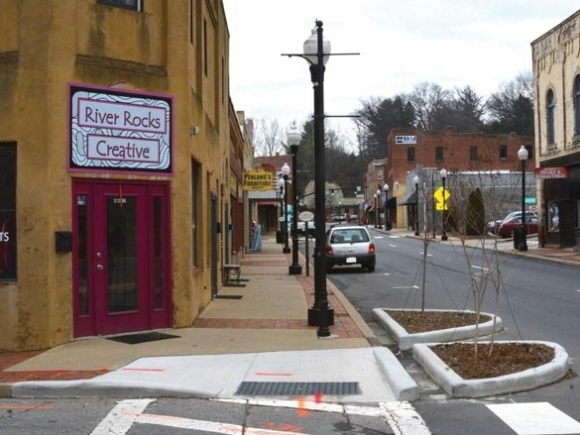 Cycling enthusiasts who want to help steer the direction of Canton's proposed Comprehensive Bicyclist and Pedestrian Plan may want to roll on in to The Colonial Theater to have their say.
Pedestrians are welcome to amble in as well, as the plan drafted by J.M. Teague Engineering in conjunction with Chipley Consulting will also affect how they spend their shoe leather.
"One of the intents is to look at our existing sidewalk and bike amenities and see how we can improve on safety for our bikers and walkers," said Jason Burrell, assistant town manager and economic development director for the Town of Canton.
Funded by the North Carolina Department of Transportation and the Town of Canton, the plan's goal is to "assist the community in making a stronger connection between the features of the community that make it more walkable and bike-friendly, while supporting the health of its current and future residents and visitors," according to a working document produced by Teague.
A steering committee of almost 30 people, including residents and officials from the Town of Canton as well as the Land of Sky Regional Council, Haywood County Parks and Recreation and cycling advocacy group Bicycle Haywood NC, have thus far been guiding the plan; and earlier this month, engineers from Teague also conducted interviews with key stakeholders.
"The majority of them have a connection to Canton, but I felt at the same time it would be helpful to have people with better experience than I have to guide," Burrell said.
Some of the factors considered in drafting the plan include safety, exposure to traffic and proximity to churches, downtown, parks and schools.
"Canton is already pretty good from the walkability standpoint, but the main thing is potential sidewalks that need repairs — or connections between sidewalks that end — and just looking at how we funnel residents and visitors to downtown," he said. "Functionally, it's about walking to grocery stores and to work. We have a good sidewalk system in our neighborhoods but want to integrate that."
The plan is far from complete, leaving plenty of opportunity for people who still wish to affect its final form; project recommendations and design renderings have not yet been created.
Once the plan is complete, an integrated and comprehensive system of bicycle and pedestrian routes could help augment the impressive development the town — especially downtown — has been experiencing.
A number of new businesses have popped up along Canton's once deserted Main Street, including eateries, retail shops and the town's first brewery. Although downtown is easily walkable — and more aesthetically pleasing thanks to recent streetscaping improvements — connecting residents to that economic corridor has become a priority.
Asheville's surging real estate market has also driven development in Canton, which is just a short drive down Interstate 40, but refugees from Asheville's overpriced offerings still want the amenities Asheville offers — something that hasn't escaped notice by Canton officials.
"Your younger demographics don't mind walking," Burrell said. "It accents what we've been doing as our downtown commercial areas change hands and development happens. I think it's important to keep that in mind — we're trying to keep that as seamless as possible."
Speak out
The Town of Canton will hold a public hearing to solicit input regarding the drafting of a Comprehensive Bicyclist & Pedestrian Plan.
Where: Colonial Theater, 53 Park Street, Canton
Date: April 18
Time: 6 p.m.