Archived Arts & Entertainment
The art of being in 'the now': Tony Award nominee, WCU professor Terrence Mann on acting, life
Wednesday, April 05, 2017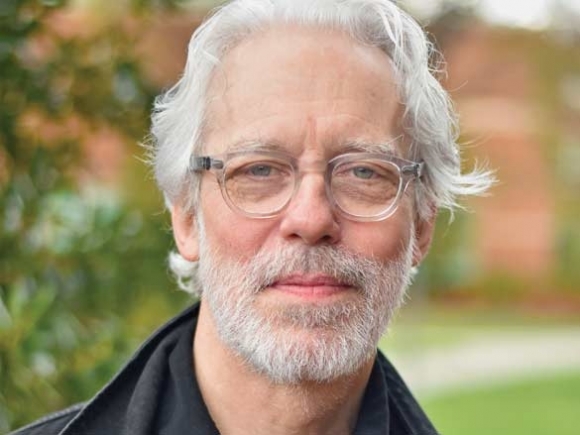 When you're in the presence of Terrence Mann, you find yourself within reach of an energy — a vibe, perhaps — where you know this person standing before you is a creative reservoir of unknown depths.
A three-time Tony Award nominee (twice for "Best Actor," once for "Best Featured Actor"), Mann has performed in small playhouses and renowned theatre companies up and down the Eastern Seaboard, with his numerous roles on Broadway bringing him international acclaim. He was Charles in "Pippin," Javert in "Les Miserables," Frank N. Furter in "The Rocky Horror Show," the Beast in "Beauty and the Beast," and Rum Tum Tugger in "Cats," just to name a handful.
He's also the distinguished professor in musical theatre at Western Carolina University in Cullowhee. In his current role as "teacher" and "director," Mann has become a cornerstone of academia at WCU, where the musical theatre program has received national attention for its immensely talented and highly-regarded student productions.
With the upcoming classic Vietnam War musical "Hair" set to hit the stage on April 5-9 at WCU's Bardo Arts Center, Mann sat down with The Smoky Mountain News to discuss his career, how "Hair" holds a timeless message of love and power, and what it means to live in "the now."
Garret K. Woodward: You're 65 years old. Have you seen any kind of repurpose in the craft that you love that is theatre, or justification in your career?
Terrence Mann: No, I just find the older I get, the less I know.
GKW: I agree with that. But, that's the wisdom, that's the paradox, right?
TM: It is the paradox. It's the conundrum, too. I just find, the older I get, the more I just want to learn. I remember John Huston, a very famous film director, he was being interviewed in his 80s, he just finished the last film he did. They were asking him, you've done everything, you've won everything, you've been everywhere, what do you want to do now? He said, "I just hope to stay interested." And that's pretty much it, you just want to hope that you stay interested in what you're doing.
That has happened to me a couple of different times, where I thought I'm just done with this, I'm bored with being an actor. Then, I'll do a project with a certain director, all of a sudden [I think], "Oh, I can look at it through that part of the prism, that paradoxical prism of art."
GKW: With anything in the creative arts, there's always that inner conversation at some point in the early part of [an artist's] career, that "hell or high water, this is what I'm going to do…"
TM: I never had that epiphany or that "eureka" moment. I just have always done it. My mom worked at a travel agency and my dad was a social worker, but they were both musicians and both singers. On the weekends we had parties, so I was always doing it. At church I was always doing it, always playing music and doing plays. High school I was doing it. It was just something I always was doing. To this day, I have no expectation. Anything that I got was a gift. You ask me to do this children's theatre in Raleigh. Yeah, I'll go do that. You ask me to do this Shakespeare festival. Yeah, I'll do that. Go to New York? I'll go audition for some off-Broadway stuff. Get a play. Now I get a Broadway show? I didn't have any sort of brass ring to grab.
GKW: With that said, though, does that mean you've always been aware of being in the moment, rather than worrying about the past or the future?
TM: Correct. That's exactly right.
GKW: So, you're in the now always?
TM: I'm in the now always. And I don't take it for granted. This may all go away tomorrow. The older you get, the more you start to own that.
GKW: …that you can't control anything. But, the funny part is, when you realize you can't control anything is when you actually start having clarity…
TM: Yes. Exactly right. You have to let it all go for the important stuff to be there, you know?
GKW: You were in Broadway in the 1980s. That was one of the meccas [of theatre], such a really interesting era of theatre, being in the epicenter of the world…
TM: That was the British Invasion of musicals, and long runs started then, [too]. [What sticks out was] how lucky I was. I got to do "Cats." For whatever it was, it was glorified children's theatre, yeah, but it was a real seminal piece of theatre. It was like, "Wow, I'm going to be working for at least a couple of years." Then, lightning struck twice with me working with the same folks in "Les Miserables." I was so lucky to be in the right place at the right time with whatever goods they were looking for.
GKW: Now, "Hair," always been one of my favorite productions. You being 65, that would mean you were a teenager going into adulthood as the Vietnam War was going on. Does this play have any personal meaning to you?
TM: Yeah, this play resonates for me in a very real, "I lived it" kind of way. In 1968, I was a junior in high school. Then, I went to college (Jacksonville University) in the fall of 1969. I remember getting those draft cards, deciding whether or not we were going to burn them, protesting on the steps of the courthouse in Jacksonville, being arrested. I was just sort of understanding what it all was, and I was jumping on the bandwagon. I knew what was right and I knew what was wrong, but more importantly, for me, they started drafting us out of college. And I got drafted and I had to go for my pre-induction physical. We're going to be drafted and we were going to be sent over there to be killed. And the guys that I knew in my high school that did come back were fucked up. I got my papers to report to the Jacksonville bus terminal on December 17 at 5:30 a.m. And the night before, I got so drunk and overslept and missed it. I called them up and I said I'd missed it. They said "fine, you're going to go in the next month, January 21." And that year, [President] Richard Nixon gave his "State of the Union Address" and said there will be no inductees into the services for the months January, February and March, so put the number "365" onto your existing number. So, that's how I got out of the Army.
GKW: So, when you see it onstage now, I wonder if there's any thought process that goes through your head when you compare it to where we are today, "nothing's the same, everything's the same"…
TM: Well, that's exactly it. Nothing's changed and everything's changed. The players are different, but the issues are the same. The problems are the same, the politics, the social conscious is the same. And I cannot believe that we're actually sitting here talking about this in 2017, that we're been slapped back into 1961, practically.
That's what "Hair" is all about. I know this sounds corny, but the show is about love. There is love and there is power, and you subscribe to one or the other. And you can be conflicted your whole life trying to go back and forth, but, at the end of the day, you can only do one of those.