Archived News
Jackson ponders $20 million health building
Wednesday, April 05, 2017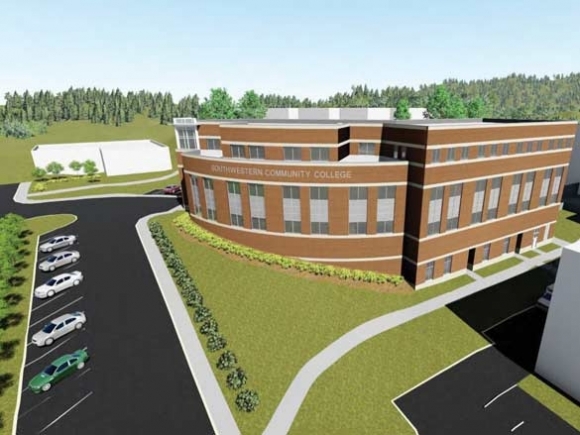 A new health sciences building at Southwestern Community College would allow an additional 288 students to prepare for in-demand health careers in Western North Carolina, and while the Jackson County Commissioners are excited about the project, paying the $19.8 million estimated price tag will be a challenge. In the 2016 master plan that first conceptualized the building, the cost was pegged at $16.3 million, but construction costs have since risen, and the county has several other major capital projects that it's also pursuing.
"It's a beautiful building, beautiful setting, but we have to figure out how do we pay for it and make other things happen," said Commissioner Mickey Luker. "I'm not willing to tie us down as a county for that project only and put other projects on the backburner."
Counting the cost
The project could use $5.45 million from the Connect N.C. Bond that passed last year, and the quarter-penny sales tax that Jackson County voters approved — also last year — is now producing $1.2 million annually that can go toward capital projects at SCC or Jackson County Schools. But relying solely on those funds would mean tying up that revenue stream for a significant number of years, and commissioners are aware that the final cost will likely wind up somewhere north of $19.8 million. Most projects wind up with cost overruns of some sort, and the estimate does not include audio-visual equipment, furniture or classroom equipment. Those costs could be substantial.
Initial plans call for a 55,265-square-foot, four-floor building with a working clinic, an eight-bed nursing lab and a lab area for a brand-new surgical technology program, a position that is in high demand among area hospitals. The first floor would include two labs each for occupational therapy and physical therapy, along with a physical therapy gym and a simulated bedroom, bathroom and kitchen. Separate labs and classrooms are planned for a variety of other health programs as well.
Commissioners are leery of pledging the quarter-cent sales tax revenues solely to the health sciences building. Though marketing leading up to the referendum vote was clear that the health building would be the first priority and that revenues would be for both the community college and the school system, several commissioners said that the perception in their communities was that the school system would be the main beneficiary.
"I think we have to be careful how we handle that," said Commissioner Boyce Deitz during the March 14 work session when the project was discussed.
But, replied Commission Chairman Brian McMahan, the health sciences building was at the forefront of marketing efforts leading up to the referendum, and just last year the county voted to give the public schools $9 million for much-needed facility repairs. That's no small amount of money, and it had seemed that everyone was in agreement that the health building should be the top priority if the sales tax were approved.
"What I heard from our local school officials is, 'We are willing to give up revenue from that one-fourth sales tax for a time to give the community college a chance to see this project become reality,'" McMahan said.
Commissioners could decide to split the revenue from the sales tax, designating a certain percentage for the school system and a certain percentage for SCC. Or they could funnel all proceeds to the health building for a certain period of time, or else keep using that revenue stream until the building is fully paid for. The county's general fund or its fund balance could also come into play.
Winding up the meeting, commissioners decided to hear Jackson Schools' capital needs during the April 11 work session before making any decisions. After that, County Manager Don Adams and Finance Director Darlene Fox will come up with an array of financing options for commissioners to consider.
"I think we can get to the point where it will work if we're creative and we do some really smart financing options," McMahan said.
Workforce development and economic benefit
SCC President Don Tomas acknowledged that the project would be expensive but emphasized its likely benefit to Jackson County and the region as a whole.
"The community college is an economic engine, and this building provides the potential of 288 more possible jobs within our community in a highly skilled and much-needed and demanded area," Tomas said.
In fall 2016, SCC admitted 243 students to its health sciences programs but turned away 538. Of those 538, 288 were qualified to enter the program but were denied due to lack of space. And that's considering that SCC is currently the largest provider of health sciences education among community colleges in Western North Carolina. The school has 27 programs of study compared to two at Haywood Community College, six at Tri-County Community College and 17 at Asheville-Buncombe Technical Community College.
With the new building in place, those 288 students could enroll. The extra space would allow 75 more students without even hiring additional faculty or staff, while admitting 288 more students would require hiring eight or nine more people.
According to Tomas, more graduates in the health sciences field are sorely needed in WNC. He's spoken with long-term care facilities that are unable to fill all their beds — not because there aren't patients who want those beds, but because there aren't enough nurses to care for the people who would fill them. Conversations with area hospitals have revealed a nursing shortage as well, with hospitals using traveling nurses and outsourcing consultants to recruit nurses.
"The need is there," Tomas said.
The graduates of the new building would benefit the region beyond their contribution to healthcare services in WNC, said William Brothers, SCC's vice president for financial and administrative services. Health care workers earn good salaries, and his estimates show that the new graduates would produce $10 million in new annual salary dollars. That income would in turn benefit the whole region as wages are spent on food and housing and retail and a variety of other expenditures.
"I view this as not just a new building, but I think this is really a chance to grow the area infrastructure," Brothers said. "And when you look at the salaries these jobs generate, these are the kinds of jobs that keep people in Jackson County."
About 93 percent of the jobs to be created by the health sciences building would offer wages above the rate required for the 10 jobs to be added through the economic development deal the county approved April 3 for a river park near Dillsboro, Adams observed.
"There is not a more pure form of economic development than what you are looking at right now," he said.
"This is a workforce development project as much as it is an educational project, and I think that's important for us to keep in our minds," McMahan agreed in a follow-up interview. "We're doing more than building an educational development facility. We're actually building a workforce development center."
Now, the county just has to figure out how to pay for it.