Archived Outdoors
Stories from mountains: Cherokee man keeps old stories alive, one hike at a time
Wednesday, March 29, 2017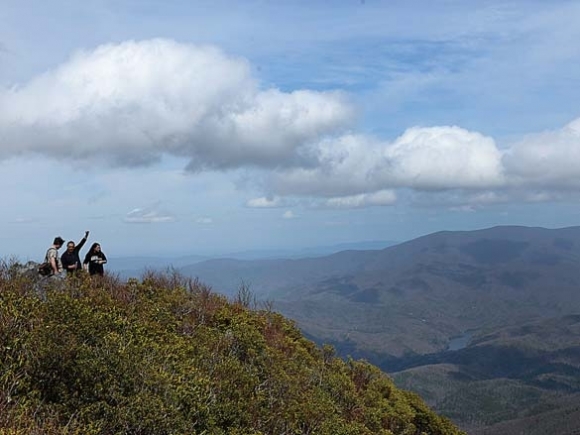 The last known footprint of the slant-eyed giant Judaculla is not easy to get to.
First, there's the drive to Wolf Laurel Trailhead, which takes about an hour to reach from Robbinsville up a steep and rutted U.S. Forest Service road that winds past tumbling waterfalls and an intersection with the Appalachian Trail before reaching the parking lot. Then there's the hike — 3.5 miles of steep uphills offset by rocky downhills pieced together with the occasional stretch of level ground, often while traversing a narrow ridgeline with slopes falling steeply to either side.
At the end of it all, though, is the Hangover. The deciduous forest suddenly gives way to a rock-studded heath bald affording sweeping views of endless mountain waves, with Lake Santeelah in the foreground and Clingmans Dome just out of sight in the background. A rhododendron-cased scramble leads to the elusive final destination, a rock whose steeply sloping sides make standing difficult. The mountain falls away underneath, dropping sharply to the valley far below.
And there, clearly etched in a depression on the otherwise smooth rock, is Judaculla's footprint. It's the outline of a six-toed foot, complete with clawmarks.
The story of Judaculla — or Tsulgala, as he was known before the English corruption Judaculla gained prevalence — is well known in Cherokee legend. But as is the case with many stories that explain the origins of the region's natural landmarks, the present-day locations of those landmarks aren't always so well documented. The existence of Judaculla Rock near Cullowhee — a soapstone bearing ancient Cherokee markings and also, supposedly, the seven-fingered handprint of Judaculla himself — is common knowledge locally. But that's not the only Cherokee story about Judaculla, the superhuman giant who could leap from mountaintop to mountaintop. And the location connected with the last story told about him, ending with his jump off a mountainside that left a footprint in the rock, was unknown.
That is, until tribal member Gil Jackson set his mind to finding it.
"When I first heard about the story, I said, 'I think I know where it is, but I'm not sure," Jackson said.
An avid hiker, Jackson, 65, has walked just about every trail that exists in Western North Carolina. Three years ago, he hiked from Georgia to Maine on the Appalachian Trail. When he heard the story of Judaculla, an image came into his head of a footprint-like depression he'd seen on one of his hikes, somewhere, but he couldn't quite place it.
That same weekend, though, he happened to hike the Hangover. And there it was, etched in rock. A six-toed footprint, clear as day. Tears leaked in his eyes. He didn't want to leave. Now, he hikes to Hangover about five times a year.
This time, however, he wasn't alone. Joel Turner, a Robbinsville resident and Cherokee language learner who is married to a tribal member, came along with his two Cherokee stepdaughters — Rachel Ballou, 16, and Rebecca Ballou, 14.
Preserving history
Jackson was nothing short of thrilled to see the two girls show up. His whole life has been a campaign, of sorts, to get Cherokee kids outside to explore their homeland and learn the stories that go along with the places they encounter.
He grew up in the Snowbird area of Graham County, speaking Cherokee as a first language and breathing Cherokee stories like air. Over the course of his life, however, he's seen that heritage become less prevalent among the younger generations, and he fights against its loss. His hikes are part of that effort. They're a mash-up of oral instruction and physical challenge, inviting young people to learn about their heritage while experiencing the beauty of the mountains where their ancestors once trod.
"We're just losing too many people who know anything about our culture," Jackson said. "That's who we are. That's our identity."
That's why he looks to the young people — Cherokees with decades of physical ability before them to learn the joys of scrambling up rocky ridges and discovering hidden waterfalls. Being Cherokee is as much about learning the love of place as it is about knowing the stories, Jackson said.
"I want people to appreciate what we have here — beautiful mountains, clean streams, clean water, healthy rivers. I want them to understand that and I want them to appreciate it," Jackson said. "And you can only do that if you're in it and drinking out of the streams, fishing out of these streams, jumping out of these waterfalls — all that kind of stuff."
If they can do that while seeking the sites that star in Cherokee legend, all the better.
"These sites are going to be lost," he said. "I don't know anybody else within our tribe that hikes and knows about these places."
Now semi-retired, Jackson spent his career trying to bolster a spirit of adventure among Cherokee youth. As executive director of Cherokee Child and Family Services, he helped launch Cherokee Challenge in 1982, a program that aimed to reach youth through a variety of outdoor adventures and team-building activities.
"The primary goal was to improve their self-esteem," Jackson said, "so they didn't have to be dependent on alcohol and drugs."
Jackson has since retired, and the Cherokee Challenge program ended in the early 2000s, but Jackson's efforts to get youth outside to explore their ancestral lands have not subsided. Currently, he works through a grant from the Cherokee Preservation Foundation, which allows him to buy food and equipment for kids who participate in the outings he plans. Teens from poor backgrounds might not be able to afford a good pair of shoes, for example, and they might not have access to the granola bars and trail mix that hikers usually bring along. But that shouldn't rob them of the chance to explore.
He also extends his instruction to young people outside the tribe, teaching classes at the University of North Carolina Asheville and regularly hosting students from colleges across the country for alternative spring break weeks on his property near Robbinsville. The students come to spend a week working on the trail system he's installing there, and in return Jackson teaches them about Cherokee culture and environmental science.
"The feeling of accomplishment at the end of the day is real good," Jackson said. "They want selfie pictures with me, and almost without exception they're coming to say, 'Thank you for allowing us to work on your property.'"
On the mountaintop
Sometimes it's harder to drum up enthusiasm from the ranks of tribal members. In Jackson's experience, oftentimes "kids would rather text and play video games than walk in the woods." Consequently, he was delighted to see Rachel and Rebecca ride up to the trailhead with their stepfather.
However, the trek to Hangover was no entry-level hike — at about 7 miles roundtrip, it was on the long side, and the route included plenty of steep inclines and rock scrambles. The girls had little to no hiking experience, and didn't really know what they were in for. As the walk in lengthened, their energy began to flag, though it spiked in spurts as Jackson pointed out the telltale signs of their ancestors that came before them — like an old tree bearing the scars of the straps used to hold it down as a sapling, making it point the way to the Hangover for Cherokees walking the old path long ago.
Then, they reached the top. Gasps of amazement escaped as they mounted the rocks, lifting their heads above the thickets of rhododendron to see the limitless view stretching before them. At the edge of the outcrop, there was the Hangover — and the footprint etched into it. They crawled onto the rock to crowd around their stepdad, gaping at the footprint.
"It just makes you think a lot about stuff, I guess," Rachel said during a break on the way back down. "I just like learning about them (the stories), because they're from our ancestors."
It's fascinating, her sister agreed, because the old stories coupled with sights like the Hangover's footprint make you wonder.
"You don't know if it's real or not," Rebecca said.
The hike was long, the girls agreed, and it might be a while before they're up for something that ambitious again — though a shorter excursion might be nice. But standing up on the bald with the mountains all around was amazing, Rachel said. It made her think about the creator who formed it all.
"It's like one old Cherokee told me one time," Turner, the girls' step father, said. "He said, if you're walking on the wrong footpath, you're out alone and you can sense that there were those here before you, and they walked and lived. And if you kind of just listen in a stream you can hear them speak. They're there."
The footprint story
The Cherokees lived in a large village by a creek, which was surrounded by the mountains. Tsulgala (Judaculla) helped the people that lived there; he would bring in food to the people, such as hindquarters of a deer to feed the people in the village.
Tsulgala would come to the village, particularly to one of the elderly women's place; she had two daughters and a son that lived with her. But, Tsulgala would always come in the evening and sit in the corner away from the light. One day the elderly woman was curious to why he always came in the evening and he would not show his face, so she was going to find a way to see his face. She gathered sumac tree for firewood. This type of tree sparks when it burns. That evening Tsulgala came and brought deer meat with him. Like before he went to the corner where it was dark and sat down. After a while when it got dark outside, she went outside and gathered her sumac wood and placed it in the fire. It took a few minutes to burn, but the wood started to burn and it started to pop and spark. Tsulgala had to look up and turn his head towards the fire; finally they could see his face and the eyes were slanted up and down. Tsulgala got up and ran away.
Tsulgala lived in the mountains. There was a place with a big rock at the edge of a mountain, which Tsulgala leaped off, and he left an indentation of his foot on the rocks.
This story was written by John Ross in his book Cherokee History and Culture — and based on the version told by his great-grandmother Sally Mink, of Snowbird.