Archived Reading Room
David Joy's new book is a dark gem
Wednesday, March 29, 2017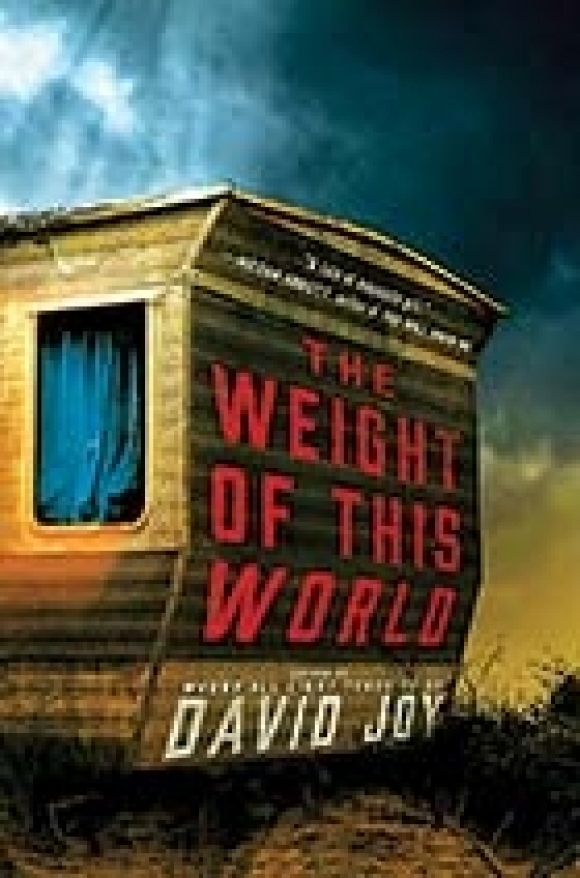 Just after I bought The Weight of the World, I ran into an old friend of mine who is extremely well-read, and since I knew that he had already read the book and since I value his opinion, I asked, "So, what did you think?"
"This young man can write, he said, "but most folks will find him a hard jog down a rocky road on a rainy day."
"You didn't like it?"
"Oh, I loved it, but I am not most people. Most people are looking for a book that allows the critics to use phrases like 'spiritually uplifting," or 'filled with a zest for life.' David Joy is filled with a need to force his readers to recognize that there are two elephants in the room when he is writing: despair and desperation. He is going to insist that you see them. Despite his name, Joy doesn't provide much, I am afraid."
My well-read friend turned to leave and then, as an afterthought, added, "Think of him as Virgil ... not Virgil Honeycutt, the banjo player, but Virgil, the poet that lead Dante through Hell."
Now that I have finished The Weight of the World, I think my well-read friend was spot on. Like that old Italian poet, I have followed David Joy through a landscape that is filled with an existential darkness. Of course, we are talking about Little Canada here ... winding roads, rusty trailers and the pungent smell of mildew ... a place where every face we glimpse is either guarded, frightened and/or hostile. Little Canada, a section of Jackson County that has a near mythical reputation for violence, poverty and drugs. Once noted for moonshine, the old corn-fed stills have been replaced by a thriving cottage industry of illicit drugs.
The Weight of the World has two protagonists: Thad Broom and Aiden McCall. These boys are devoted to each other, not as "blood brothers," but as something even stronger and even more devoted. Both dream of escaping Little Canada but are trapped by powerful forces that render them helpless. Aiden becomes an instant orphan when he watched his father kill his mother and then himself. Thad seizes on enlistment as a means of escaping a dead end existence and finds himself in Afghanistan where he discovers that he is capable of committing inhuman acts, including the killing of children carrying concealed explosives and the water-boarding of prisoners with diesel oil. When, Thad returns home, he is haunted by the memory of his wartime experience and the knowledge of his own guilt.
Thad and Aiden, like hundreds of other young Appalachians, survive by becoming a part of the construction boom, but by the time Thad returns, the construction work has all vanished. Ironically, the two young men often find themselves dismantling the very homes that they had helped build in a search for copper wiring which can be sold for a fraction of its value. Both talk of escaping from Little Canada for opportunities in Asheville, but they never have enough money to escape — only enough money to get high which is, ironically, a kind of escape.
Aiden has ended up living in a trailer owned by Thad's mother, April, and while Thad is in Afghanistan, Aiden falls in love with her. It is a doomed relationship, of course, and aside of the difference in their ages, April has her own demons, including the memory of a rape in a dark church, a loveless marriage and her inability to love her own son who bears the physical trait (red hair) of her rapist. She also dreams fitfully of escape by selling her house and land for enough to move to a place where no one knows her name and history.
David Joy only needs a catalyst, a lighted match that he can drop into this explosive brew. It comes on a night that begins like hundreds of others: Thad and Aiden find themselves among the customers of one of Little Canada's major drug dealers, Wayne Deitz and when everyone is under the influence of Wayne's "blue crystals," Wayne accidentally blows his own brains out. When the party explodes and everyone escapes into the night,
Thad and Aiden suddenly realize that the long-dreamed of escape is at hand. When the two frightened and drugged young men return to the scene of Wayne's demise, they are thinking of the large store of crystal that Wayne had ... hopefully enough to fund their escape. In addition, they have the dead drug dealer's money ... thousands of dollars plus bag of crystal. All they have to do is find a buyer for everything.
The curse of the search is the fact that although they have the means to escape, they are still doomed. The catch is, in Little Canada there are no buyers except those who will find a way to get the drugs and money without paying for them. Because of the arrival of migrant workers, all willing to work for less in construction than Aiden and Thad, the Mexicans have become their most hated enemy. Ironically, the Mexicans are victims, too.
And when they find themselves abandoned in Little Canada, the migrant workers follow the only solution available. They adapt. They become drug dealers, too.
At the heart of this novel, we have two doomed young men who make one final attempt to escape the complicated dead end roads of Little Canada. With each betrayal, Aiden and Thad learn another bitter truth.
Thad will find that the inner darkness he discovered in Afghanistan, has come home with him and suddenly, every way he looks, there is the knowledge: "some men deserve to die" and he is one of them. Perhaps there is a redemption to be found for the death of a child in a foreign country if he can save a child here, in Little Canada. Perhaps there is even a bit of justice for a little dog named Loretta Lynn who is one of the hapless victims in this novel. Perhaps, when April finally catches a bus out of Little Canada, she has saved something from the wreckage. Perhaps, Aiden will find redemption and justice by bringing a final judgment to a crime that was committed in a dark church 20 years ago.
The Weight of the World is a dark gem. Not to everyone's taste, but it deserves everyone's respect.
The Weight of the World by David Joy. G. P. Putnam's and Sons, 2017. 260 pages.