Archived Arts & Entertainment
Hand-me-down reasons: The DuPont Brothers return to Waynesville
Wednesday, March 29, 2017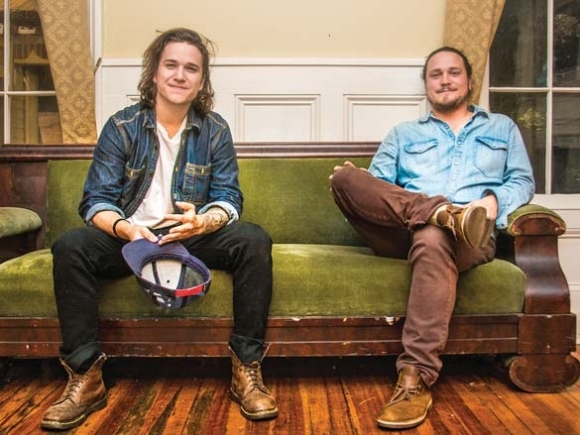 It's needed now more than ever before.
The place of the singer-songwriter in a modern world is a tricky spot. With all the bells, whistles and studio tricks at your fingertips, one could surmise that pop and mainstream radio in 2017 sounds more like an Internet dial-up tone in the 1990s instead of actual melodic harmonies.
And yet, the wise words and well-earned wisdom of the day-in-day-out worker bee folk songwriter will always be sought after. It's that line in the sand of talent that separates those who hide behind a manufactured sound compared to those who stand tall atop their honest lyrical wordplay and intricate guitar fluttery.
For the better part of the last four years, Americana/indie act The DuPont Brothers have traversed the Eastern Seaboard with their brand of "New England Gothic," where the sights, sounds and emotions of long, daunting winters and whimsical, carefree summers radiate from their hands and voices.
After a string of studio albums, the Vermont-based sibling duo have just released an EP, "Live at Beehive," which was recorded and filmed at Beehive Productions in Saranac Lake, New York. The offering is merely setting the stage for their upcoming full-length record, "Live at DeepWells Mansion," captured during their appearance on "The DeepWells" podcast, a live acoustic music series, previously known as "Acoustic Long Island."
With their five-year mark looming in the distance, both Zack and Sam are glancing over their shoulders at the path taken to where they stand today, which is a spot — a place of body, mind and soul — where the tricks of the trade come full circle when fate and opportunity intersects with intent and passion.
Smoky Mountain News: The DuPont Brothers have been a moving target of music, purpose and creativity. Where are you two right now?
Zack DuPont: Well, if anything, the four years of doing this has done nothing but encourage us to dig deeper into the pursuit. The longer we carry on, the more we understand that it's about enjoying the ride in a way that can harvest momentum towards evolving as artists first, then further creating a path to becoming a more recognized name on the national scene by using the art as the vehicle. We're fully independent, our relationships with musicians we love and industry folks we trust are nurtured more and more with every show we play and every record we release. We're surrendering to the path we've created and it's leading us to exactly where we need to be.
SMN: What is it about releasing a live album that provides different advantages in capturing that magic in the moment?
Sam DuPont: Live recording let us puts a great deal of emphasis on the performance element of tracking. We tend to favor it in the studio because it's what usually feels natural for us. It just works really well for our sound. This band is all about what happens when we sing and play together. So, capturing that in real time usual makes for the coolest takes. The live thing is what this band revolves around, so it's important for us to capture it — imperfections and all.
SMN: The DuPont Brothers have been plugging along hard for the last four or so years. And though there are plenty of levels to move up and break through, how do you measure success these days?
ZD: The unfolding career path of an independent band is kind of similar to attempting to climb Mount Everest. The summit seems like it's the end goal, right? And the value and meaning of reaching the top is unique to the individual. It could be a fitness trial, to conquer nature, process emotional trauma or to just say, "I did it." Having clarity around why you're doing it is step one. Once you're up there, none of that matters and you're faced to accept the reality of what you've willingly gotten yourself into. Although you may be guided by experts who've completed the trek hundreds of times and religiously know their route to the top, an element of risk is imminent and nature's plan is unpredictable. Ropes break, storms whip in, avalanches growl and bottomless crevasses lurk underneath seemingly safe and fluffy snow mounds. Understanding independence as an artist is similar to a young Sherpa making their first attempt at the summit, in that it allows them to understand how to survive the climb on their own. That's the key to building towards success within the framework of the current music industry mold. Today might bring a storm, but tomorrow calls for blue skies and sunshine — a window of hope to make our next move. We aim to be able to adapt to either scenario, and that understanding is what will keep us alive on the mountain.
SMN: In this great big world, it seems art and music are needed now more than ever, especially in this current political and social climate. What do you see out there on tour, interacting with all kinds of people and visiting all kinds of places? Are you optimistic about the future?
SD: Traveling and playing songs for a living allows us to see and meet all kinds of interesting folks. It just really drives home how relevant local culture is to peoples' identity and behavior. I'm super grateful to get to travel like we do, seeing so many other peoples' lives kind of shrinks your own in a nice way — it's a valuable dose of perspective. It's strange for me to wrap my head around it, but there are a lot of people who really dig what's going on in the country right now. I do know that often times the most sustenance I get in a week comes from seeing live music, or consuming art in some form or another. I know that I myself am reaching for art and all of its substance in a way that I haven't before. I truly believe that there will always be a demand for art — it's something that cannot be replicated or replaced. We're just going to keep making the best music we can. I'm absolutely optimistic [about the future], and that optimism comes from my faith in music more than anything else.
Want to go?
The Smoky Mountain News will launch its "Sunday Soiree" concert series with The DuPont Brothers (Americana/folk) at 6:30 p.m. Sunday, April 2, at the Folkmoot Friendship Center in Waynesville.
Based out of Burlington, Vermont, Sam and Zack DuPont have been busy on the road since 2013. Their two records — "Heavy as Lead" (2015) and "A Riddle For You" (2016) — have taken them up and down the Eastern Seaboard and across the Midwest.
The DuPont Brothers have made festival appearances at Grand Point North and South-By-Southwest (SXSW). They also have supported a wide array of national acts, including Grammy award winning artists like Sturgill Simpson, Jerry Douglas and Blake Mills.
Tickets for the "Sunday Soiree" are $10 per person. Craft beer and wine will be available for purchase. Tickets can be bought online at www.folkmoot.org or at the door. A portion of the proceeds will go to the continued activities and events put on by Folkmoot.